Press Release
Stacked Field for the 2017 BMO Vancouver Marathon and Half Marathon
Favourites set their sights on the BMO Vancouver Marathon and BC Half Marathon Championships, May 7
With new Canadian Olympians in the field, and the return of last year's champions, this year's BMO Vancouver Marathon and Half Marathon event is shaping up to be its most exciting yet.
Vancouver's only Marathon
In Vancouver's only Marathon event, last year's champ Daniel Kipkoech (pictured right) of Kenya returns. Local running celebrity Robin Watson, who owns the event's Canadian record on the Half Marathon course with a time of 1:04:48, will also move up to challenge in the full distance this year despite a late training injury.
On the women's side, watch for Lioudmilla Kortachaguina from Canada who won in 2015 with a time just 37 seconds shy of the course record, plus Gladys Tarus of Kenya who says she'd like to set the course record. Allison Macsas from the United States who finished second in the Marathon last year will also challenge. Mascas first came to this destination race in 2011 in pursuit of a US Olympic Marathon Trials qualifying time.
"I've returned to this race almost every year since and have run faster than the previous year each and every time," adds Macsas.
Canadian Olympian Evan Dunfee will be race walking this year's Marathon course and aiming for a time around 3:10-3:15.
"To be able to get out and be surrounded by such motivated runners, I am super excited," shares Dunfee.
2017 also brings an exciting milestone for the 46th edition of the Marathon, as this year will see the 100,000th Marathoner cross the Finish Line.
Marathon course records are held by Luka Chelimo of Kenya (2:18:37, 2015) and Vancouver's own Kimberly Doerksen (2:37:00, 2014).
---
BC Half Marathon Championships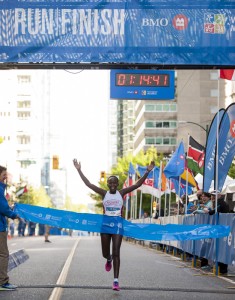 In addition to hosting Vancouver's only Marathon, event organizers – the non-profit Vancouver International Marathon Society – will also host the BC Half Marathon Championships in conjunction with BC Athletics.
Half Marathon course record holders, Paul Kimugul and Jane Murage (pictured left) of Kenya will return to defend their crowns and look to better their record times of 1:02:36 (2014) and 1:12:53 (2015), respectively. Kimugul could make this his fourth win in five years, while Murage is going for a three-peat and her third consecutive win.
Another multi-winner, watch for Canada's Kip Kangogo who took home the Half Marathon title in both 2010 and 2012. Kip missed last year's race only because his wife Florida and daughter Emma welcomed a new addition to their family, Roy Bii Kangago, who was born on the exact same day as last year's race!
"When the gun goes off and the race starts, I'm running for a podium finish in the 2017 BMO Vancouver Half Marathon," says Kangogo.
Canadian Olympian Marathoner Dylan Wykes will also be a force in this year's BMO Vancouver Half Marathon. Wykes represented Canada at the 2012 London Summer Olympics and now calls Vancouver home with his new venture Mile2Marathon Coaching and is the clear favourite at the BC Half Marathon Championships.
Watch also for Saucony sponsored athlete Canadian Emily Setlack on the women's side who has a PB of 1:15:44 and could be motivated by the hometown crowds on race day. BC Half Marathon Championship challengers will come from Robyn Mildren and Kate Gustafson.
New additions of Canadians Natasha Wodak and Lisa Brooking add to the list of championship contenders. Canadian Olympian and locally born Natasha Wodak returns to the BMO Vancouver Half Marathon after winning in 2012 (1:15:12) and 2013 (1:15:17). And Brooking is last year's BC Half Marathon Champion.
The first Half Marathon finishers are expected to cross the downtown Finish Line early, just after 8am. Come enjoy the action and Street Festival that will feature lots of fun, free sampling and giveaways.
Share on Social
Leading up to race weekend, several of these top athletes will also be are sharing their journeys on social media so be sure to follow BMO Vancouver Marathon channels @bmovanmarathon #bmovm #runvan
Evan Dunfee | Catrin Jones | Rika Hatachi | Andrew Connick | Kip Kangogo | Allison Macsas
Invited Athletes

Marathon
Male
| | | |
| --- | --- | --- |
| Name | Country | Personal Best |
| Jonathan Kipchirchir Chesoo | Kenya | 02:10:27 (2010) |
| James Mwangi Kariuki | Kenya | 02:10:38 |
| Carey Nelson | Canada | 02:12:28 (1991) |
| Robin Watson | Canada | 02:13:29 (2013) |
| Reuben Kimutai Kosgei | Kenya | 02:15:31 (2014) |
| George Towett | Kenya | 02:17:16 (2015) |
| Daniel Kipkoech | Kenya | 02:18:45 (2015) |
| Oliver Utting | Canada | 02:21:03 (2000) |
| Adam Iddris | Ghana | 02:22:33 (2004) |
| Evans Maiko | Kenya | 02:25:18 (2014) |
| Mo'ath Alkhawaldeh | Jordan | 02:27:32 (2016) |
| Bryan Andrews | Canada | 02:29:00 (2016) |
| Edward McCarthy | Canada | 02:29:29 (2016) |
| Marty Robertson | Canada | 02:33:18 (1997) |
| Michael Trites | Canada | 02:39:16 (2016) |
| Darren Holland | USA | 02:44:14 (2016) |
| Benjamin Scherrer | USA | 02:45:05 (2014) |
| Carter Hawke | Canada | 01:25:10 (Half) (2015) |
| Elliot Holtham | Canada | 08:32:00 (Ironman) (2014) |
| Evan Dunfee | Canada | 03:06:00 (Walk) (2016) |
| Marc Mundell | South Africa | 03:54:12 (Walk) (2015) |
| Devon Liversidge | Canada | |
| Craig McMillan | Canada | |
Female
| | | |
| --- | --- | --- |
| Name | Country | Personal Best |
| Lioudmila Kortchaguina | Canada | 02:29:42 (2006) |
| Allison Macsas | USA | 02:39:59 (2014) |
| Catherine Wamucii Njagi | Kenya | 02:40:02 (2015) |
| Neasa Coll | Canada | 02:41:04 (2016) |
| Gladys Jepkechai Tarus | Kenya | 02:44:07 (2017) |
| Ailsa MacDonald | Canada | 02:44:45 (2016) |
| Sophia (Ziyang) Liu | USA | 02:50:09 (2016) |
| Lauren Breihof | USA | 02:52:43 (2015) |
| Rika Hatachi | Canada | 02:56:06 (2015) |
| Andrea Lee | Canada | 02:56:52 (2016) |
| Holly Nearman | USA | 01:18:53 (Half) (2015) |
| Care Nelson | Canada | |
| Devon McGuire | Canada | |
Half Marathon
Male
| | | |
| --- | --- | --- |
| Name | Country | Personal Best |
| Solomon Rotich | Kenya | 01:02:10 (2013) |
| Dylan Wykes | Canada | 01:02:14 (2013) |
| Paul Kimugul | Kenya | 01:02:35 (2014) |
| Kip Kangogo | Canada | 01:03:22 (2013) |
| Benard Cheruiyot | Kenya | 01:04:42 (2016) |
| Jeremiah Ziak | Canada | 01:05:22 (2005) |
| Andrew Connick | Ireland | 01:06:38 (2012) |
| Nicholas Browne | New Zealand | 01:09:35 (2014) |
| Mark Bennett | Canada | 01:13:32 |
| Chris Barth | Canada | 01:14:09 (2014) |
| Bryan Portman | Canada | 01:15:00 (2009) |
| Anthony Tomsich | USA | 02:26:10 (42.2KM) (2016) |
| Thaddeus Garlatz | USA | 02:28:52 (42.2KM) (2014) |
| Ian Searle | Canada | 00:15:35 (5KM) (2014) |
| Matt Setlack | Canada | |
| Willy Kimosop | Kenya | |
Female
| | | |
| --- | --- | --- |
| Name | Country | Personal Best |
| Jane Murage | Kenya | 01:11:18 (2013) |
| Natasha Wodak | Canada | 01:11:20 (2015) |
| Emily Setlack | Canada | 01:15:44 (2016) |
| Lisa Brooking | Canada | 01:16:04 (2016) |
| Hilary Stellingwerff | Canada | 01:16:11 (2013) |
| Catrin Jones | Canada | 01:17:30 (2015) |
| Robyn Mildren | Canada | 01:18:55 (2016) |
| Kate Gustafson | Canada | 01:19:08 (2015) |
| Lissa Zimmer | USA | 01:19:25 (2015) |
| Allison Blackmore | Canada | 01:22:58 (2017) |
| Melanie Kassel | Canada | 01:23:49 (2016) |
| Kristin Smart | Canada | 02:49:00 (42.2KM) (2014) |
| Meggan Franks | Canada | |
| Lauren Babineau | Canada | |
Marathon
Featured Athletes
Personal Best: 2:13:29
Event: Scotiabank Toronto Waterfront Marathon 2013
Career Highlights:
Pan Am Games Toronto 2015 – Men's Marathon, Team Canada (2:23:43)
BMO Vancouver Marathon 2015 – Half Marathon, Champion & Canadian Record Holder (1:04:48)
Bank of America Chicago Marathon 2015 (2:17:45)
Canadian Marathon Championships 2014 Runner-up (2:16:38)
Personal Best: 2:18:49
Event: BMO Vancouver Marathon 2015
Career Highlights:
BMO Vancouver Marathon 2016 Champion (2:21:04)
Goodlife Fitness Victoria Marathon 2016, 3-time consecutive Champion (2:20:33)
Personal Best: 2:10:15
Event: French Riviera Marathon Nice-Cannes 2010
Career Highlights:
BMO Vancouver Marathon 2016 Runner-up (2:23:29)
Maraton de Sevilla 2014, 6th overall (2:12:36)
Personal Best: 2:10:27
Event: Dublin Marathon 2010
Career Highlights:
Yangling International Marathon 2016 Runner-up
Maraton de Buenos Aires 2015 Champion (2:12:24)
Danzhou International Marathon 2015 Runner-up (2:12:33)
Medibank Melbourne Marathon 2012 Champion (2:12:35)
Personal Best: 3:06:00 (Walk)
Event: Rio 2016 Summer Olympic Games 50KM Walk
Career Highlights:
Canadian Record Holder in 50KM Road Walk (3:41:38, 2016)
Fall Classic Half Marathon 2016 Champion (1:10:44)
Toronto 2015 Pan American Games – 20KM Walk (Team) Champion
Canadian Record Holder in 20KM Road Walk (1:20:13) (2014)
Personal Best: 2:29:42
Event: Ottawa Marathon 2006
Career Highlights:
Around the Bay 30K Road Race, Women's Champion (1:55:33)
Edmonton Half Marathon, Women's Runner-up (1:19:17)
BMO Vancouver Marathon 2015, Women's Champion (2:37:37)
Personal Best: 2:40:02
Event: Mombasa International Marathon 2015
Personal Best: 2:41:04
Event: Scotiabank Toronto Waterfront Marathon 2016
Career Highlights:
BMO Vancouver Marathon 2016 – Half Marathon, Women's 5th overall (1:19:15)
Scotiabank Ottawa Marathon 2016, Women's 10th overall (2:46:16)
Personal Best: 2:39:58
Event: Medtronic Twin Cities Marathon 2014
Career Highlights:
Austin Marathon 2017 Champion (2:48:17)
2-time U.S. Olympic Marathon Trials participant
US Olympic Marathon Trials 2016, Women's 22nd overall
Half Marathon Personal Best – 1:13:02
Half Marathon
Featured Athletes
Personal Best: 1:02:35
Event: BMO Vancouver Marathon 2014 – Half Marathon (Record Holder)
Career Highlights:
BMO Vancouver Marathon 2016 – Half Marathon, 3-time Champion
Around the Bay Road Race 2016 – 30KM, 3-time Champion

Personal Best: 1:03:22
Event: Scotiabank Vancouver Half Marathon
Career Highlights:
Pan Am Games Toronto 2015 – Men's Marathon, 9th overall (2:24:02)
Edmonton Marathon 2015 – Half Marathon, 3rd overall (1:05:02)
BMO Vancouver Marathon 2012 – Half Marathon, 2-time Champion (1:04:48)
Personal Best: 1:02:14
Event: New York City Half Marathon 2011
Career Highlights:
Scotiabank Vancouver Half Marathon Champion 2014 (1:03:52)
London 2012 Summer Olympic Games, Marathon (2:15:26)
Personal Best: 1:11:18
Event: Philadelphia Marathon 2013 – Half Marathon
Career Highlights:
Marathon Oasis Rock 'n' Roll de Montréal  – Half Marathon, Champion (1:18:10)
Marathon SSQ Lévis-Québec 2016 – Half Marathon, Champion (1:20:47)
BMO Vancouver Marathon 2016 – Half Marathon, 2-time Champion (1:14:41)
Times Colonist 10k Run 2016, 4-time Champion (00:33:45)
Edmonton Marathon 2016 – Half Marathon, Champion (1:18:10)
BMO Vancouver Marathon 2015 – Half Marathon, Champion & Course Record Holder (1:12:53)
Personal Best: 1:11:20
Event: New York City Half Marathon 2015
Career Highlights:
Rio 2016 Summer Olympic Games – 10,000m
Canadian 10,000m record holder, 2015 (0:31:41)
Vancouver Sun Run 2015 – 10KM, Runner-up (0:32:34)
BMO Vancouver Marathon 2013 – Half Marathon, 2-time Champion (1:15:12 & 1:15:17)
Vancouver Sun Run 2013 – 10KM, 2-time Champion (0:32:42 & 0:34:13)
Personal Best: 1:16:04
Event: BMO Vancouver Marathon 2016 –Half Marathon
Career Highlights:
Team Canada, World XC Championships 2017
Team Canada, Pan Am XC Championships 2016
Goodlife Fitness Victoria Marathon 2013 – Half Marathon (01:16:11)
Personal Best: 01:11:33
Event: Jaipur Marathon 2013 – Half Marathon
Career Highlights:
Yangzhou Marathon 2014 – Half Marathon, 10th (1:11:45)
Pune International Marathon 2012 – Half Marathon, 4th overall (1:11:36)
Andaman 2014 Champion
Personal Best: 1:16:11
Event: Goodlife Victoria Marathon 2013 – Half Marathon
Career Highlights:
2-time Olympian, Women's 1500m (2012 & 2016)
Goodlife Victoria Marathon 2013 – Half Marathon, Champion
Personal Best: 1:15:44
Event: Canadian Half Marathon Championships 2016
Career Highlights:
Times Colonist 10km Run 2016, Runner-up (33:47)
NACAC 10km Championships 2016, Champion (36:32)
Centaur Subaru Half Marathon, Champion (1:15:45)
Vancouver Sun Run 2016, 4th (34:02)
Personal Best: 1:17:30
Event: Pacific Road Runners "First Half" Half Marathon 2015
Career Highlights:
Austria Half Marathon 2015 (1:19:20)
IAU 50KM World Championships 2015, 3rd & Canadian Record Holder (3:28:19)
Whistler 50 Ultra – 50 mile, Champion & Course Record Holder (6:24:50)
Goodlife Fitness Victoria Marathon 2015, 3rd (2:44:29)
Goodlife Fitness Victoria Marathon 2013, 2-time Champion (2:43:03)
Personal Best: 1:18:55
Event: Scotiabank Vancouver Half Marathon 2016
Career Highlights:
West Vancouver 10K 2017 (0:35:35)
Vancouver Sun Run 2016 (0:36:50)
Personal Best: 1:19:08
Event: BMO Vancouver Half Marathon 2015
Career Highlights:
UBC Fall Classic, 5KM Champion (0:18:07)
SeaWheeze Half Marathon 2016, Champion (1:21:50)
INVITED ATHLETE PROGRAM | EVENT RECORDS | PAST CHAMPIONS | PAST RESULTS | JOIN IN