Kids Run presented by Nature's Path
Be sure to register early for the Kids Run presented by Nature's Path, which is capped at just 500 children, aged 5 to 12. The Kids Run is on Saturday before the main Marathon event.
Details
Date: Saturday, May 4, 2019
Time: 11:00am
Start Line: Stanley Park – Ceperley Park
Finish: Ceperley Park – 2.5KM loop inside Stanley Park
Age: 5-12 – all participants must have parental consent
PACKAGES FOR THE KIDS RUN NEED TO BE PICKED UP ON THE FRIDAY BEFORE THE EVENT. THERE WILL BE NO RACE PACKAGE PICKUP ON RACE DAY. PLEASE ENSURE YOUR PACKAGE IS PICKED UP WITHIN THE EXPO'S HOURS OF OPERATION. NO EXCEPTIONS.
Package Pickup
You will need your child's Bib Number and your own picture ID to pickup your child's race package. Your registration includes:
Race Bib
Short-sleeved shirt
Finisher medal
Please pickup your package at the free Health, Sports & Lifestyle Expo located at the Vancouver Convention Centre West:
1055 Canada Place / Friday, May 3, 10am-8pm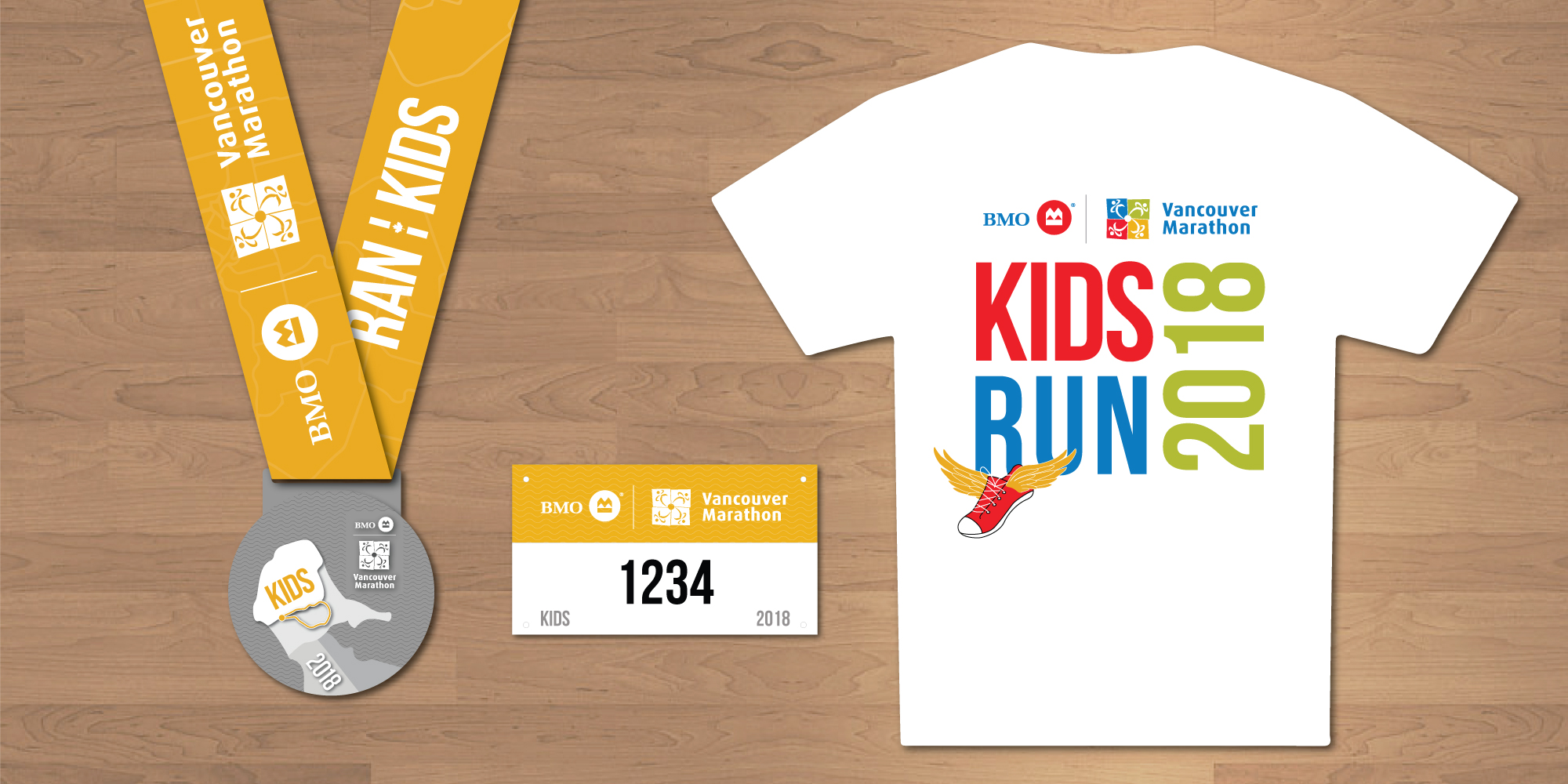 Schools, Groups and Teams
Schools are encouraged to register teams to be part of this exciting experience. For team registration, one person must take the lead as the "Team Captain" and register a team name and password during the registration process. After the team is created, all other members will be able to join when they register by entering and selecting that chosen team name and password.
The non-profit Vancouver International Marathon Society RUNVAN® can help you facilitate the registration process by providing Parent Authorization Forms, a coupon to follow who registered or not but most importantly, providing you with a Fast Lane access at the Expo on Friday. For more info, please email [email protected] or phone 604 872 2928.
Running with kids
Parents or guardians are allowed to run with their kids as long as they wear the additional race bib provided at the Expo as part of the Kids Run race package. Volunteers will also use the extra bib to identify the child to the parent after the race for pick up.
Course & Amenities
Volunteer marshals will accompany children at the Start Line and a Pace Bunny will guide the children along the course. At the Finish Line, all children will get a cool medal and a post-event snack. All participating children will also have the exciting opportunity to meet and have their bibs signed by some of the Elite Athletes.
The family-friendly fun run takes kids aged 5 to 12 on a loop through Stanley Park. View Map.
Start Line
Things to remember:
Arrive early to experience the Start Line vibe.
Hug your kids. High-five volunteers and the BMO Bear.
Run, run, run. Go for it! Have fun. Smile and wave at the cameras. Thank volunteers, and show-off your medal!
Arrive early to experience the festive Start Line vibe and to avoid unnecessary stress and anxiety.
Corrals will be used at the Start Line to provide a smooth and efficient start for all our events. Runners are placed in a corral based on age. Each corral is clearly marked. There are a total of three corrals and kids are asked to stand in their designated corrals located at the Start Line. No gear check is provided.
Finish Line
Post-event snacks, drinks and medals will be provided!
Please plan for all types of weather on Race Day as we are on the beautiful West Coast! Parents should be prepared for changing weather throughout the day, and have a plan for post-race recovery. It is highly recommended that parents brings warm and waterproof gear at the Start Line. Finish Line blankets will not be provided, and while we hope for good weather, please plan to have appropriate post-race clothing.
Volunteers
In order to volunteer in the Kids Run, volunteers must be over 18 years old and complete a Mandatory Background Check as required. If you are new and have not lived in British Columbia (BC) for than 2 years, or are an International Student with no credit and residence history in BC, your background check application will not be able to be processed by the BC Ministry of Justice. Please select a different volunteer role and area that does not require a Background Check.
OVERVIEW
|
COURSE MAP
|
RACE PHOTOS