Spectacular Vancouver
Run of the World's Top 10 Destination Marathons
Welcome to Vancouver and the BMO Vancouver Marathon, an internationally recognized event – named a Top 10 Destination Marathon by Forbes in 2014 and 2012, and one of the World's Most Exotic Marathons by CNN.
Ranked Canada's Top Travel Destination by Travel + Leisure, Vancouver is a gorgeous, sophisticated city boasting natural beauty, big city experiences and diverse neighbourhoods. We love fresh air, adventure and fun! For runners, it is paradise.
Vancouver has a thriving running culture. Nearly every neighbourhood and suburb boasts run clubs and running trails for runners of all kinds. With Pacific Ocean and mountain views, beaches, and a stunning city skyline, Vancouver runners get the best of all worlds.
The BMO Vancouver Marathon showcases some of the best of these coveted Vancouver running routes, spanning 3 Parks, 6 Beaches and 12 Neighbourhoods. For visiting spectators, the course also features 'hot spot' locations for the best race views.
---
Vancouver is a world-class travel destination
Each year the BMO Vancouver Marathon welcomes destination runners, from as near as Victoria, Calgary, Edmonton, Seattle and San Francisco, California, to Oregon, Texas, Colorado, New York, Arizona, Florida, Massachusetts, Michigan, Minnesota, Mexico, Japan, the United Kingdom, Germany, Hong Kong, China, Australia, Brazil, France and Spain. Runners from over 50 countries registered to run the 2016 BMO Vancouver Marathon!
Home of the 2010 Olympic Games and TED Talks, Vancouver has racked up some noteworthy mentions. Here are some of the awards the city has won:
North America's Greenest City – Global Green Economy Index (2014)
Top Travel Destination in Canada – Travel + Leisure (2014)
Best Destination in Canada – Travel Weekly (2014)
Stanley Park: Top Park in the World – TripAdvisor (2014)
Top 10 Beach Cities – National Geographic Magazine (2013)
---
Hotel Specials and Race Savings
Save 50% on your Marathon, Marathon Relay, Half Marathon or 8KM registration when you first book a hotel room via Marathon.beVancouver.com. You may also book directly with our Marathon Weekend Host Hotel, the Coast Coal Harbour Hotel with this special event room rate.
Want further assistance? Consider our official Sport Tour Operators.
---
How to get here
To and from Vancouver
Getting to and from Vancouver is about exploring and embracing a Westcoast adventure. Whether you arrive by ferry, bus, train or plane, you will be overcome with awe by the nature that serves as a backdrop to our breathtaking city. And just wait until you hit the pavement…
Vancouver has direct flights to many locations internationally. We also welcome a large international field, with over 50 countries represented in 2016.
Here are some helpful links:
___________________________________________________________________
In Vancouver
TransLink, Greater Vancouver's transit service, includes convenient bus and Sky Train travel
Aquabus ferry service can take you from downtown/Waterfront Station to Lonsdale Quay in North Vancouver
Taxi service is readily available at the airport, train station, ferry terminals and major hotels.
---
To learn more about Vancouver, you may also visit Tourism Vancouver, one of Canada's top Convention and Visitor Bureaus. Its focus is on building exceptional customer relationships through innovation, partnership, research and accountability. The BMO Vancouver Marathon and Vancouver International Marathon Society have similar values and goals, and are proud members of Tourism Vancouver.
---
Award Winning, BMO Vancouver Marathon
Aside from the travel reasons to visit Vancouver, BC, come for the race and experience Vancouver's only marathon!
100% Race Rating – Impact Magazine (2015)
The World's 10 Best Half Marathons – The Active Times (2015)
Top 10 Marathons Worth Traveling For – Forbes Magazine (2014)
Best Marathon in Western Canada – Get Out There Magazine (2014)
14 spring races all runners should try – USA Today (2014)
Run the world: Guide to the Most Exotic Marathons – CNN Travel (2013)
Top 10 Marathons Worth Traveling For – Forbes Magazine (2012)
Best Marathon in Western Canada – Get Out There Magazine (2012)
Click here for more on BMO Vancouver Marathon awards
---
#RunVan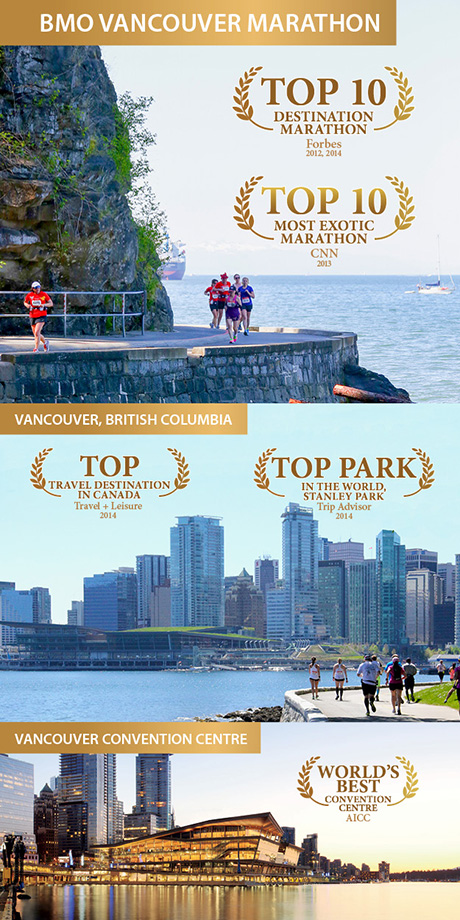 Canada's Top Destination Race
Three Parks. Six Beaches. Twelve Neighbourhoods.
Visiting Vancouver, BC, Canada from the USA?
Exchange Rate Savings
In late September 2016, $1 US Dollar = $1.32 Canadian. That's a great deal if you're coming from the United States. Let your money go farther in Canada!
US Citizens Entering Canada
As of June 1, 2009, visitors from every country traveling to Canada by air, land or sea require a passport or equivalent travel document.
For US Citizens additional information is available at:
http://canada.usembassy.gov/visas/forms-and-programs/
___________________________________________________________________
Canada Customs – General Information:
www.cbsa-asfc.gc.ca/menu-eng.html
Canada Customs – Information for Visitors to Canada:
www.cbsa-asfc.gc.ca/travel-voyage/visit-eng.html
US Department of State
travel.state.gov/travel/cis_pa_tw/cis_pa_tw_2223.html
Department of Homeland Security
www.dhs.gov/files/travelers.shtm
Border wait times:
www.cbsa-asfc.gc.ca/bwt-taf/menu-eng.html
Live USA-Canada Border Traffic Cameras (Lower Mainland British Columbia):
www.borderlineups.com