Close your eyes…Here it is…It's Monday, April 28, 2014…it's race week.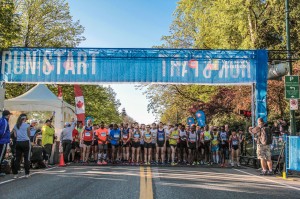 You've been training for months now. Cold weather, hot weather, you've done your hill training, your intervals, your long distance run. Training with the Running Room has helped you get to where you need to be. You also got to meet a great community of runners and made friends for life. It's now time to reward your training with a race… a race worth going for.
The BMO Vancouver Marathon is that race.
You're anticipating the wind in your hair as you coast through Vancouver's most charming neighbourhoods, stunning beaches, coastal mountain views and iconic landmarks. The roaring crowds at the finish line, that feeling of completion and satisfaction that you only get from a long race. You are prepared and the easiest decision you had to make was to register to run on May 4, 2014. It kept you motivated and focused. Now comes the hard decision, who will you bring with you?
Indeed, you are the winner of the contest "Win the Elite Treatment" and what a better way to reward yourself and a friend.
As soon as you make it on Friday, you will attend the media luncheon with all the Elites at the Fairmont Waterfront. You'll get to meet dozens of elites, get inspired. You might even squeeze one or two pics to share on Facebook or Instagram!
After the luncheon and few hand-shakes with the elites, it's now time to walk across the street to the Health, Sports & Lifestyle Expo to pick up your race package. Get fast-tracked to an express package pickup lane (no lineups for you), get your bib and chip, your tech shirt and more.
After checking out the variety of exhibitors and maybe trying some tasty food samples, you are now ready to check in to your hotel a few blocks away. The Coast Coal Harbour Hotel, the official hotel for the media and elites for our event, is right near the finish line on West Pender street in the heart of downtown Vancouver and this will be your base camp the next three nights.
Finally, the day has arrived. It's May, 4th, race morning. You and your friend will meet in the hotel lobby where you will be escorted to the Start Line with the elites and race organizers. Maybe you'll even be wearing your new Saucony running shoes that you received as a part of this awesome experience. After taking in the exciting race morning vibes once you arrive, you will then relax in your private Platinum Runners tent. Thirsty? We'll have coffee and water for you. Need to stretch or do some pre-run yoga? The tent will provide warm-up mats and chairs. Of course you'll also avoid bathroom lines with a private luxury portable toilet. You are ready, in fact, you are more than ready, to run the best race yet.
Congratulations! You've completed your race, crossing the finish line with thousands of people screaming your name. You've accomplished your goal and are rewarded with the 2014 BMO Vancouver Marathon finisher's medal. Don't worry, the fun isn't over yet. You'll now find yourself in the Elite and VIP finish line area where food and refreshments will be available to help you cool down and replenish electrolytes. Sore? Tired? You and your friend will then relax and unwind with a 15-minute post-run massage.
Register before October 20th, 2013 to run the marathon or half marathon and be automatically entered to win this one-of-a-kind race weekend experience !
The total value of this package is over $2,750.
There is no regional restriction to enter the contest. There is no purchase necessary to enter the contest. The winners will be announced and contacted directly on October 23, 2013. Good luck!
Contest Details
Win the Elite Treatment Contest

Registration for the May 4, 2014 BMO Vancouver Marathon is now open. This year we have some exciting new experiences planned for race weekend!
How does 3 nights accommodation at our host hotel for the Elites and Media sound? What about 2 complementary platinum packages for you and friend? Do you still want more?
Ok, here's what we have for you. Register between now and October 20, 2013 for a chance to win an awesome race weekend package for you and a friend. Register here and you will automatically be entered in a draw for a chance to win:
Two Platinum packages upgrade for you and a friend (valid for the half and/or the marathon)
Two Training Program entries with the Running Room for you and friend.
Two tickets for the media luncheon with the Elite runners on Friday, May 2.
Three nights stay at the Coast Coal Harbour Hotel, our official hotel host located right at the Downtown Finish Line on West Pender street.
Transportation from the Coast Coal Harbour Hotel lobby to the Start Line on race morning. You will get a chance to be with the Elites on your way to Queen Elizabeth Park.
Two 15-minute massages for you and a friend at the end of the race.
Access to the Elite and VIP area at the Finish Line.
Two pairs of shoes from Saucony, our official apparel supplier.
But that's not all, we will also draw 5 names for a chance to win Saucony running shoes.
The total value of this package is over $2,750. There is no regional restriction to enter the contest. There is no purchase necessary to enter the contest.
Don't miss your chance. Enter today.
AND THE WINNER IS…. Doug Mcilhargey from Coquitlam !!
Contest Rules > Contest Rules