Race morning temperatures in Vancouver are usually optimal for Marathon racing in May, however, weather can be unpredictable. Please plan accordingly for Race Day.
Safety is a top priority and we are dedicated to delivering a safe and memorable event for all. Thank you and enjoy the run!
Predicted Alert for upcoming BMO Vancouver Marathon: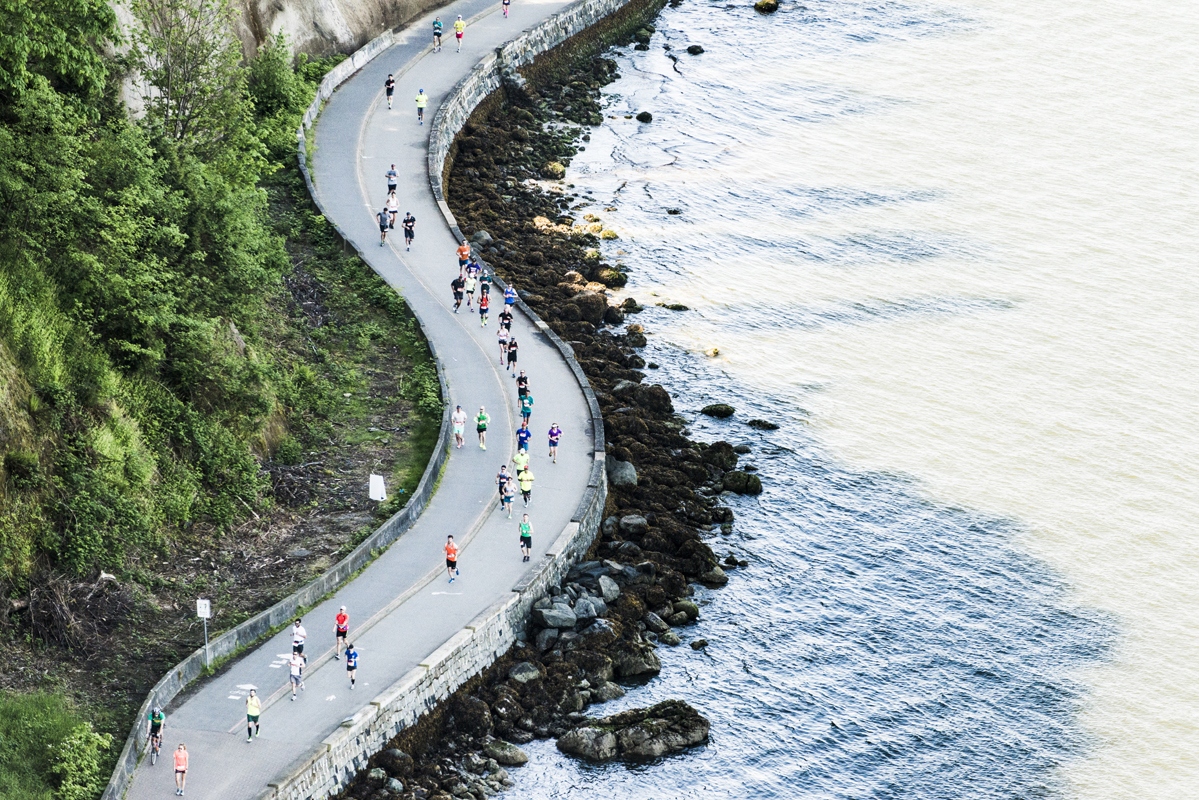 Event Alert System
To assist in communicating key messages, the Society will also rely on the Event Alert System below.
Event conditions
EXTREME
Action Recommended
Participation is stopped. Follow event instructions.
Event conditions
POTENTIALLY DANGEROUS
Action Recommended
Slow down, observe potential changes and official instructions.
Event conditions
LESS THAN IDEAL
Action Recommended
Slow down and be prepared for potentially worsening conditions.
Event conditions
GOOD
Action Recommended
Be alert and enjoy the event!
This Event Alert System is a standardized protocol used at events to ensure participants have a great experience and are prepared for race conditions. Race status signs will be placed near the Start and Finish Lines, plus shared on the event website and social media. This simple, standardized status is updated by race organizers in consultation with meteorologists and other officials.
Runners, volunteers, and supporters are encouraged to watch for event updates and plan accordingly.
Safety is a top priority. As a local non-profit, we are dedicated to delivering a safe and memorable experience for runners, spectators, and volunteers. Thank you as well to the City of Vancouver and Vancouver Parks Board for helping us plan ahead and mitigate potential risks.
Tips From RockDoc Consulting Inc.
By Samuel J. Gutman, MD CCFP(EM/SEM), Medical Director of Rockdoc Consulting Inc.
FLUIDS
In distance running events, dehydration can happen in certain locations and circumstances. Fortunately, it is uncommon in a climate like Vancouver but race day can be warm. Participants in all of the events should pay attention to drinking the optimal amount of fluids for their body. While staying hydrated is the goal, there is a also a risk of drinking too much fluid. Over-hydration can cause a condition call Hyponatremia, which can lead to serious and dangerous complications.
It is recommended for all runners, and especially those completing a marathon in four hours or more, to replace 100% of the fluids lost due to sweating – but not to drink more. Runners should begin their races well hydrated – indicated by clear, nearly colorless urine and then be guided by their thirst as the signal to drink a sports drink with sodium and other electrolytes. This means drink no more than 400 – 800 ml per hour. Also, avoid excessive caffeine and anti-inflammatory medications prior to, and during marathons to reduce potential health risks. It is also important that athletes adjust their pace to race conditions, slowing as heat and humidity rise.
CLOTHING
It is important to wear comfortable clothing appropriate for the weather. Try out your race day outfit on a long training run and be sure to check the weather forecast before you leave home on race day. Dress in layers and shed them during the race. On a hot day, wear loose clothing, preferably a wicking technical material that enhances evaporation. If the race is on a sunny day, try to run in the shade as much
as possible. Skin breakdown is a major concern during the race. Avoid cotton shirts that can cause chafing or nipple irritation. Blisters can be prevented by wearing shoes that are well fitted and well broken in. Use a commercial product to lubricate and reduce irritation in sensitive or high friction areas, especially the nipples, inner thighs, underarms and feet.
DIET
Good nutrition, both during training and before the race, is critical if you hope to excel in any running race. Some recommendations for endurance athletes suggest 15 to 20 percent proteins, 30 percent fat and 50 to 55 percent carbohydrates. It's complex carbohydrates you should concentrate on like the starch in plant foods, including fruits, vegetables, bread, pasta, and legumes. Carbohydrates are particularly important the night before your race, and also before your long runs leading up to the race. You might consider a light carbohydrate snack just before going to bed, or rising early on race day so you can have a light pre-race meal of toast or a bagel washed down with orange juice, 3 hours before race start. During the race, simple carbohydrates in the form of gels, jelly beans or energy bars can be very beneficial. It is important to practice your eating routine before and during your long training runs to make sure it doesn't upset your stomach. If in doubt, stay with familiar foods and don't make drastic changes on race day.
THE FINISH LINE
Keep walking through the chutes after the finish line! The most common cause of collapse after a long race is due to blood pooling in the legs, resulting from suddenly stopping contraction of the leg muscles. Drink fluids slowly and restore your blood sugar with a snack after the race. If you feel unwell or
have ANY medical concerns, ask a volunteer to direct and accompany you to one of the medical facilities.