Course Map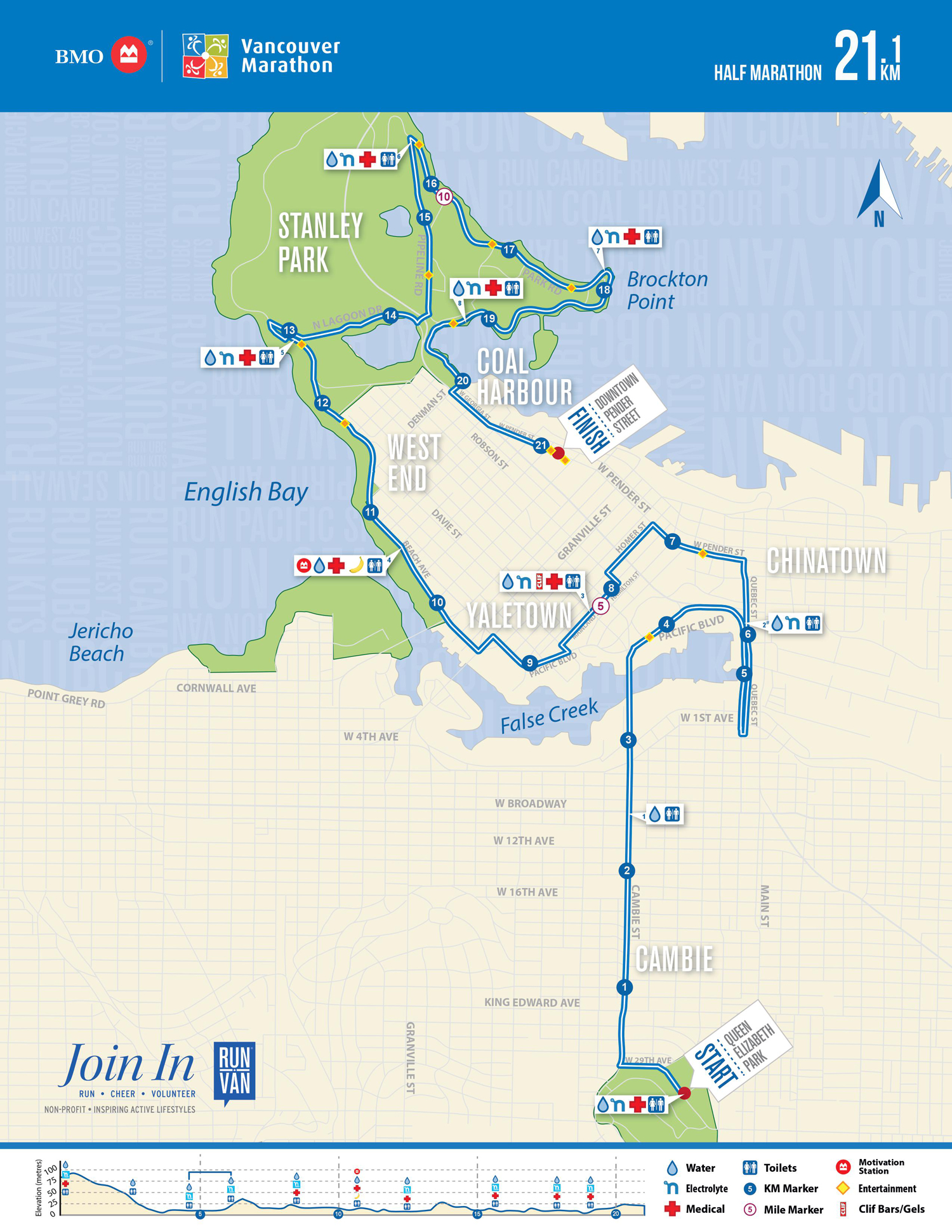 Kilometre Markers
The BMO Vancouver Half Marathon course is marked every kilometre and every five miles.
Stations – 8
Water Station: All stations on course
Nuun Electrolyte Drink: Station 2, 3, 5, 6, 7 & 8
Medical Station: Station 3, 4, 5, 6, 7 & 8
CLIF Gels/Bloks Station: Station 3
Food Station (Bananas): Station 5
3D Flyover
---
Start Line Map
Finish Line Map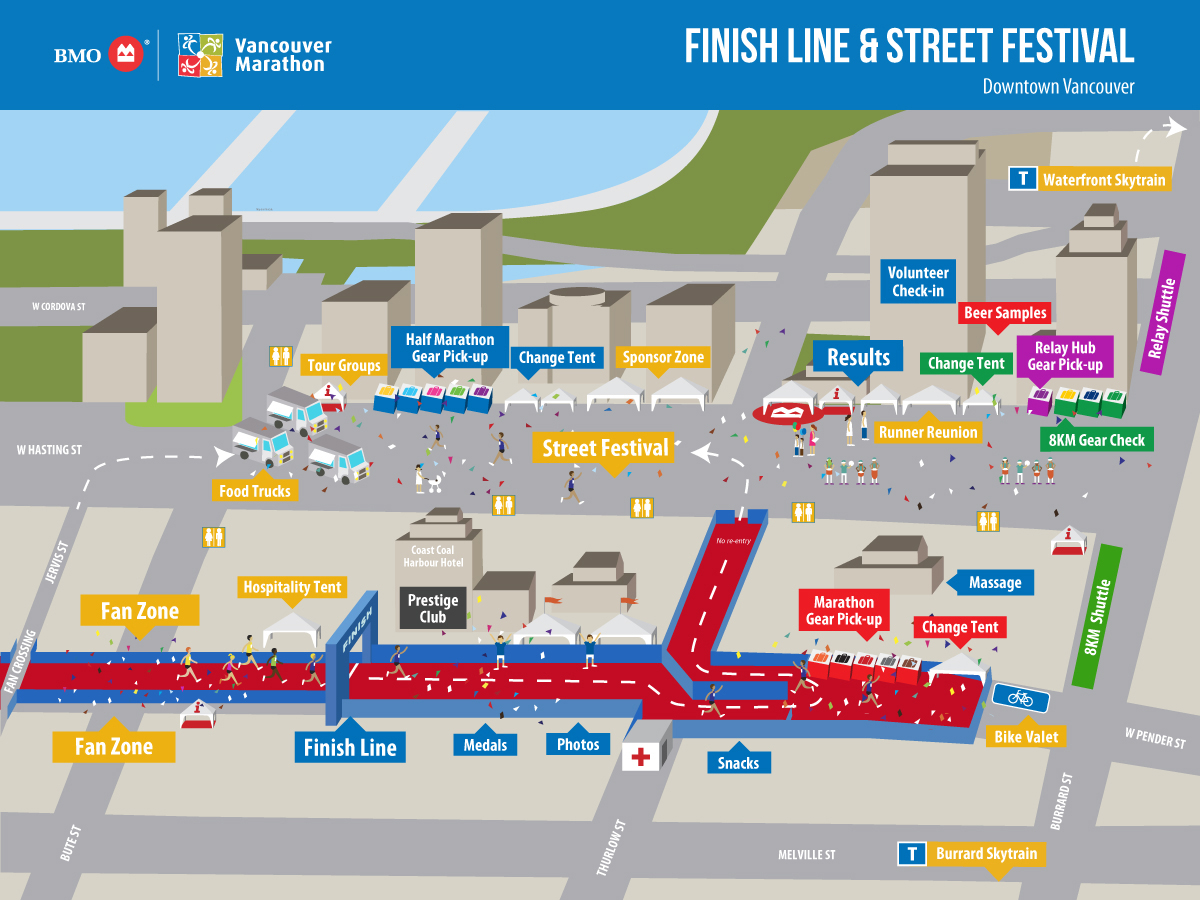 The Finish Line is located on W Pender St between Bute & Thurlow.

The Street Festival is located on W Hastings St between Bute & Burrard.
Turn by Turn
START on Midlothian Ave
Bear left as Midlothian Ave turns into 29th Avenue
Right onto Cambie St
Continue down Cambie and over Cambie Street Bridge
Bear right onto the exit ramp down to Pacific Blvd (East)
Continue East passing BC Place Stadium and Science World
Proceed South on Quebec St about halfway between E 1st Ave and E 2nd Ave then turnaround 
180 degrees
Return North on Quebec St
Pass the Dr. Sun Yat-Sen Chinese Garden on the left
Left onto West Pender St and under the Chinatown Millennium Gate
Left onto Homer St
Left onto Robson St
Right onto Hamilton St (turns into Mainland St after crossing Smithe St)
Left onto Davie St
Right onto Pacific Blvd
Cross at Richards St from the westbound to eastbound (on-coming) lanes on Pacific
Left onto Granville St (under the Granville Street Bridge)
Right onto Beach Ave
HALFWAY Cross Jervis St. (Continue on Beach Ave)
Continue on Beach Ave (becomes Stanley Park Drive) into Stanley Park to Second Beach
Left into the Second Beach parking lot
Exit the parking lot onto Stanley Park Drive with a hard right
Left onto North Lagoon Drive
Left through the underpass
Left onto Pipeline Rd
Right onto Stanley Park Drive
Follow Stanley Park Drive around Brockton Point
Bear left into the parking lot after Avison Way (entrance to the Aquarium) and onto the Seawall
Right (South) onto Denman St off Seawall
Left onto West Georgia St directly onto the sidewalk
Bear left onto West Pender St, cross Bute St and arrive at the FINISH LINE
The scenic and fast Half Marathon course passes through five neighbourhoods, two parks and two beaches. See all communities.
Start: Queen Elizabeth Park | 1-3KM: Cambie | 4-7KM: Chinatown | 7-10KM: Yaletown | 10-12KM: West End with Sunset Beach & English Bay | 12-20KM: Stanley Park | 20-21.1KM: Downtown Vancouver
Download Maps
HALF MARATHON
|
EVENT DETAILS
|
COURSE MAPS
|
RACE PHOTOS