PAST RESULTS | EVENT RECORDS | ELITE ATHLETES | PAST CHAMPIONS | X AGE CATEGORY
Exclusive Legacy Runners Club for Past Participants
Repeat Marathon, Half Marathon and 8KM runners are rewarded for their loyalty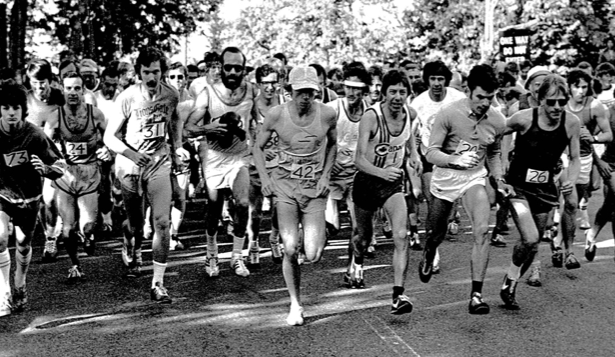 The Legacy Runners Club recognizes runners who have participated in and completed the Vancouver Marathon, Half Marathon or 8KM event multiple times since their inaugural dates in 1972, 1989 and 2008 respectively. Introduced for the 45th running of the Vancouver Marathon, the non-profit Vancouver International Marathon Society is proud to celebrate returning runners who have contributed their energy and passion to the event year after year.
The Legacy Club honours and recognizes runners who have completed the event 15, 20 or 25 times. By analyzing finisher records dating back to 1972, approximately 70 runners were identified as inaugural members in 2014. Going forward, entrants will continue to be tracked and runners will automatically become a member of the program once qualified. Runners are also encouraged to come forward and identify themselves once they meet the criteria.
"We are honoured to see so many participants show their unbridled dedication towards the Vancouver Marathon as well as the sport of running. This Legacy Club builds on the long history of the event by recognizing those runners who have been loyal to our races over the many, many years. By recognizing these dedicated and loyal runners with special bibs and other benefits, we hope other participants will also acknowledge these athletes."
Legacy Club runners will receive special unique benefits including the following:
Specialized bibs from the Society with designs unique to their participation levels
Recognition on the Vancouver International Marathon Society webpage runvan.org/legacy-club
Access to express package pickup, and hospitality tents at the Start and Finish Lines
Runners who have run and completed a Vancouver Marathon event 25 times or more may also be invited to the Media Luncheon with the elite athletes and will be assigned a bib number for life to commemorate their achievement.
---
PAST RESULTS
|
EVENT RECORDS
|
ELITE ATHLETES
|
PAST CHAMPIONS
|
X AGE CATEGORY