Course Map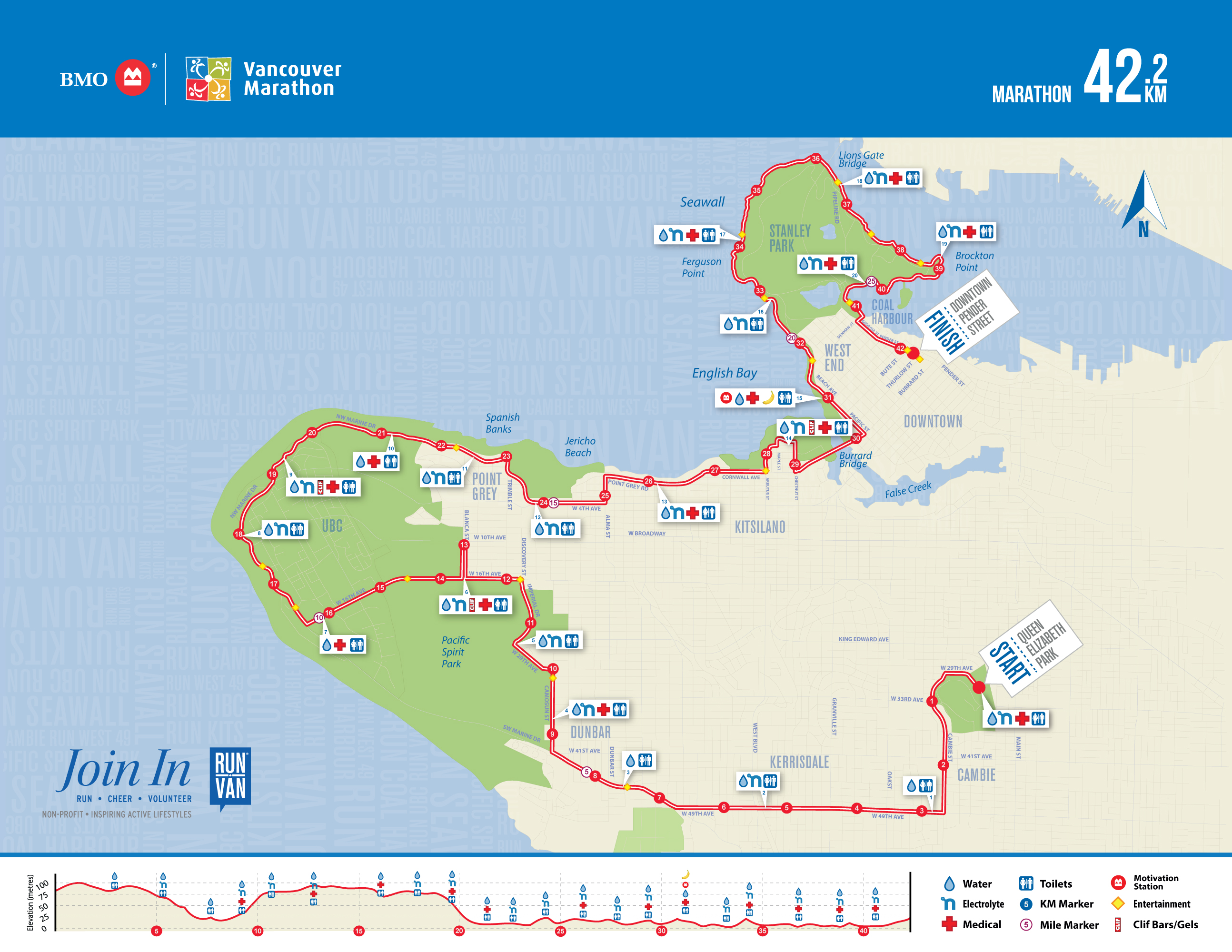 Kilometre Markers
The BMO Vancouver Marathon course is marked every kilometre and every five miles.
Stations – 21
Water Station: All stations on course
Nuun Electrolyte Drink: Station 2, 4, 5, 6, 8, 9 11, 12, 13, 14, 16, 17, 18, 19, 20
Medical Station: Station 4, 6, 7, 9, 10, 13, 15, 16, 18, 19, 20, 21
CLIF Bar Station: Station 6, 14
CLIF Gel Station: Station 9
Food Station (Bananas): Station 15
3D Flyover
---
Start Line Map
Finish Line Map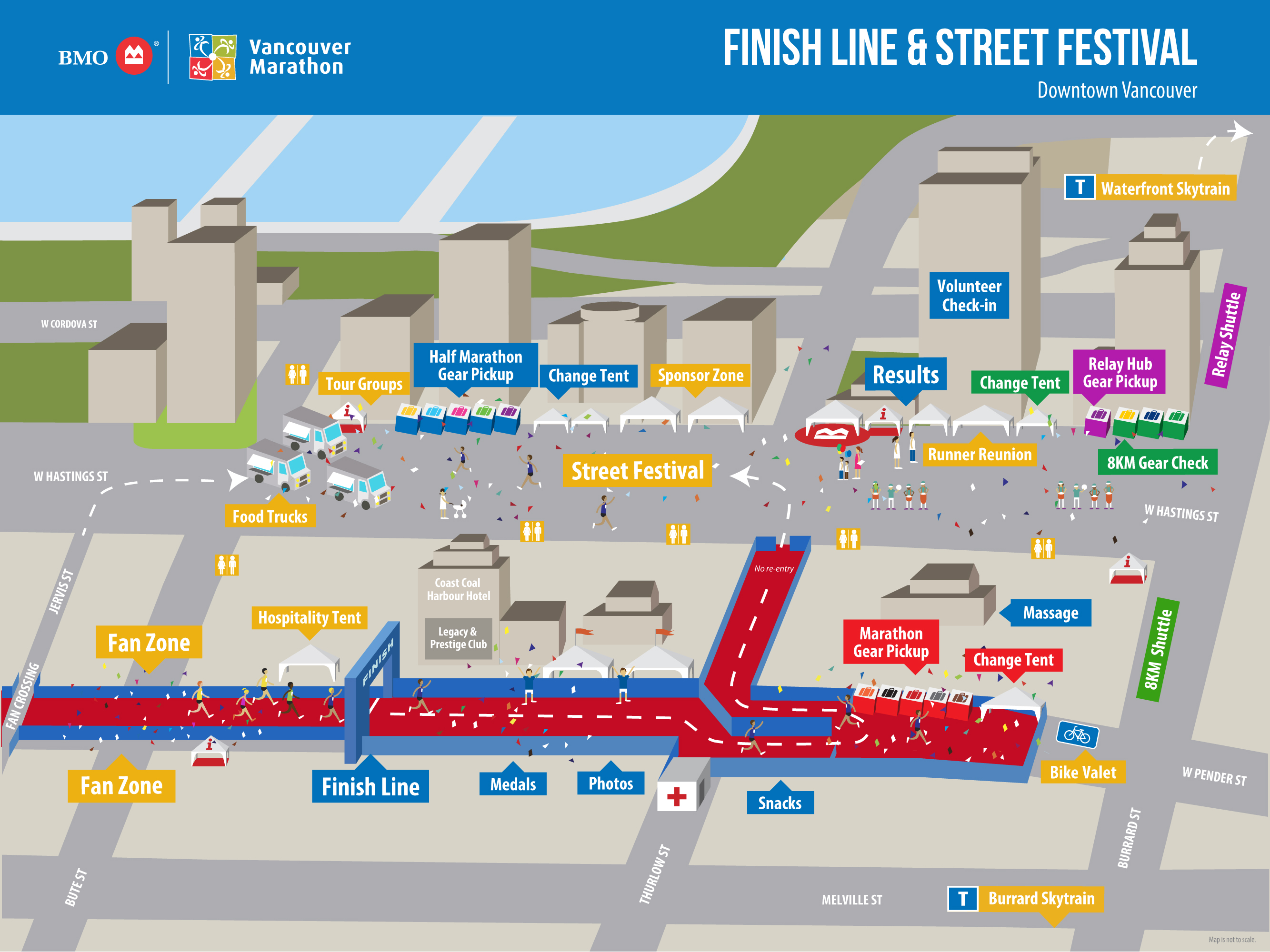 The Finish Line is located on W Pender St between Bute & Thurlow.

The Street Festival is located on W Hastings St between Bute & Burrard.
Turn by Turn
START LINE
on Midlothian Avenue
Bear left as Midlothian Avenue turns into 29th Avenue
Left onto Cambie Street (south in northbound lanes)
At 31st Ave crossover from the northbound to the southbound lanes
Right onto 49th Avenue
Right onto SW Marine Drive
Right onto Camosun Street
Left onto W 29th Avenue (turns into Imperial Drive)
Continue on Imperial Drive through Pacific Spirit Park
Left onto W 16th Avenue.
Right onto Blanca Street (north in southbound lane) – 180 degree Turnaround
Continue south in southbound lanes
Right onto W 16th Avenue in eastbound (on-coming) lanes passing the traffic circle on left & crossing to westbound lanes.
Right onto SW Marine Drive
Follow SW Marine Drive around UBC campus
Left onto NW Marine Drive (right side of the road) continuing across (left) Chancellor down Marine Drive to Spanish Banks
HALFWAY is at Spanish Banks West beach
Continue on NW Marine Drive
Left onto 4th Avenue in the westbound (on-coming) lanes
Left onto Alma Street
Right onto Point Grey Road (turns into Cornwall Avenue)
Follow Point Grey Road/Cornwall Street on the northern side of the street to Kitsilano Point
Left onto Arbutus Street
Right onto McNicoll Avenue
Left onto Maple Street
Right onto Ogden Avenue
Right onto Chestnut Street
Left onto Cornwall Avenue and over the Burrard Bridge using the westbound (on-coming) lane next to the bike lane
Left onto Pacific Avenue (turns into Beach Ave) using the east-bound (on-coming) lane
Continue on Beach Avenue until 30m before Bidwell Street
Left into the parking lot entrance and onto the Seawall path at the Inukshuk Statue
Follow the entire length of the Seawall around Stanley Park
Right onto Denman Street to leave the Seawall
Left onto Georgia Street directly onto the sidewalk
Bear left onto Pender Street using the northern half of the street
Cross Bute Street and arrive at the FINISH LINE
Vancouver's only Marathon course passes through eight neighbourhoods, three parks and six beaches. See all communities.
Start: Queen Elizabeth Park | 1-2KM: Cambie | 2-7KM: Kerrisdale | 7-12KM: Dunbar | 12-22KM: UBC with Pacific Spirit Park | 22-25KM: Point Grey with Spanish Banks | 25-29KM: Kitsilano with Jericho Beach & Kits Beach | 30-32KM: West End with Sunset Beach & English Bay | 32-41KM: Stanley Park with Third Beach | 40-42.2KM: Downtown Vancouver
Download Maps
MARATHON
|
EVENT DETAILS
|
COURSE MAPS
|
RACE PHOTOS