Pace Bunnies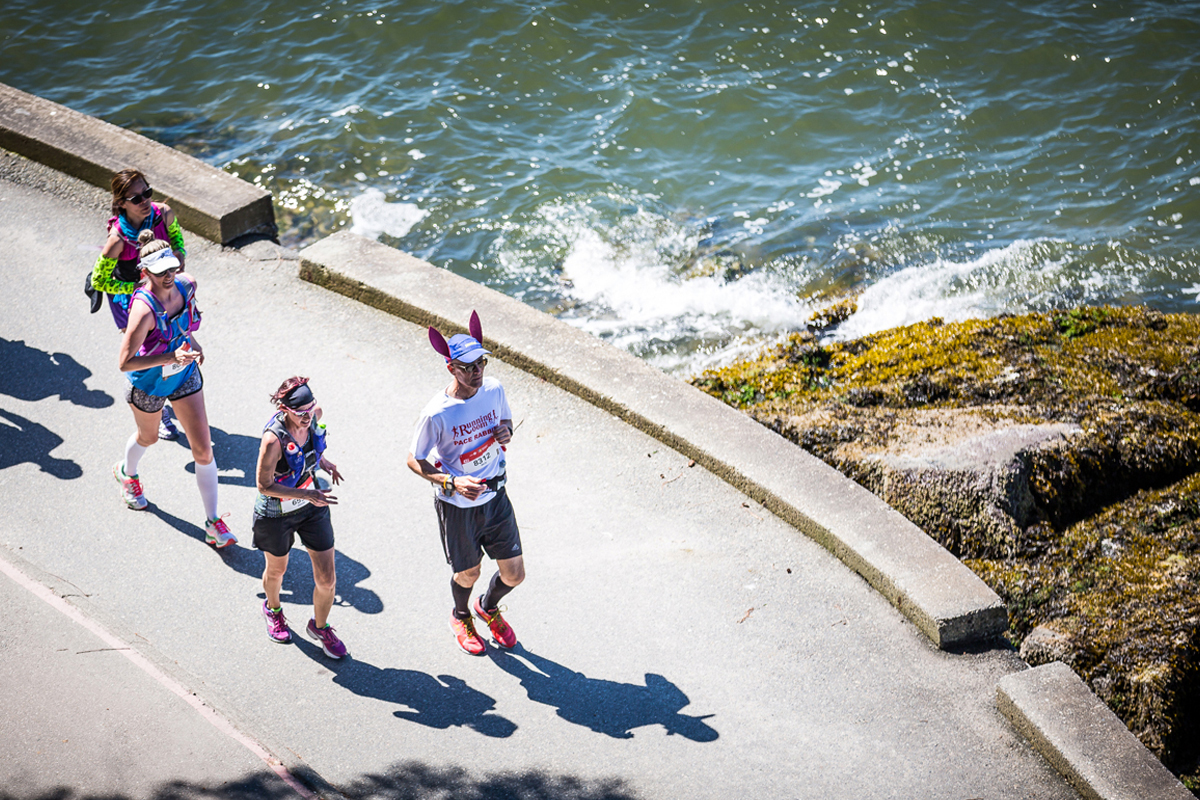 Pace Bunnies can be found on the Marathon and Half Marathon courses! They are located in each corral to help you maintain your pace and finish with your goal race time. Most of the Pace Bunnies provided by Running Room will be consistently running 10 minutes and then walking 1 minute for "10s and 1s".
Meet your Pace Bunny at the Running Room Friendship Run on Saturday!

Marathon Pace times:
3:15, 3:20, 3:30, 3:45, 3:50, 4:00, 4:15, 4:30, 4:45, 5:00, 5:15

Half Marathon Pace times:
1:30, 1:40, 1:50, 2:00, 2:15, 2:30

Cheer Stations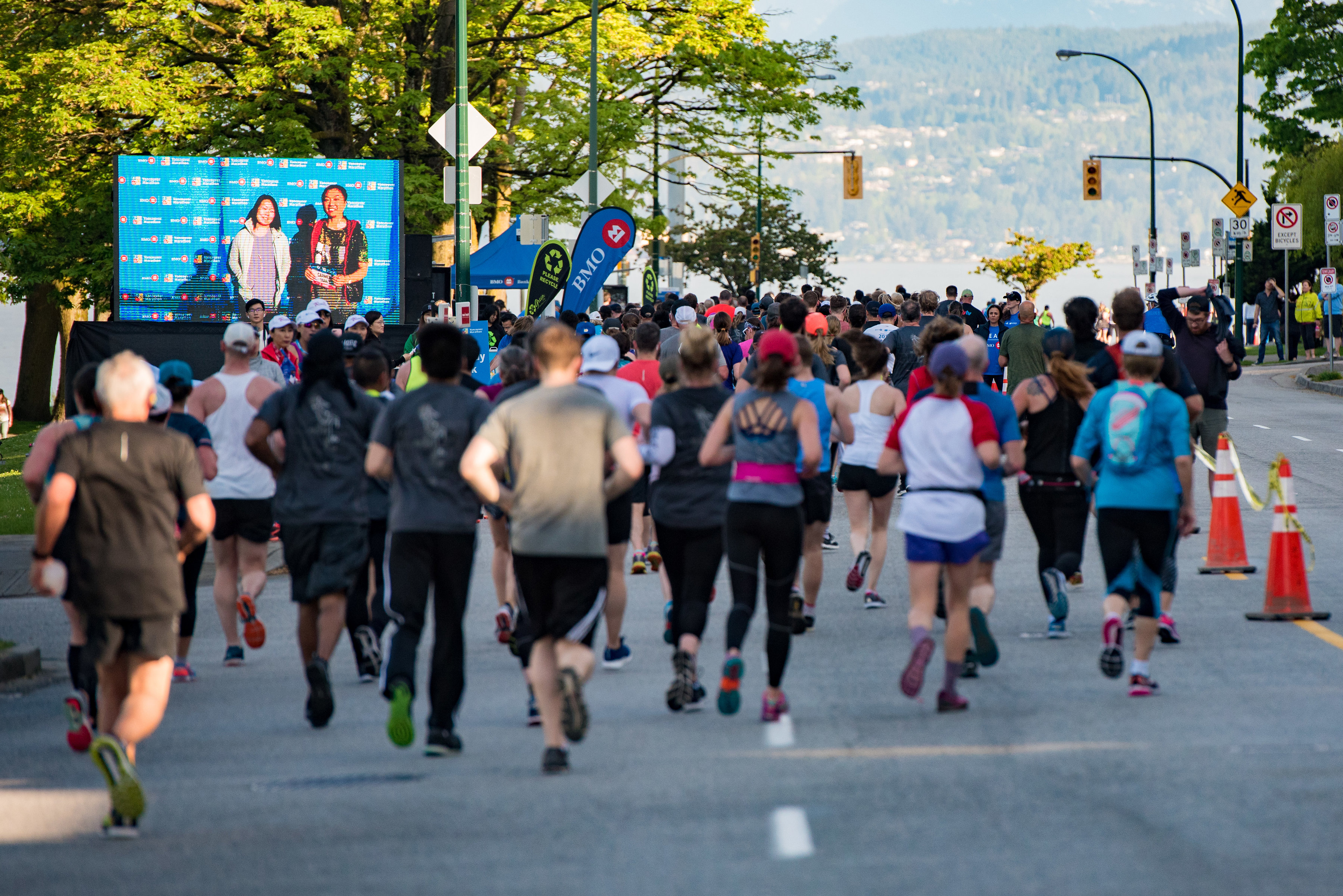 Experience the energy as thousands of spectators will be cheering you on and helping you stay motivated on Race Day. Fans can take part in the
Community Cheer Challenge
where there's $5,000 in cash prizes up for grabs! Learn more at
bmovanmarathon.ca/cheer
.
Keep a look out for numerous cheer stations set up around the city including in Chinatown, Yaletown, Kitsilano, West End and Coal Harbour neighbourhoods!
Your friends and family will also have the opportunity to record a video message for you at the Health & Sports Expo, which will be played on the BMO Cheer Screen by Sunset Beach as you race by! Take advantage of that opportunity pre-race.

Relay Hubs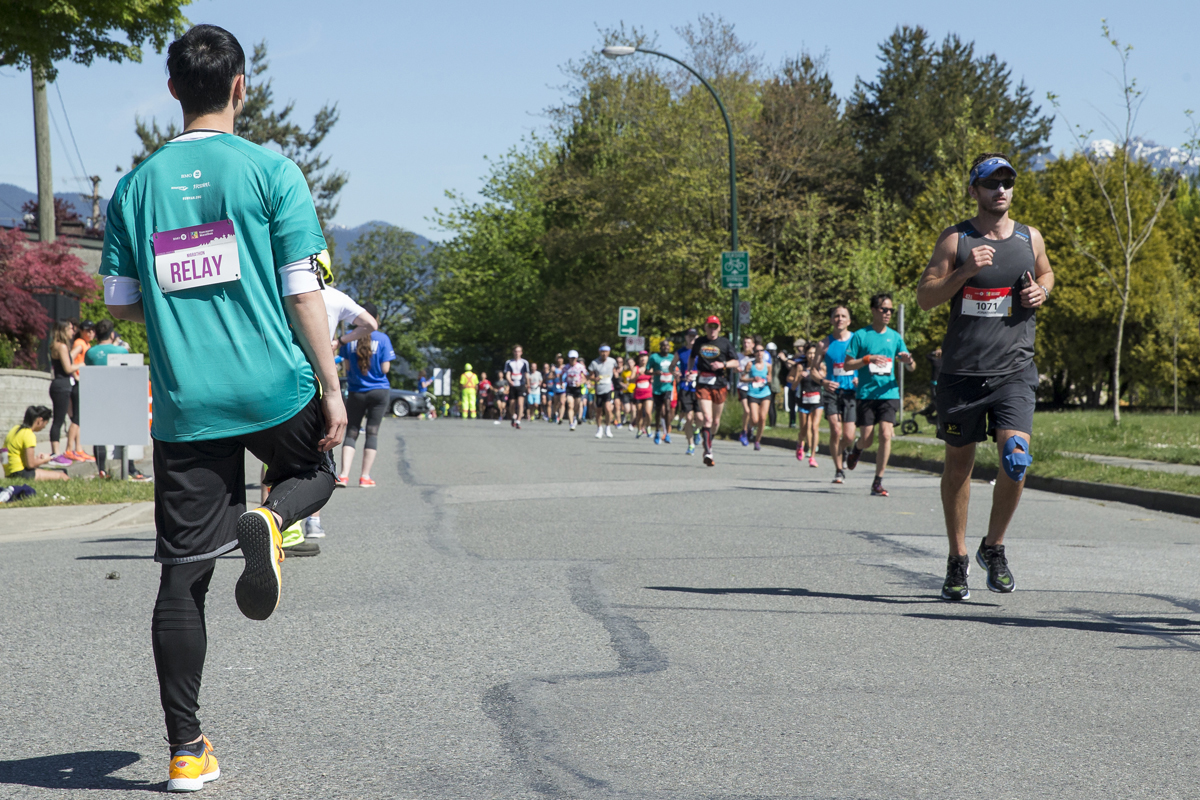 The Marathon also features a team Relay! 'Relay Exchange 100m ahead' signs will help notify you when zones are near. Marathon runners are to continue on the left, while Relay runners stay right to enter these exchange zones and pass a 'baton' bib in the designated Relay Exchange Zone.
Relay runners should be aware of their teammates expected arrival times, and will make an exchange by passing their timing belt in the Relay Exchange Zones. Post-leg, Relay runners will be able to collect snacks and medals, plus have a shuttle option to the Street Festival where Gear Pickup is located for all.
Note: Relay runners will also wear 'RELAY' bibs on their backs. Marathoners shouldn't worry then if a Relay runner passes by, as Relay runners cover shorter distances and may have fresher legs oncourse!

Water Stations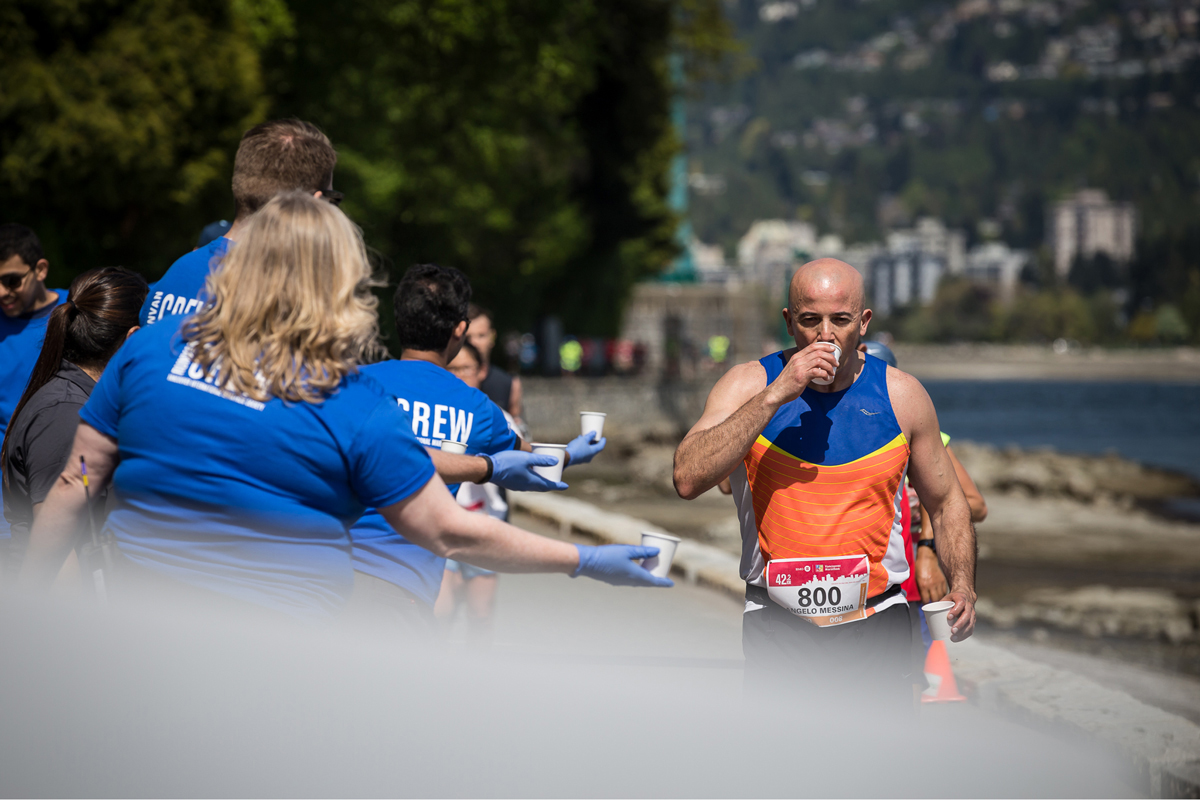 Water is provided at all stations on course. Thousands of volunteers will cheer you on and supply you with water on Race Day!

Entertainment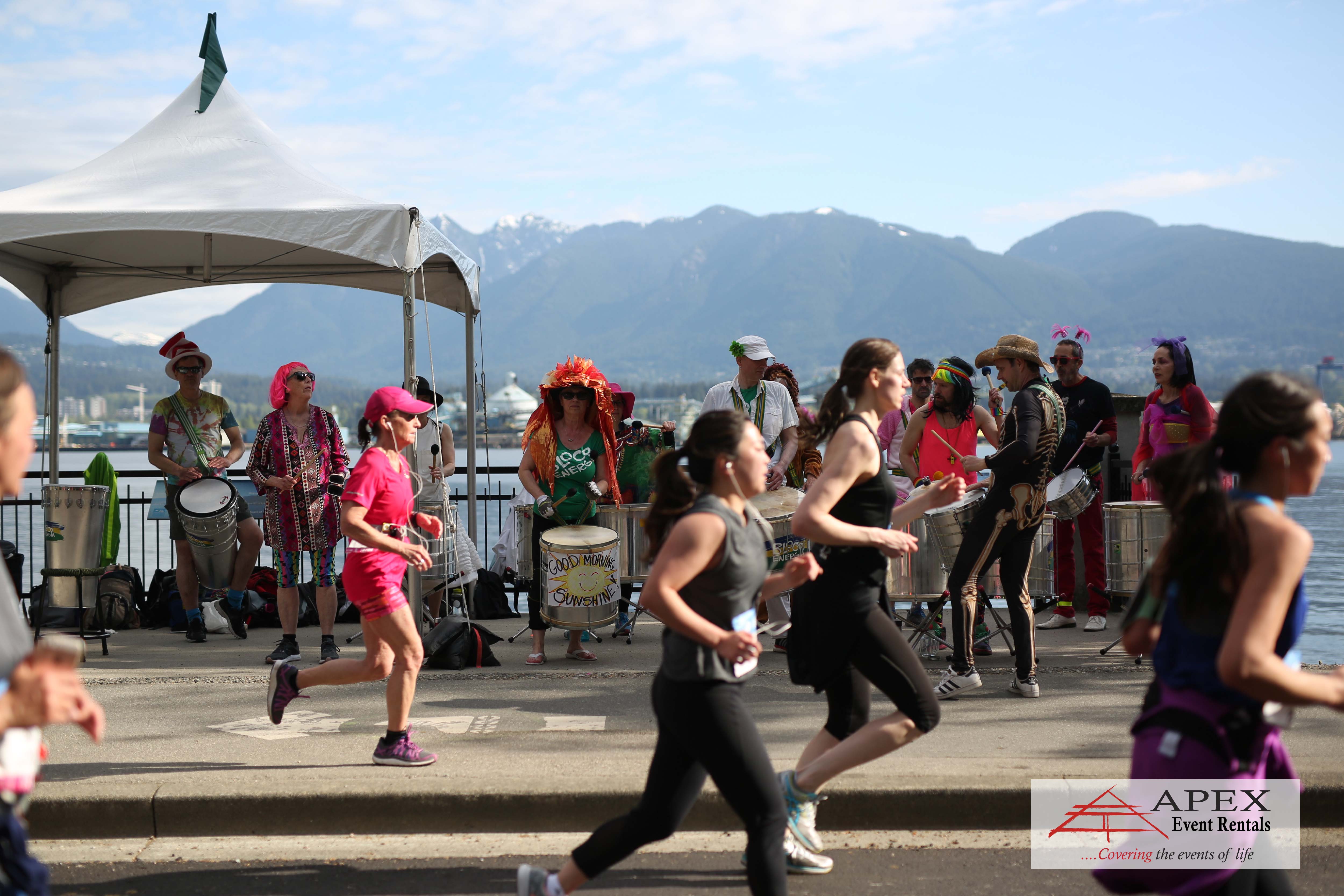 Find live entertainment, music, and more along the course to keep you motivated and energized. Find the acts at bmovanmarathon.ca/entertainment.

Aid Stations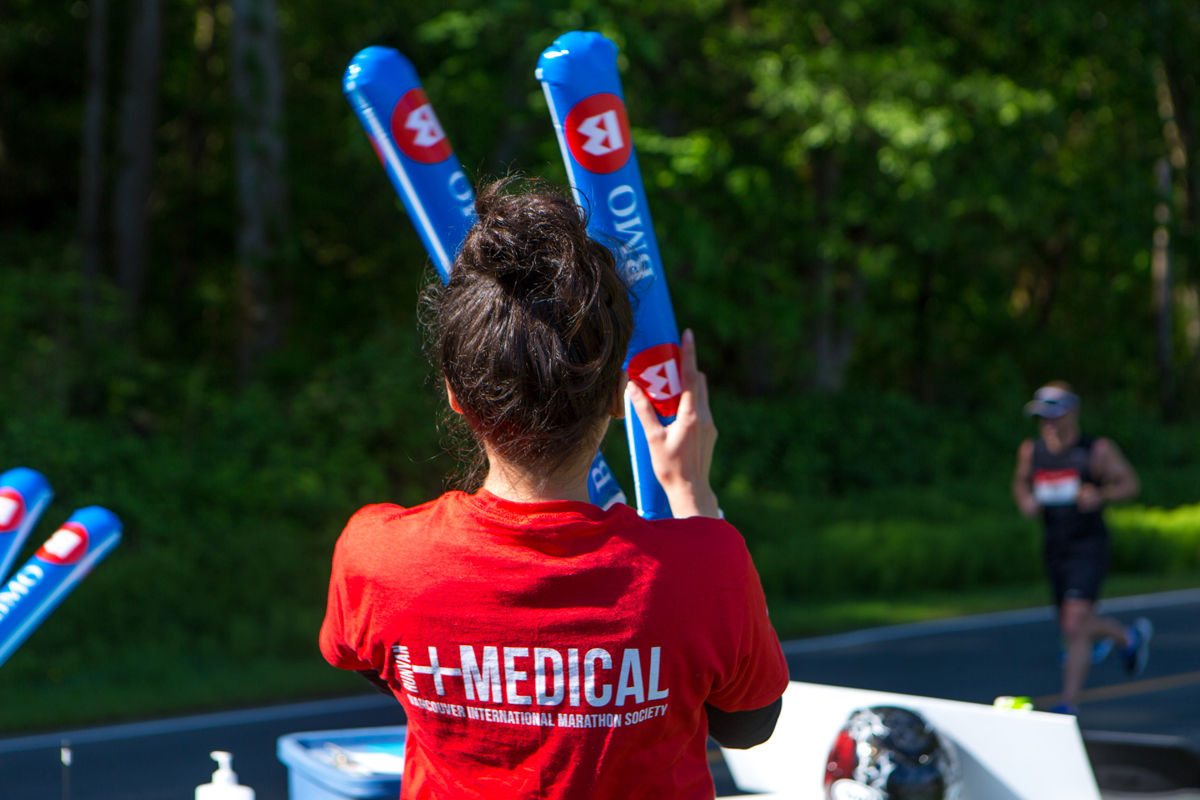 RockDoc Medical Team will be out on course and at the Finish Line to ensure everyone's safety and comfort: bmovanmarathon.ca/eventalert.

Food Stations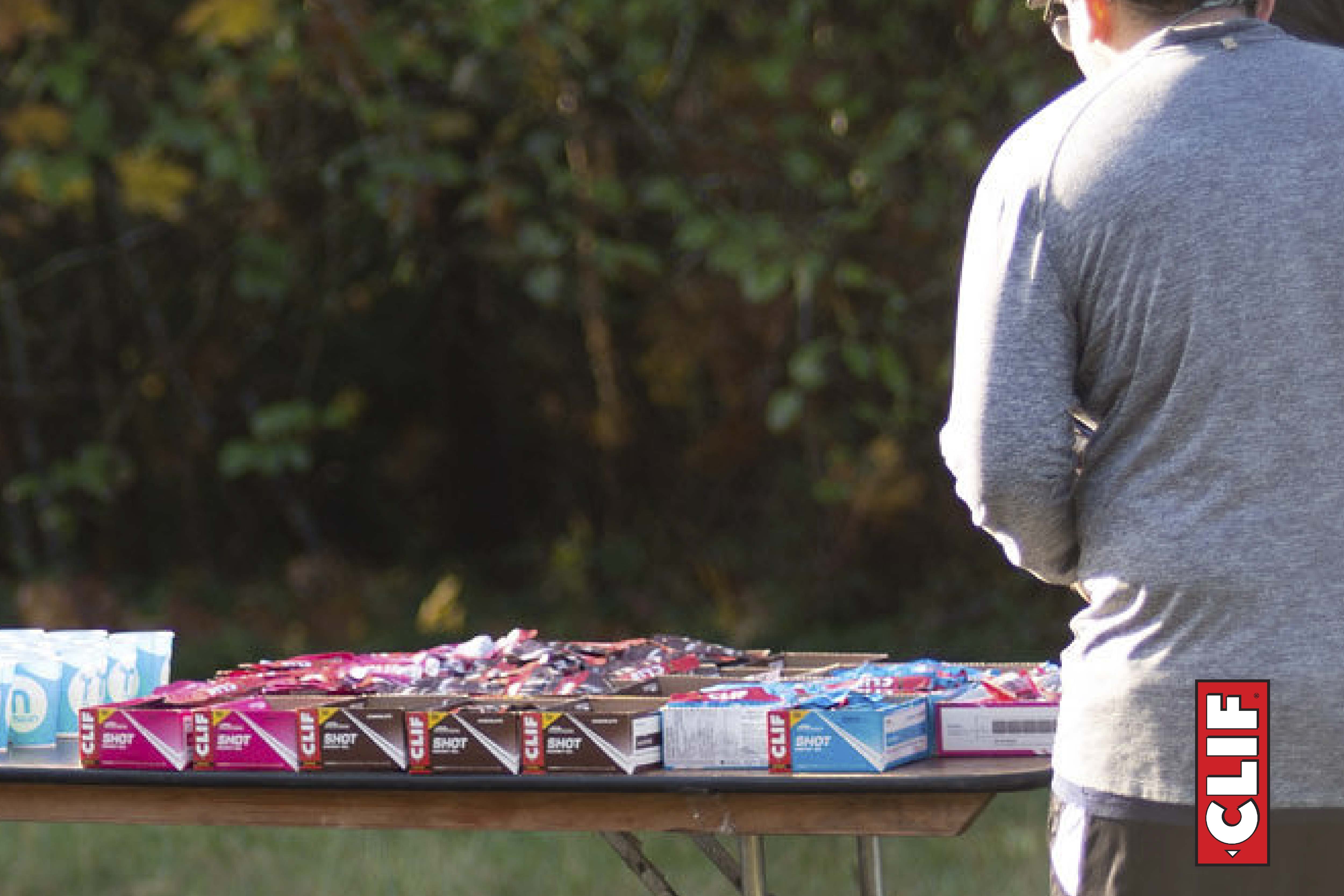 CLIF products and bananas will be provided at food stations on the Marathon and Half Marathon courses, and there's food at the finish.
Electrolytes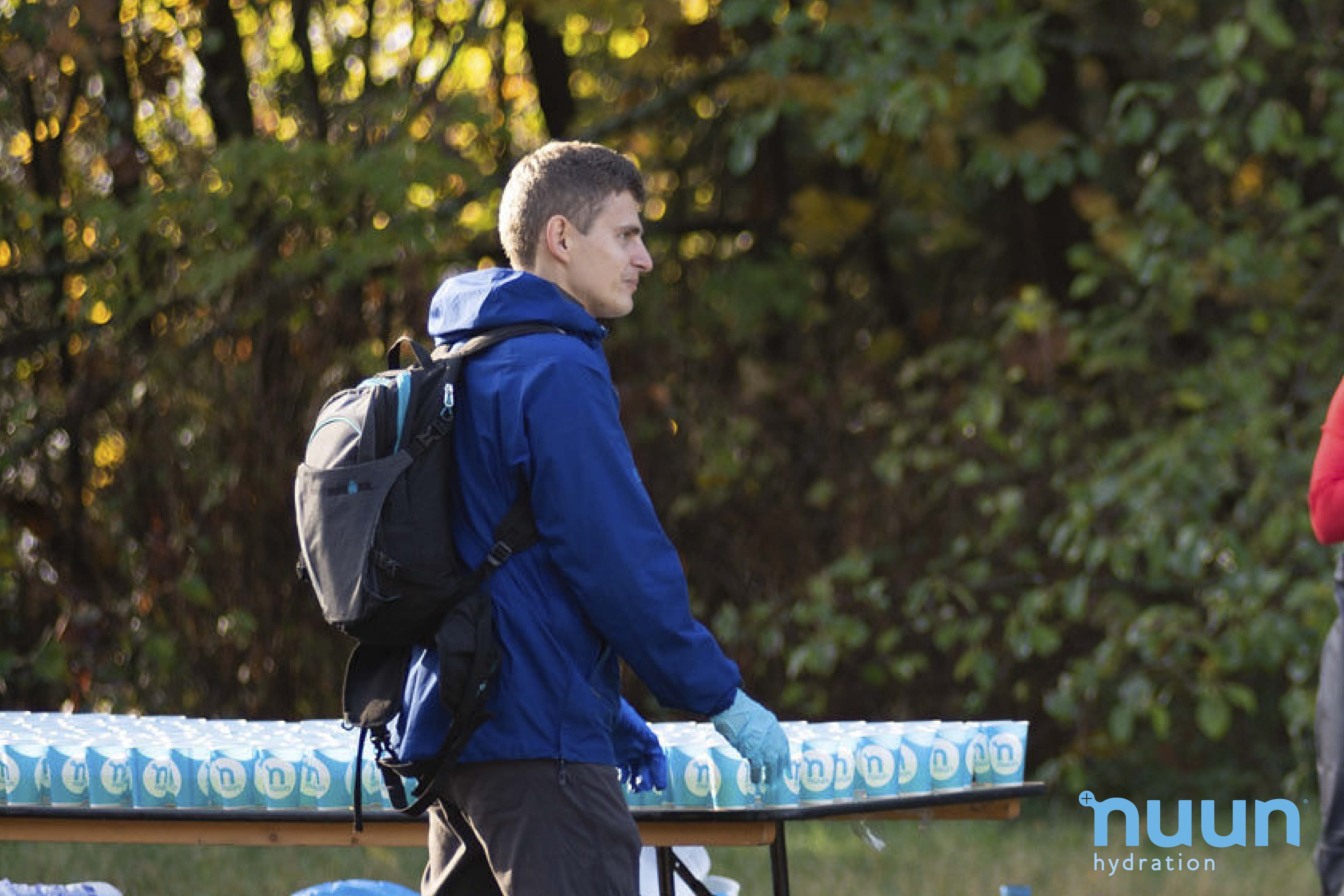 Nuun, the official electrolyte drink of the BMO Vancouver Marathon, will be provided at most stations to keep your body hydrated!
Toilets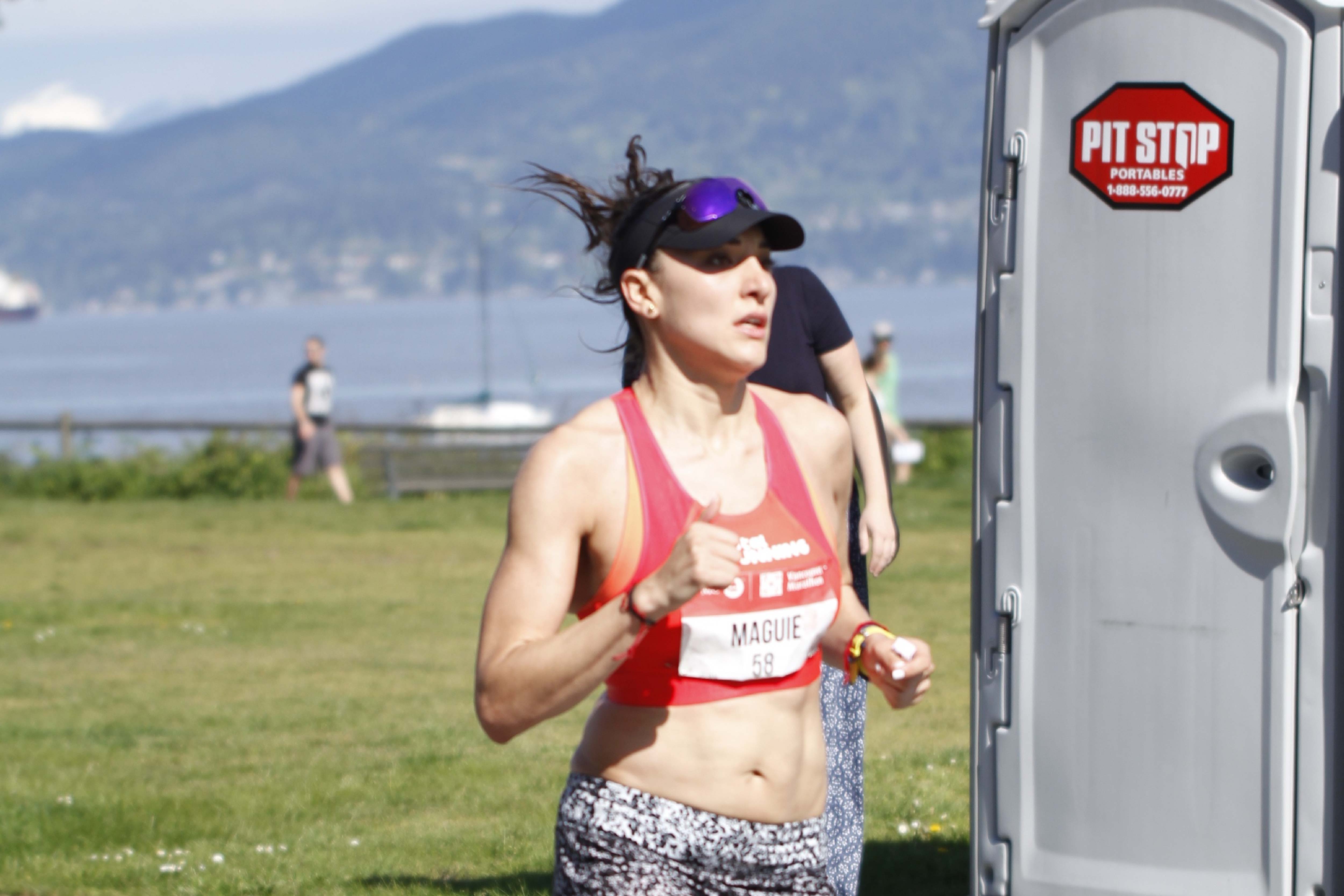 Need to take a pit stop? Pit Stop Portables will help provide toilets at numerous stations along the course, plus at the Start and Finish.
Storage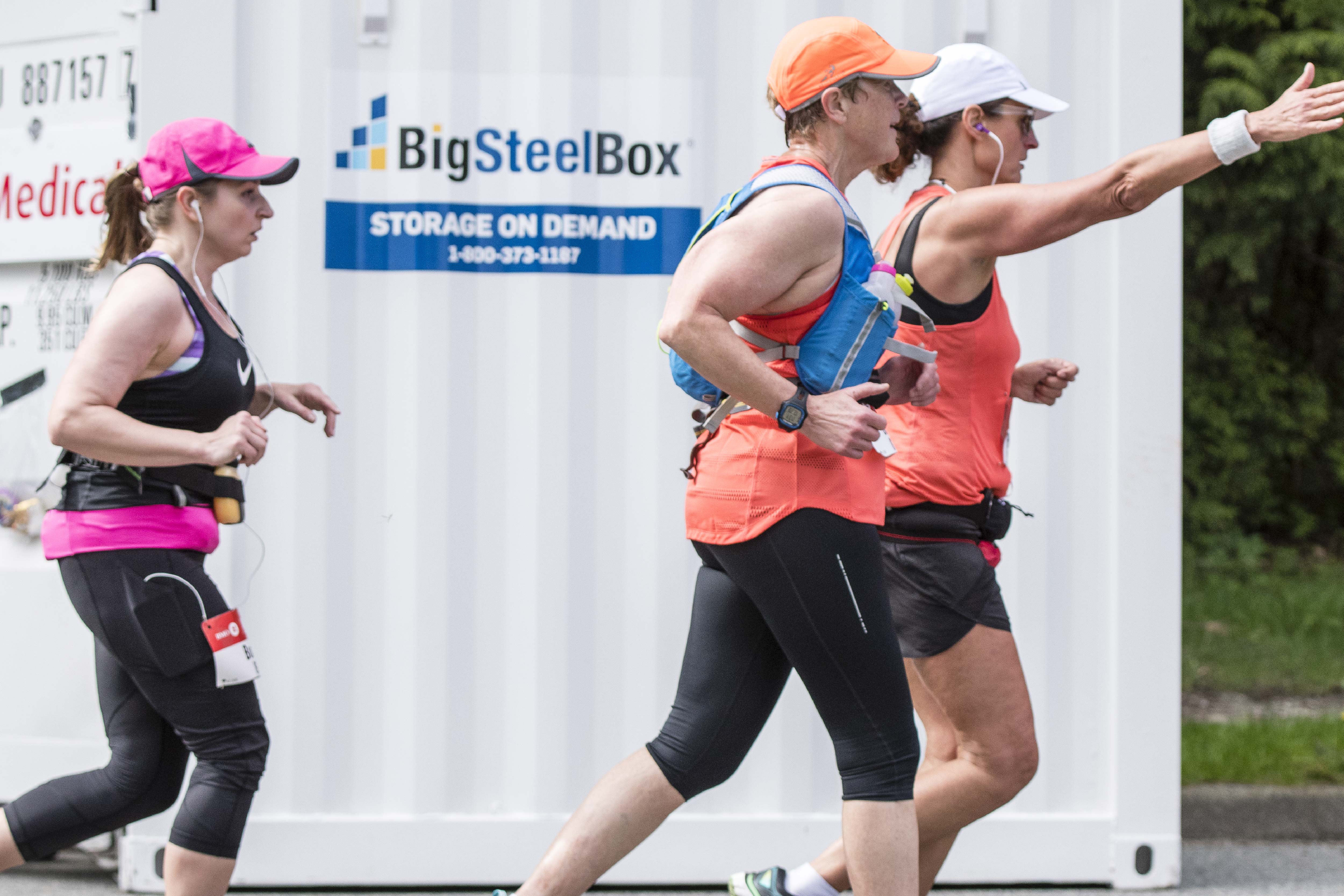 Thanks to BigSteelBox for providing a secure place for our supplies with boxes distributed throughout the course from start to finish!
Running Etiquette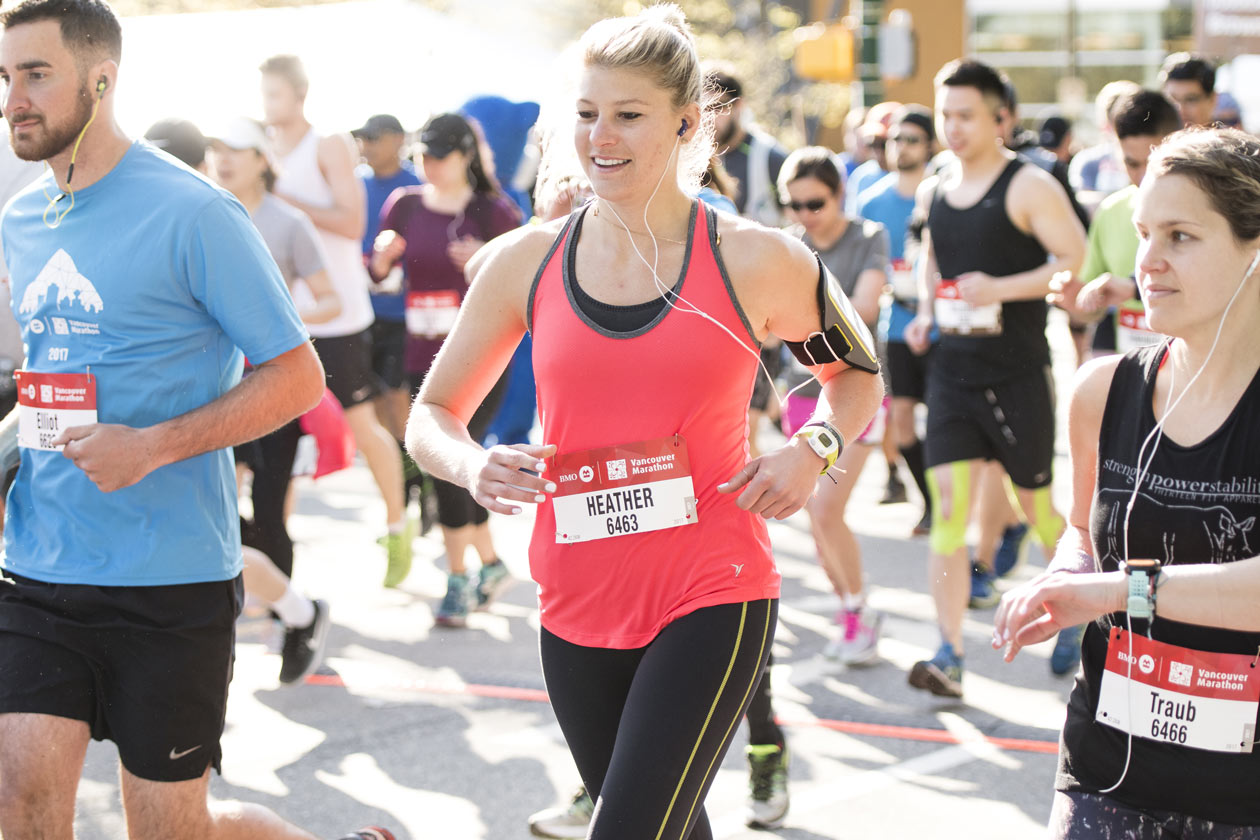 Let's be considerate of others! Please don't impede others and let runners pass on your left. Headphones are discouraged.
Green Initiative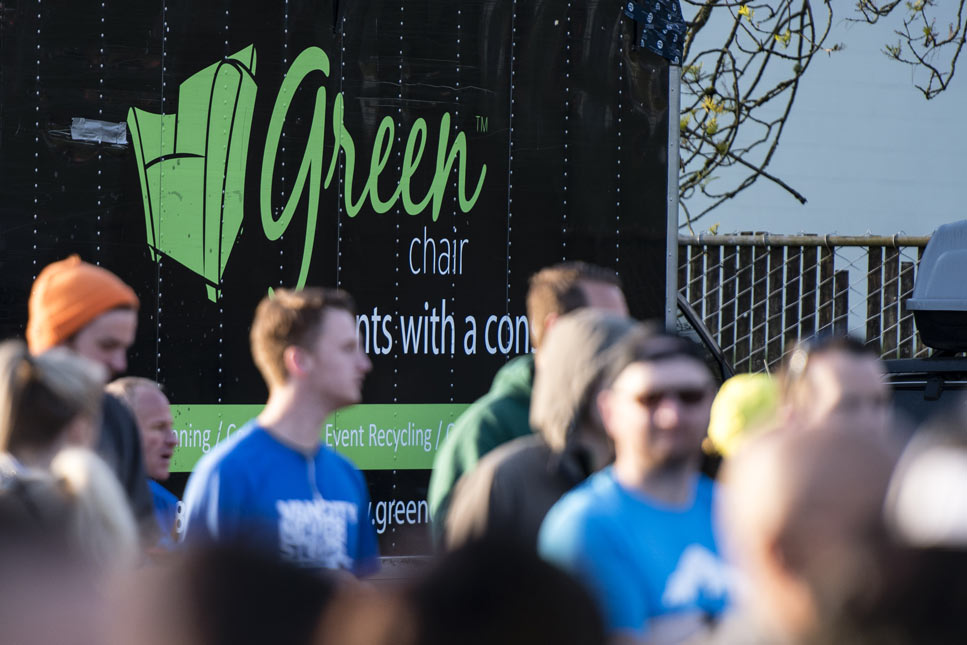 With the help of Green Chair staff and volunteers, we look forward to putting on another green event at this year's race and ask for your support!




MARATHON
|
HALF MARATHON
|
8KM
|
RELAY
|
KIDS
|
REGISTER NOW