Timing Mat Locations
Marathon
Start Line, 13KM, 21.1KM, Finish Line
Half Marathon
Start Line, 5.5KM, 10.5KM, Finish Line
Finish Line
The downtown Finish Line features thousands of spectators, entertainment, and a Street Festival. You'll be congratulated by cheers, receive your medal, have a photo opportunity, and enjoy food and water.
Note: The Runner's Compound is available to runners, staff, and media only. Keep moving forward once you cross the Finish Line and meet your friends at the Street Festival.
Once you pick-up your finisher food, you may proceed to Gear Check or exit the compound. You may not re-enter the compound once you exit and enter the Street Festival.
Spectators may watch on W Pender St (before the Finish Line, between Georgia & Bute St)
Location
W Pender St –
between Bute & Thurlow St
Street Festival
Near the Finish Line, supporters and spectators may find entertainment, food sampling, and souvenirs.
Stretching from Burrard to Bute, W Hastings St turns into a family-friendly Street Festival on race day. The Street Festival builds on the spirit of celebration that Vancouverites experienced during the Olympics. Over 40,000 attendees and 90,000+ spectators are expected to take in the atmosphere.
Meet up with your friends and family after the race and find vendors, food trucks, and more.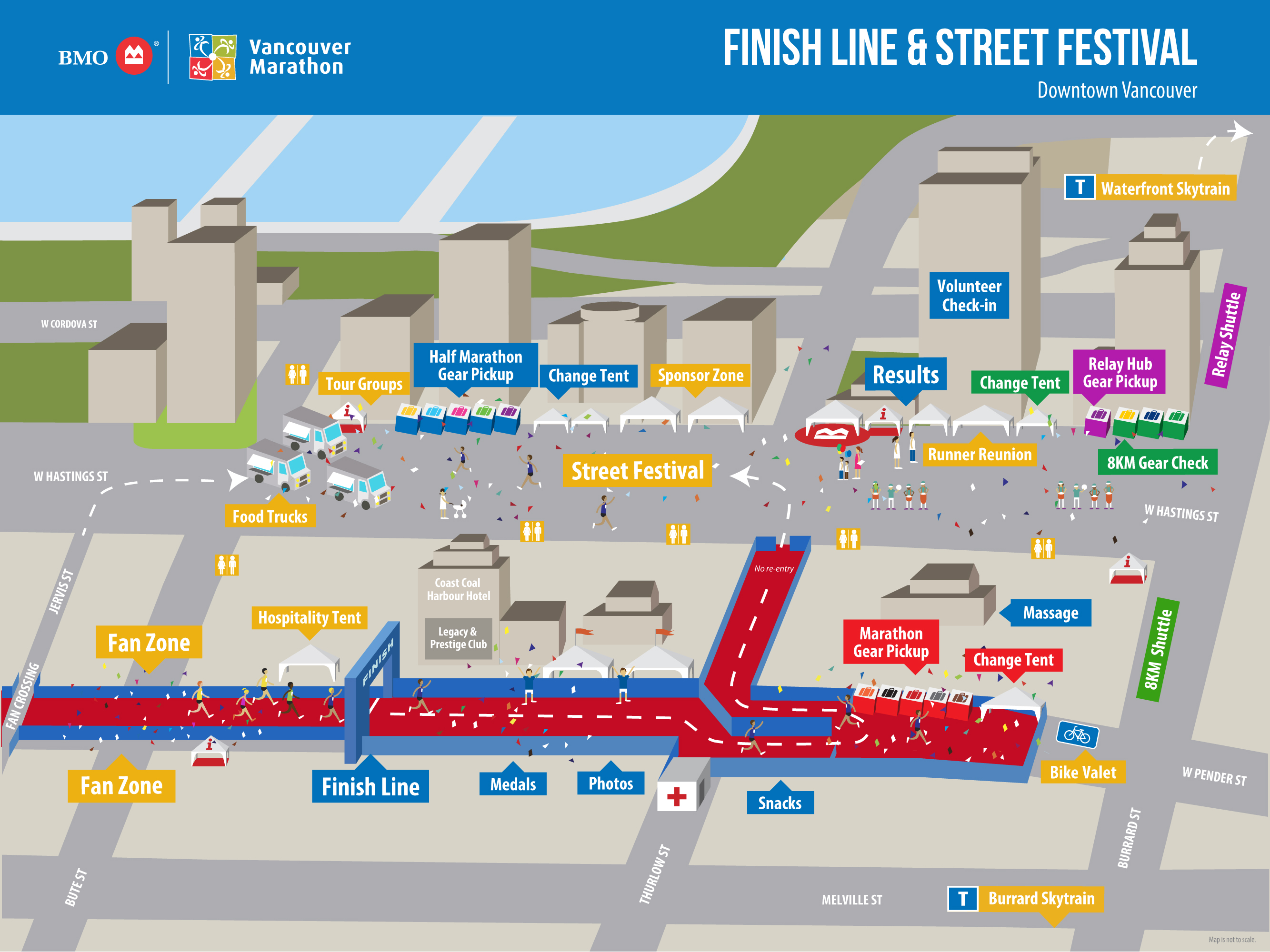 Location
W Hastings St
between Bute & Burrard St
Hours
8:30am – 3:30pm
BIB = BEER
The first one's on us! Your registration is good for one free beer or wine from Mahony & Sons. Kick off the post-race celebrations and redeem your race bib by May 31 for a pint of celebratory Stanley Park Brewing beer or Kettle Valley Winery wine at any Mahony & Sons location.
Age Category Awards
Both male and female runners are automatically entered into the following competitive age groups:
under 19; 20-24; 25-29; 30-34; 35-39; 40-44; 45-49; 50-54; 55-59; 60-64; 65-69; 70-74; 75-79; 80-84; 85-89; 90-94; 95-99; 100 and above.
Winners will be recognized and first place finishers will receive free entry into the following year's race! Chip time, not gun time, will determine age group awards.
Photos
Individual race photos will be available for purchase. Share your favourite race moments with us #bmovm
You will be able to search for your photos below shortly after the race.