Run the Marathon as a team
The award-winning BMO Vancouver Marathon also features a Relay – a fun option to run one of the world's top destination marathons as a team of two, three or four. Runners of all levels can participate in this team event and experience the excitement of Vancouver's only Marathon! New this year, collect your medal once you complete your portion of the Relay. This event is sold-out annually with Relay distances of approximately 12KM, 12KM, 5KM and 13KM. Note: Gear Check is only available from the first Relay Hub near Oakridge-41st Station with Gear Pickup at the downtown Street Festival.

Details
Date: Annually on the first weekend of May
Time: 8:30am* – must clear start line by 8:40am
Gear Check & Shuttles: near Oakridge-41st Station, Relay Hub
Start Line: Queen Elizabeth Park – Midlothian Ave
Finish Line: W Pender St between Bute & Thurlow
Gear Pickup: W Hastings St and Burrard St, Relay Hub
Course Time Limit: 7hrs
Age: 16+ – anyone under the age of 18 must have parental consent

---
---
Relay Hubs and Shuttles
Relay Hubs are featured in the locations following:
Gear Check – Gear Check** and Shuttles Depart from the Relay Hub near Oakridge-41st Station by Cambie and W 41st Ave (Leg A runners walk to the Start Line)
Relay Exchange Zone 1, Start of Leg B – Imperial Dr & W 16th Ave (Shuttle departs at 8am from the Relay Hub near Oakridge-41st to Exchange Zone 1)
Relay Exchange Zone 2, Start of Leg C – NW Marine Dr & W 4th Ave (Shuttle departs at 8:30am from the Relay Hub near Oakridge-41st to Exchange Zone 2)
Relay Exchange Zone 3, Start of Leg D – Chestnut St & Cornwall Ave (Shuttle departs at 9am from the Relay Hub near Oakridge-41st to Exchange Zone 3)
Street Festival – W Hastings St and Burrard St, Relay Hub. **Note: Gear Pickup for all legs will only be available from this Street Festival location.
On-course signage, marshals and mega-phones will help guide you through your exchange zone. There will be 'Relay Exchange 100m ahead' signage to warn you of the upcoming exchange zones, and signs signifying the Relay Exchange Zone itself. Please stay right to enter the exchange zone, and Marathon runners will stay left. Pass your 'baton' bib in the designated Relay Exchange Zone.
The Exchange Zones will be busy with excitement! Please only enter this area when your teammate is near. To help, volunteers will try to radio ahead and notify when Relay runners are near through mega-phones. You should also be aware of your teammates expected arrival time, and may track runners with the RTRT App.
Once you make an exchange by passing the timing belt to your teammate, please exit to your right. The new Relay runner will then rejoin the Marathon course. Post-run, you may also visit the nearby Relay Hub to collect snacks and your medal!
What's included in your registration:
Relay finisher's medal
Exclusive tech tee
Race bib with built-in timing chip
Free refreshments
Free, convenient and secure gear check
On-course services including water, electrolytes, gels, first aid and more
Live on-course entertainment
Exciting downtown Finish Line with music, food, and Street Festival
Free Health, Sports & Lifestyle Expo
Run & fundraise for charity
Enter to win Team Prizes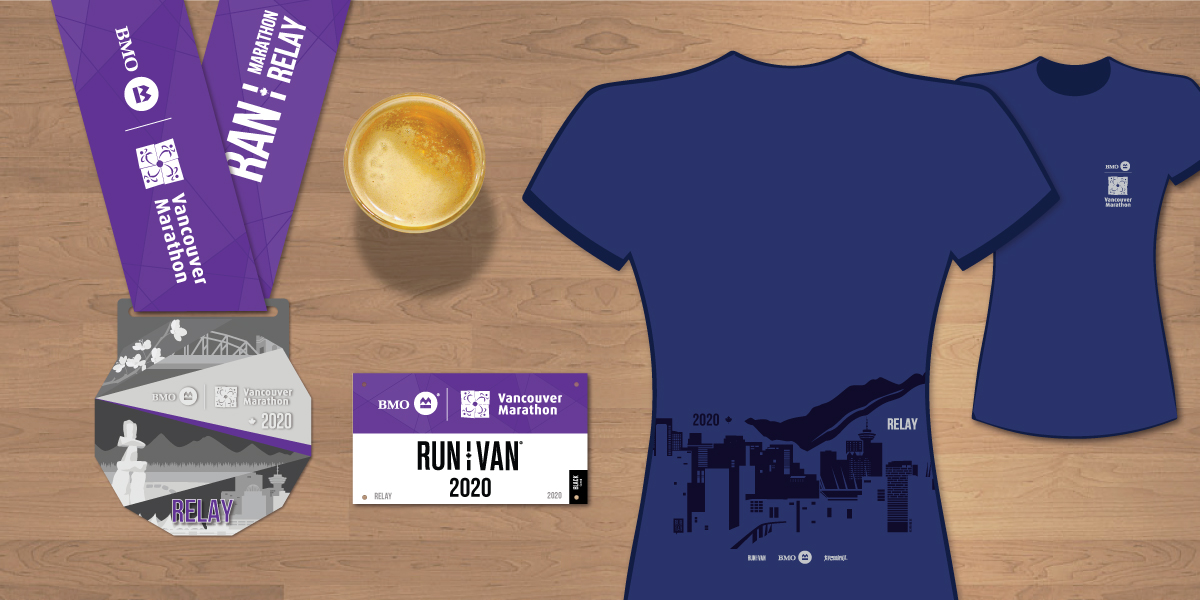 Registering Your Team
The Team Captain is responsible for registering the entire team. The information for each Relay member requested at time of registration is below:
Name, Gender, Shirt size, Birthdate, Age and Email address
City, Province, Country
Estimated Finish Time for each leg
Team Captains will collect information (see relay team form), submit an overall Estimated Finish Time, and pay for the entire team. If you are the Team Captain and want to collect payment from teammates, please coordinate that exchange on your own behalf. If you want to change team members, please email info@runvan.org. Once registration is successful, an email will be sent to each Relay member and the subsequent e-waiver must be signed.
---

Relay runners will have a gear check option at the Relay Shuttle Pickup location near Oakridge-41st Station, and will be able to pick up gear at the Relay Reunion area at the Street Festival. Note: The Relay Gear Check location is different than the full Marathon.
Shuttles will transport Leg B, C, and D runners to their designated Relay Exchange Zones at staggered departure times as shown above.
Buses will depart on-time, and take approximately 30 minutes. If you miss your shuttle, it will be your responsibility to reach your designated Exchange Zone. If you make alternative plans to travel to your Relay Exchange Zone, please plan to arrive there at least 30 minutes before you expect your teammate. Shuttles, once they fill back up, will also transport you to the Relay area at the Street Festival if you complete Leg A, B or C.
Runners will receive their medals after finishing their leg at the Relay Hubs. The anchor D runner will receive a Relay medal once crossing the downtown Finish Line.
---
Timing Belt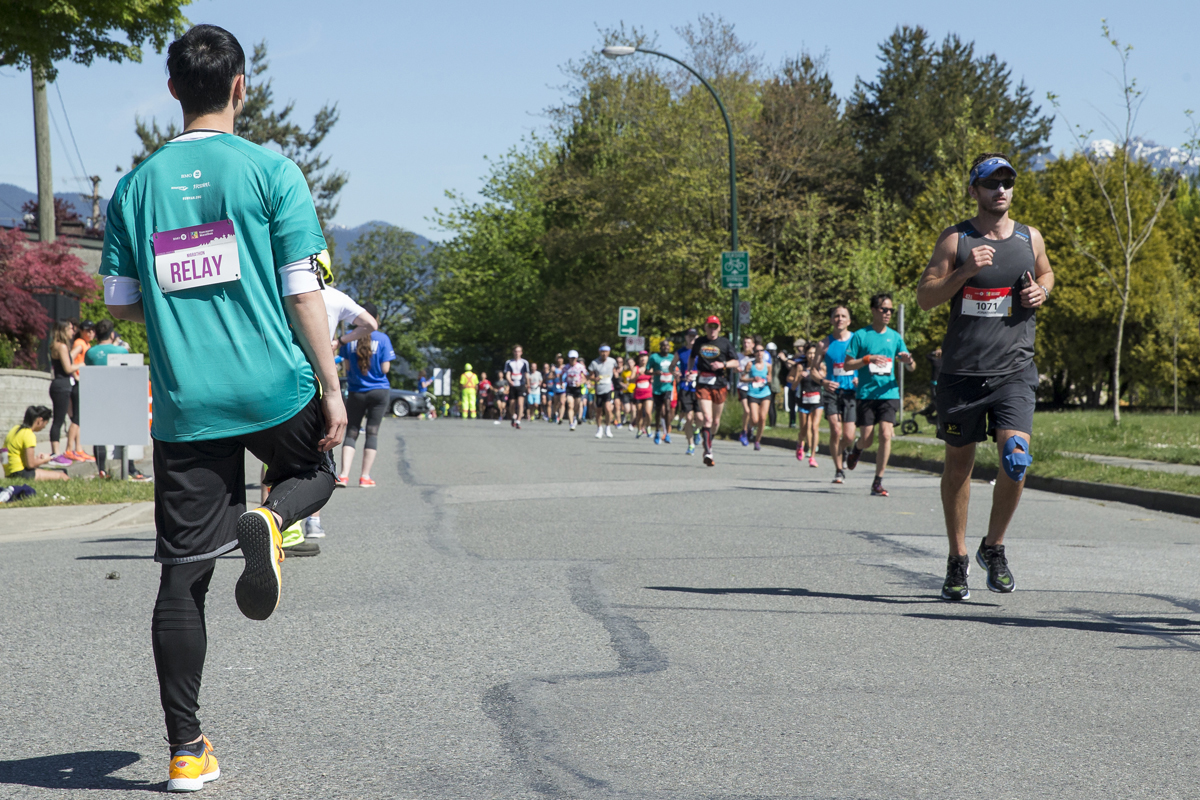 Your 'baton' bib will be a timing chip worn on a belt around your waist that will be passed between team members in designated exchange zones. Timing mats are placed along the course at 5KM intervals. Use the RTRT App to track your teammates through their designated Legs and to the Finish Line!
If you are unable to complete your Relay leg due to injury or other reasons, please inform a race official who will radio ahead to the next Relay Hub. We will find your team member and notify them to continue racing, but without a timing belt. Medical staff and water stations are available throughout the course to ensure your safety. If your timing belt is lost or a member is unable to complete their leg, your team will not receive an official time, but your team can still complete the race.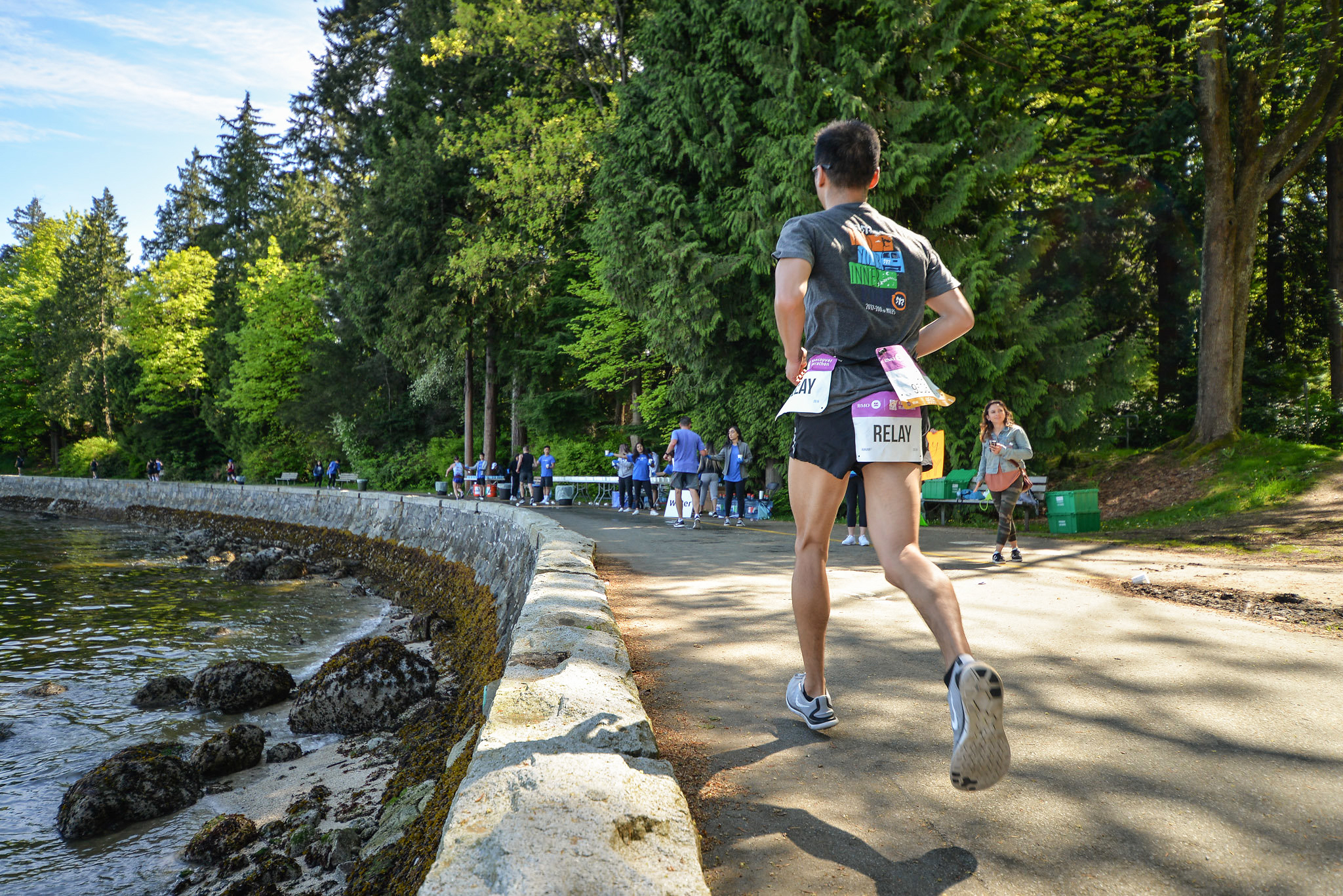 RELAY
|
EVENT DETAILS
|
COURSE MAPS
|
RACE PHOTOS