With a mandate to promote healthy living, increase participation in running, and celebrate the value the sport delivers to our communities, the non-profit Vancouver International Marathon Society will help you stay motivated and committed on your journey to the BMO Vancouver Marathon!
---
Follow us on Facebook @bmovanmarathon for upcoming events.
---
Running Room Training Clinics – Exclusive Offer
BMO Vancouver Marathon runners can enjoy Running Room Training Clinics for just $49.99 – a $40 savings over regular prices! Enjoy the benefits and comradery of group training while preparing for the Marathon, Half Marathon and 8KM distances. Running Room Training Clinics meet three times per week at locations throughout the country. You may also find free weekly training tips from Running Room founder John Stanton here on our website at bmovanmarathon.ca/training.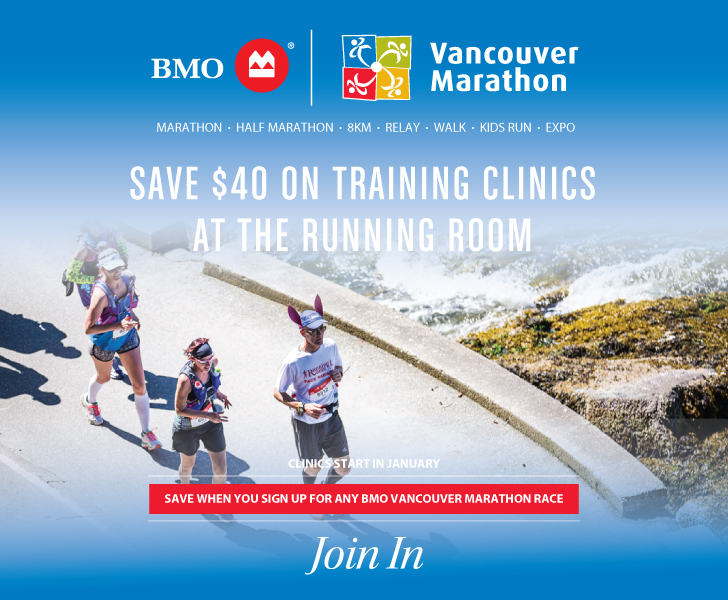 Already Registered?
Just enter your confirmation code when you sign-up online through the
Race Store
. Happy training!  
Learn more about Running Room Training Clinics
---
Running Room Pace Bunnies will also pace, so you may race to your goal time!

---
Downtown RUNVAN® Club
The Downtown RUNVAN® Club meets weekly, 6:30am every Thursday at 900 Canada Place. Free for all to join, simply meet in the lobby of the Fairmont Waterfront Hotel and look for a RUNVAN® Ambassador, in run gear of course. These casual weekly runs are approximately 6KM to 8KM in distance, and runners of all abilities are welcome to join. Learn more at runvan.org and join our new Facebook group. Join in!
---
We're also always posting on social media to keep you motivated! #bmovm #runvan @bmovanmarathon @runvancanada
---