Join this year's Virtual Race to collect your new 2021 rewards! Every BMO Vancouver Marathon 2021 participant receives a commemorative tech tee plus has the option to add a race medal to the collection. New this year, you may combo two races for a bonus prize, or try for the Dynasty by running four race distances for a bonus race medal!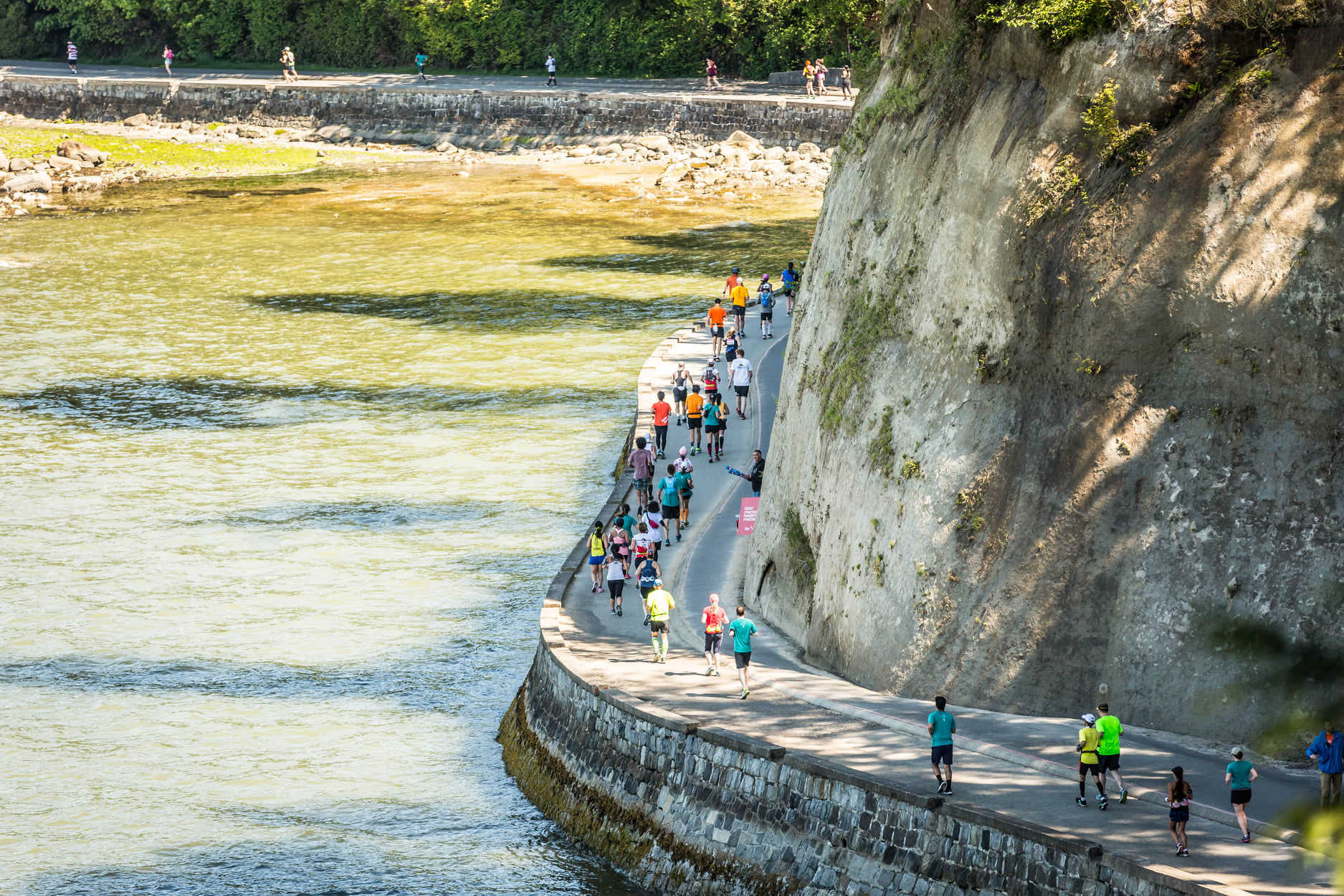 Combo two race distances to Run Happy and earn a bonus prize from Brooks Running! Choose any two race distances for the bonus reward, or tackle four races and go for the special Dynasty package. New in-training shirts and exclusive souvenir merchandise on Brooks Running apparel has already sold-out.
Follow us on social for more info.
This Month
Register
online
You choose!
Race Day
Virtual Race
You may run your Virtual Race anytime between May 1-31 and upload your results during this time frame.
The BMO Vancouver Marathon is traditionally held on the first weekend in May in Vancouver, BC.
Your Registration Includes:
Exclusive new 2021 tech tee included
Medal options with unique designs
Bonus singlet included with the Run Happy Combo and Dynasty
Bonus medal and race wrap included with the Dynasty
Special treats from event partners
BMO gloves included
Results, leaderboard, and more
Early Bird opportunities for the event's 50th Anniversary in 2022
Combo and Dynasty champs, you may run your races in any order, on any day, throughout the month of May! Dynasty runners earn a bonus medal included with registration.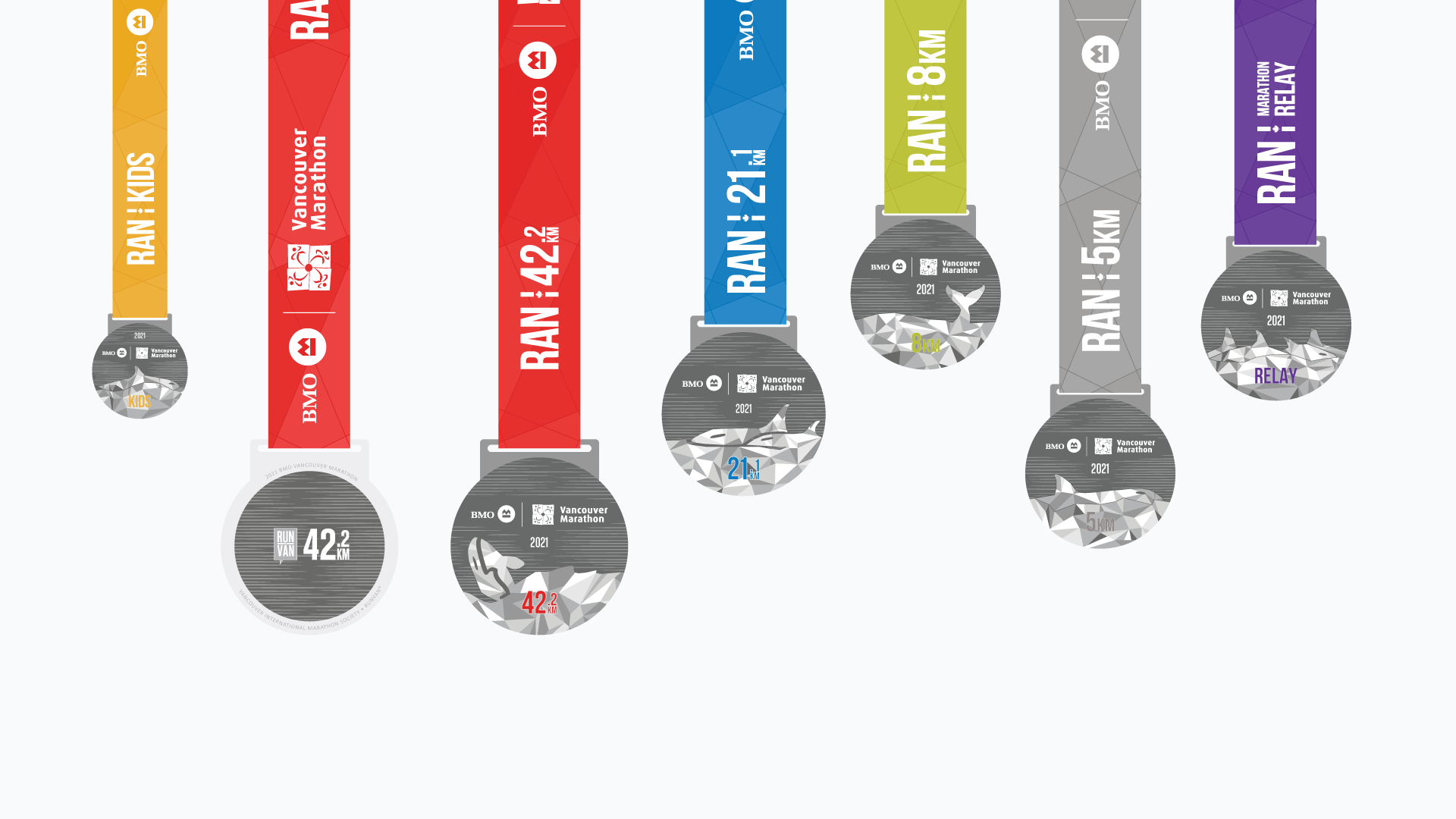 BIB LOOKUP
All runners are traditionally assigned a bib number and corral according to their estimated finish time. This year you'll receive both a Virtual Race Bib and Virtual Medal! No physical bibs will be issued for the virtual race.
Merchandise
All runners receive the official BMO Vancouver Marathon 2021 tech tee, plus a bonus medal and race wrap is included with the Dynasty. Run Happy and Dynasty runners further receive a bonus Run Happy singlet included with race entry. Medals may be purchased in the race store.
One tech shirt will be awarded to each participant in the Relay, 5KM, 8KM, 21.1KM, 42.2KM, Run Happy Combo and Dynasty events, plus Run Happy Combo and Dynasty runners earn that bonus singlet!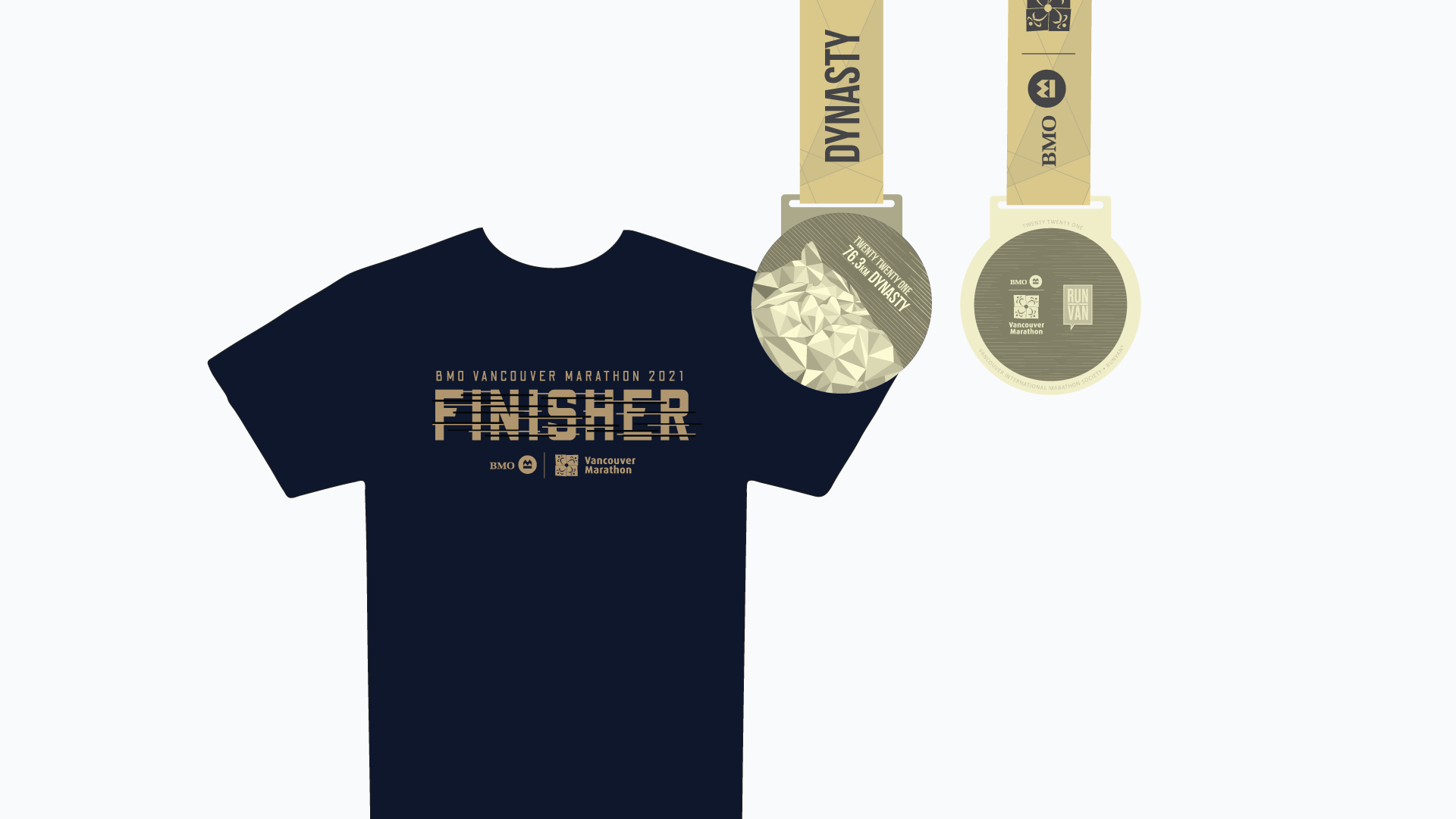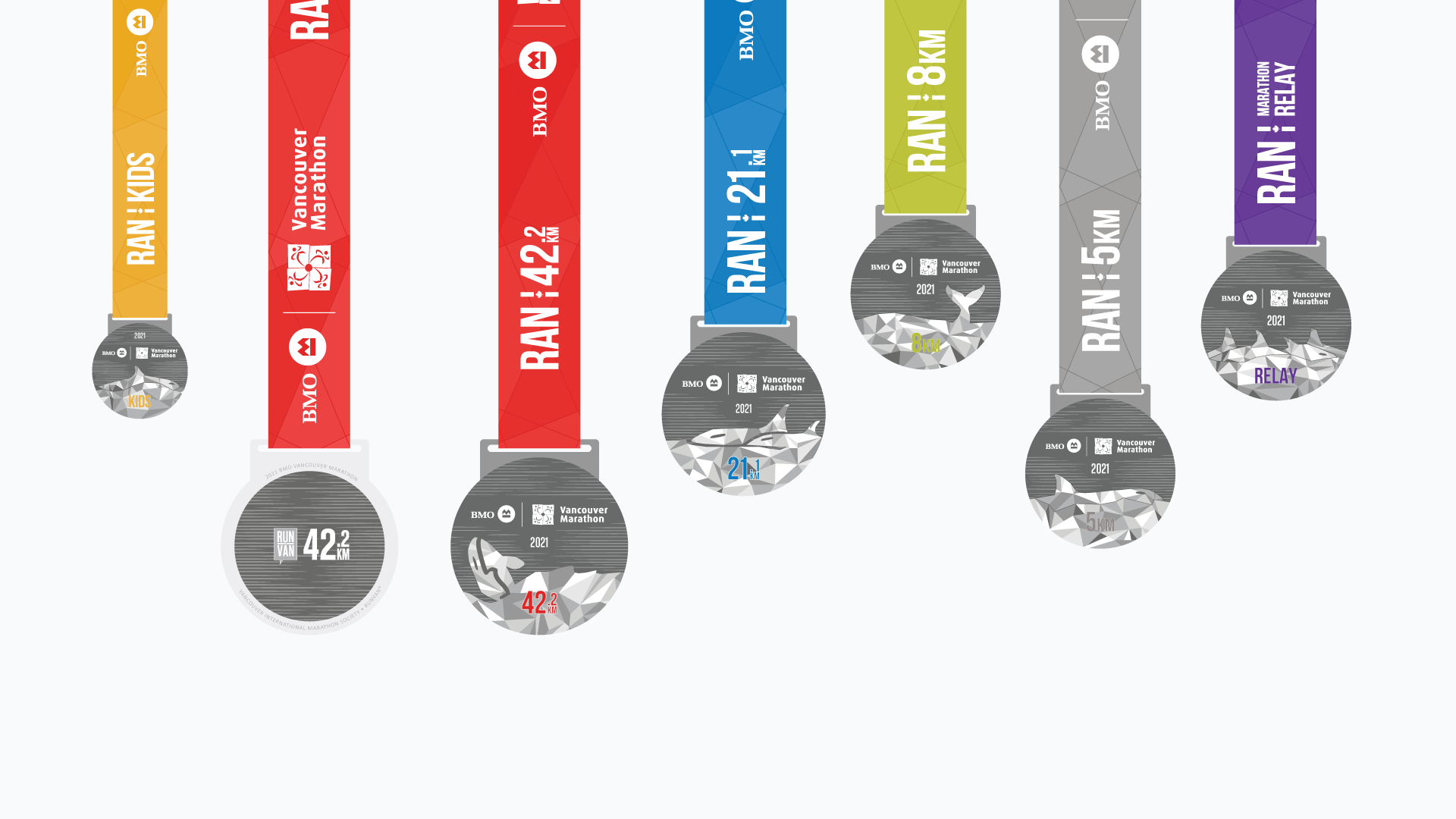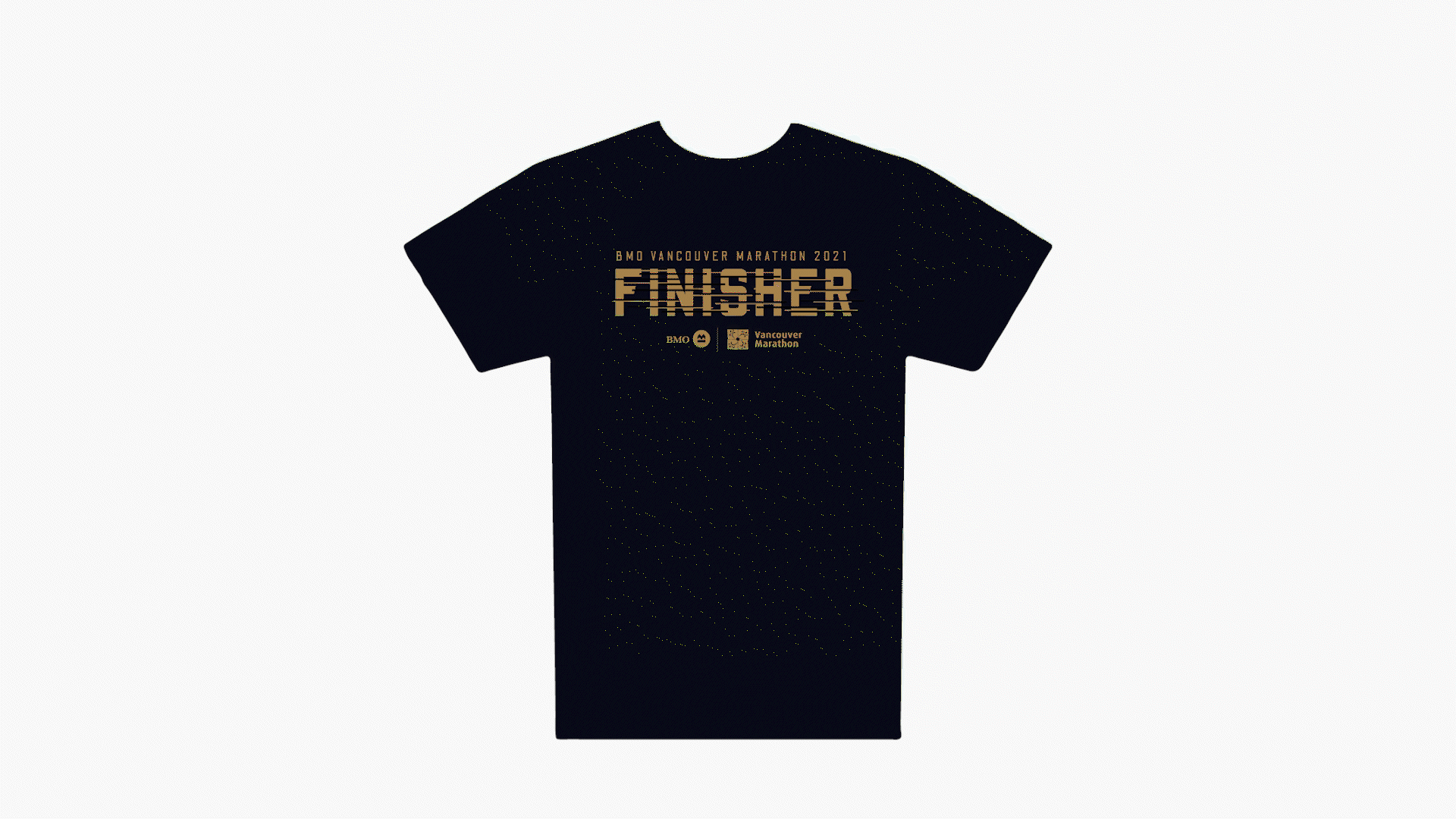 Sizing
Tech shirt sizing runs true to North American standard sizing.
Run Happy Combo and Dynasty runners will also receive a Brooks Running singlet!
Singlet sizing will match the shirt size you submit during registration: XS, SMALL, MEDIUM, LARGE or XL.
Souvenirs
2021 souvenir shirts are printed on premium, semi-fitted, technical running shirts from Brooks Running. These commemorative items were only available for a limited time and have now sold-out. Thank you!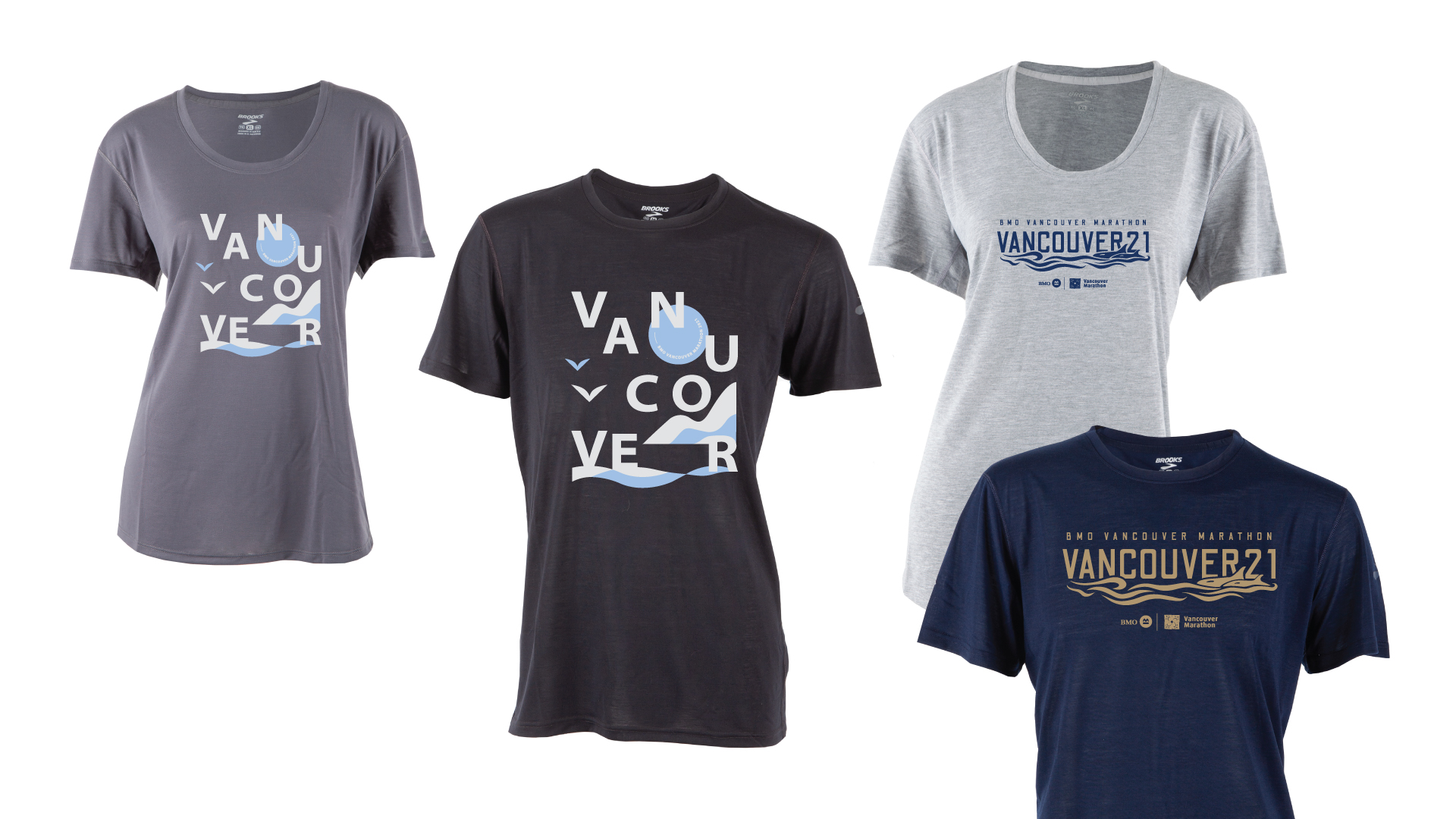 PACKAGE PICKUP
Locals have the option to pick-up rewards at select Running Room locations or opt-in for shipping.
If you choose to pick-up your race kit locally, please visit us at the select Running Room locations below during store hours on Friday April 30, Saturday May 1, or Sunday May 2.
Dates and location subject to change.
Picture ID and your Confirmation Number will be required in order to pick-up your race package. Thank you for understanding.
—
Note: If you miss the Package Pickup times and would still like your race kit, you will have the option to purchase shipping. Race kits will only be mailed when runners opt-in for shipping.
To pick-up another runner's package, please have their full name and confirmation number. For groups larger than five, please contact us in advance via email [email protected]
Please also respect the safety protocols administered by staff and volunteers if on-site. Thank you. Please follow the physical distancing guidelines. Race kits, plus pre-ordered shirts and medals, will be provided in race bags for contactless pickup. You'll still be requested to utilize the store hand sanitizers and accept that there may be capacity limits in-store.
CHECKLIST
Tech tee
Pre-purchased Souvenirs
Partner treats*
*In-person pickup only

SHIPPING
You may opt-in to have your race rewards mailed to you during race registration. Locals instead may choose to claim their rewards during package pickup.
Shipping costs reflect the cost of shipping directly to you based on third-party providers and are set for within Canada ($10), the USA (Included), Mexico ($20), EU ($25), South America ($30), Asia / Oceanic ($40), and all Other ($50). Costs include all items and are not lowered if you only want select rewards.
International runners may also opt-out of shipping altogether to just receive the digital benefits including virtual medals, race results, and Early Bird 2022 reg opportunities.
Orders will ship closer to the race month of May 2021. Thank you for your patience.
Your kit includes various bonuses including an exclusive tech tee with the Relay, 5KM, 8KM, 21.1KM, 42.2KM, Run Happy combo and Dynasty. Run Happy combo and Dynasty runners receive a bonus Run Happy singlet, plus the Dynasty package includes an exclusive medal. You may also add medals. Official souvenir merchandise and in-training shirts on Brooks Running apparel has already sold-out. Thank you.
If you live in a remote location where the shipping costs are significantly more than what was purchased, you may be contacted by the RUNVAN® team and given the option to cover the additional shipping costs or opt-out of shipping altogether. Thank you for understanding.
CHECKLIST
Tech tee
Pre-purchased Souvenirs
Bonus singlet with Run Happy combo and Dynasty
Exclusive medal included with the Dynasty
BMO gloves included
Virtual Race Info
A virtual race allows you to complete your race on your own, from anywhere. You may run, walk or stroll your race distance at your own pace and at a time and location of your choice, following the guidelines of your local health authorities. You may choose your own race day and your own starting line, whether it's a treadmill, a park, your neighbourhood streets or Seawall.
When may I run the virtual race?
Please first sign-up for the Virtual Race. You may then run the BMO Vancouver Marathon Virtual Race anytime between May 1-31, 2021, following the potential restrictions in your geographical area. Please exercise proper social distancing and follow the guidelines of your local health authorities.
There are no time limits to your virtual race. Please start your Virtual Race time once you start your race, and then stop it only once you complete the entire race distance. You may take breaks during your Virtual Race but your race time should run continuously until you complete your entire race distance. You should not break up your race distance into shorter segments ran on different dates. Thanks for understanding.
Where is the Virtual Race Course?
Please choose your own route for this virtual event. It would be unsafe for us to provide a route that all could use at any specific time, as that may contribute to social distancing concerns. Additionally, by allowing registered runners to create their own routes, you may participate from wherever you are! Use caution if running outside, and be alert of pedestrian and vehicle traffic.
Safety Precautions
On Race Day, runners usually wear a race bib with emergency contact info. For safety reasons, please give someone else your race route and have an emergency contact located on your body or phone just in case.
Aside from practicing safe, physical distancing, be alert of vehicle and pedestrian traffic. Remember, there are no road closures in effect during your Virtual Race. Try to stay on sidewalks or trails as much as possible and be sure to obey all traffic signals. If you're going to listen to music, ensure you can still hear what's going on around you. Treadmill racing may also be an option for you.
Finally, please be respectful and stay home if you feel unwell to help us all slow the spread of COVID-19. Thank you again for your patience, understanding and cooperation. We hope to return to in-person events once restrictions are lifted. Thank you for understanding.
How may I submit race results?
Registered runners will need their unique 'Confirmation Number' provided during registration and their last name to input race results. You may additionally upload an image of your race file. Accepted file types are .jpg, .png, .gif. Max file size 2MB.
Dynasty and Duo runners upload all of their race times under each race distance individually.
Be sure to also share your 'Finish Line' photos on social @runvancanada #runvan
Awards
As everyone will be on the honour system and submitting their own finish times, we will not be offering awards for the virtual event. Additionally, since you'll be creating your own courses that will not be certified, you will not be eligible for Boston Marathon qualification.
All registered runners will still be eligible for the RUNVAN® Grand Slam and all registered Legacy Runners will move forward to the next legacy category. Runners who have ran 15 or more years at the BMO Vancouver Marathon join an exclusive Legacy Club. The Grand Slam is awarded to those who run all four RUNVAN® races in the same calendar year: The First Half, BMO Vancouver Marathon, Granville Island Turkey Trot and Great Trek.
Good luck, and have fun on your Virtual Race!
Taste of Downtown
Vancouver Edition by Downtown Vancouver Business Improvement Association
Enjoy the taste of Downtown Vancouver with a new box called 'Taste of Downtown: Vancouver Edition' – a collaboration with the Downtown Vancouver Business Association. Enjoy some of the best goodies Downtown Vancouver has to offer, without the commute. While we hope to all be enjoying these restaurants in person soon, this should help tide you over!
Visit the link below for more info on this special curated box. Treat yourself to a training run meal today! Food items are frozen and may be stored or consumed at your convenience. This offer is only available until April 6.