Today
The Marathon and Half Marathon will open 2024 registration this week.
In-person : Sunday, May 5, 2024
The BMO Vancouver Marathon is traditionally held on the first weekend in May. Limited spots are available for the live in-person race.
Virtual Race : April 1 – May 31
You may run your Virtual Races anytime between April 1 and May 31. Go for a Run Happy Combo or go for the Dynasty by running four race distances. You may use the shorter distances as training for the in-person event. You'll earn a Brooks bonus prize if you combo races and special medal if you go for the Dynasty.
Safety is Priority
Please be respectful and follow all event restrictions. Safety continues to be a top priority for event organizers, and RUNVAN® has updated its race offerings to support the return of in-person racing.
Event organizers will continue to closely monitor all health guidelines and follow the appropriate regulations. Event details are always subject to change, as permits are subject to the approval from governing bodies. RUNVAN® has various event plans that will be adjusted according to the official guidelines of the Provincial Health Officer, City of Vancouver, and Vancouver Parks Board, to support the in-person event.
Registration Includes:
Tech tee for all registered runners or the new Green Bib option to forgo the race shirt
Medal options with unique designs
BMO gloves included
Results, leaderboard, and more
Brooks bonus item when you combo races
Souvenir options from Brooks Running
Show Your Bib for even more bonus offers
Combo and Dynasty champs, you may run your races in any order, on any day, throughout the months of April and May! Dynasty runners earn a bonus medal included with registration.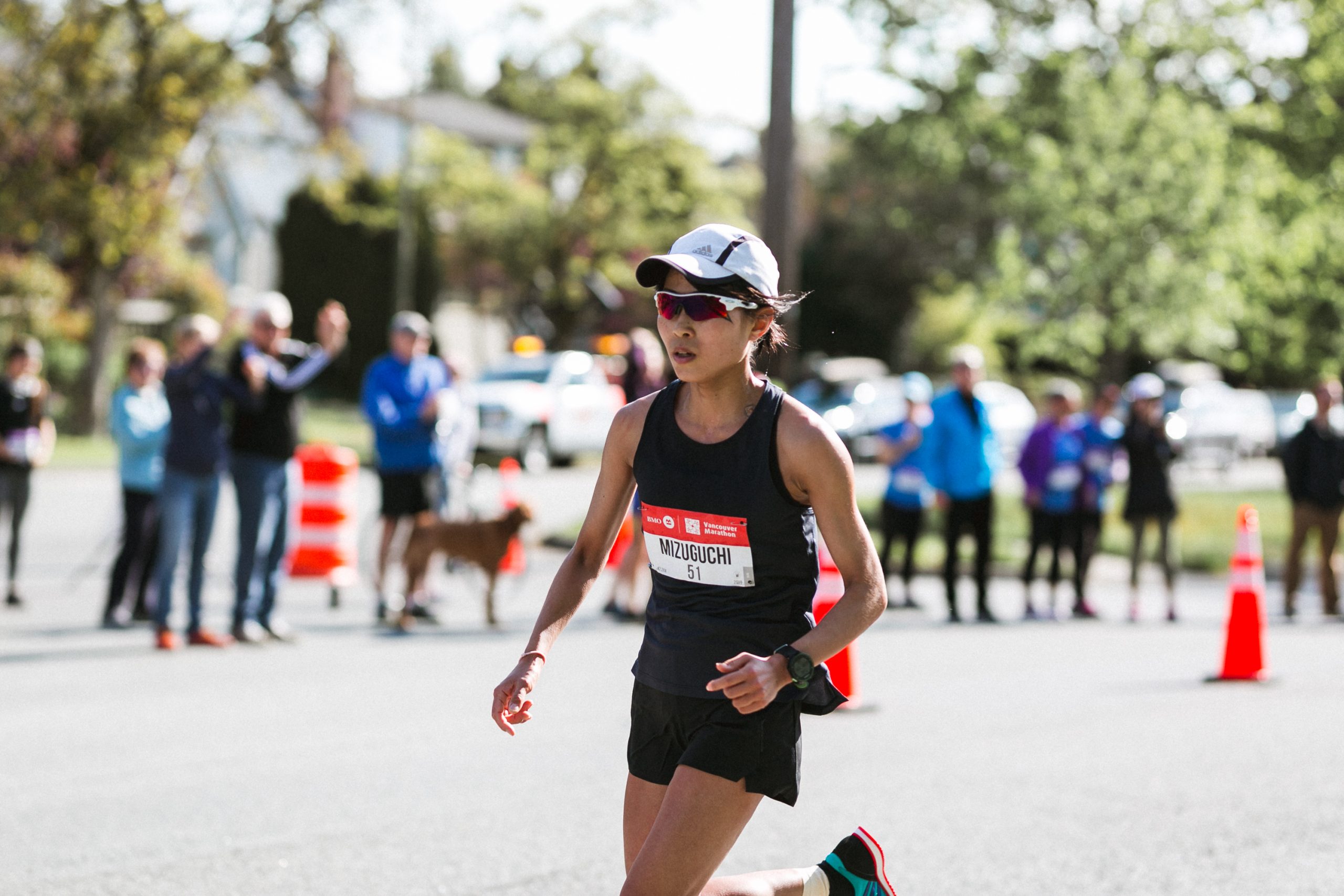 Souvenirs
New for 2024 you may add the BMO Vancouver Marathon Podium Jacket during race registration. From Brooks Running, this new Canopy Jacket is a lightweight, packable layer that provides reliable protection from wind and rain while staying breathable. These commemorative items will be available exclusively from Running Room during the event's Health, Sports & Lifestyle Expo!
Limited in quantity. Order online to secure yours. Souvenir jackets will only be available for pickup during the BMO Vancouver Marathon Health, Sports & Lifestyle Expo.
99% Recycled materials
Wind and water protection: Breathable DriLayer® Seal fabric lets excess heat out without letting the elements in
Improved packability: Updated so the whole jacket stuffs into a built-in backpack integrated with the back of the garment
Zip-secure pockets
Elastic at wrists to keep elements out
New cinch adjustability for stay-put, stowable hood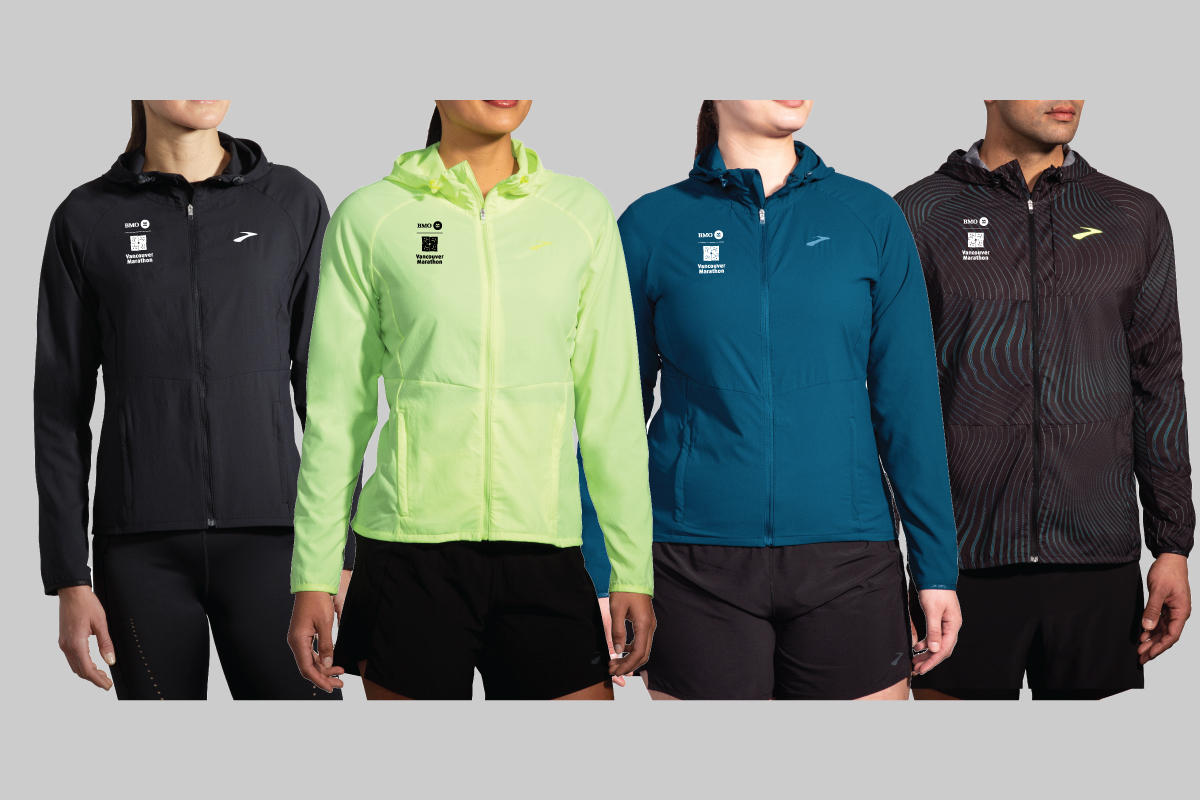 IN-PERSON RACES
Join Vancouver's only Marathon event. RUNVAN® offers several race services including pre-race gear check, entertainment, on-course aid stations, official Start Line, Finish Line, timing and race results.
VIRTUAL RACE
You may run, walk or stroll your race distance at your own pace and at a time and location of your choice, following the guidelines of your local health authorities. You may choose your own race day and your own starting line, whether it's a treadmill, a park, your neighbourhood streets or Seawall. For the Virtual Race, you're asked to please find your own pedestrian friendly route. The below info is for the in-person race. To learn more about the Virtual Race options, please visit bmovanmarathon.ca/virtual.
BIB LOOKUP
Bib lookup will be available closer to event month.
All registered runners are assigned a bib number and corral according to their estimated finish time.
Share your pics @bmovanmarathon #bmovm #runvan and 'Show Your Bib'

PACKAGE PICKUP
Package Pickup is available the Friday and Saturday immediately before the race at the Health, Sports & Lifestyle Expo. Registration will also be available at Package Pickup via credit card. Package Pickup is not available on race day. Virtual runners may opt-in and pay for shipping within Canada and the US. 
Friday, May 3, 11am-7pm
Saturday, May 4, 10am-5pm
Vancouver Convention Centre East, 999 Canada Pl
All runners must collect their own kits during the Package Pickup hours. Race day pickup is not an option. Runners will be required to present their Bib Number and Photo ID.
Shipping is not available for in-person races as race bibs with timing chips will not be mailed, and not available outside of Canada and the United States due to high and extremely variable shipping costs. Thanks for understanding. Please consider visiting our beautiful city and destination event in May.
Details subject to change. Note: Shirt sizes are not guaranteed, so visit the Expo early. Thank you for understanding.
Featuring great vendors, the Health, Sports & Lifestyle Expo is open to the public.
CHECKLIST
BMO Gloves
Tech tee
Pre-purchased Souvenirs
Health, Sports & Lifestyle Expo
The Health, Sports & Lifestyle Expo is a two-day extravaganza of excitement and celebration that kicks off Marathon weekend in Canada's most active city. Located at the stunning Vancouver Convention Centre along the waterfront, the event is free and open to all. Meet lots of great vendors featuring the latest fitness gear, health and performance tips, and taste-test a vast array of free samples. Experience energizing activations and displays from top lifestyle and running brands.
Expo runs race week only, Friday, 11am-7pm, and Saturday, 10am-5pm.
Elite Athlete Panel, Saturday, 12pm. Hear from top Elite contenders. The 2023 Elite Panel, Saturday, 12pm featured defending champs Chris Balestrini, Dayna Pidhoresky, course record holder Yuki Kawauchi of Japan, Margarita Quintero of Mexico, Olympians Evan Dunfee and Natasha Wodak!
LOCATION : Vancouver Convention Centre East, 999 Canada Pl.
TravelSmart to the Start Line
The Marathon and Half Marathon share a Start Line inside Queen Elizabeth Park and is easily accessible by public transit on the Canada Line. Runners are provided transit tickets at the Expo.
Marathon runners are suggested to utilize Oakridge-41st station
Half Marathon are suggested to get off at King Edward station
Passenger drop-off is suggested near Main St & E 30th Ave
The 8KM Start Line is located inside Stanley Park. Runners may utilize Gear Check services near the Finish Line in Downtown Vancouver race morning, then catch a shuttle to the Start Line.
8KM Gear Check is located at Burrard & W Pender St.
8KM shuttles depart every 10min from 7:30am-8:30am.
8KM Start Line is inside Stanley Park on Lagoon Dr
When is the Marathon?
In-Person : Sunday, May 5, 2024
Half Marathon : 7am start (Queen Elizabeth Park)
Marathon : 8:30am start (Queen Elizabeth Park)
8KM : 9:30am start (Stanley Park)
Virtual Race : April 1 – May 31
Marathon, Half Marathon, 8KM, 5KM, Run Happy Combo and Dynasty options
Health, Sports & Lifestyle Expo : Friday, May 3, and Saturday, May 4
Includes Marathon and Half Marathon Gear Check
Kids Run : Saturday, May 4
Please arrive early for your in-person race. We encourage all to arrive at least 45 minutes early.
Before the race, head to the Start Line and into your designated corral, which can be found on your race bib. Please give yourself plenty of time to get to your corral.
GEAR CHECK
Runners must use the clear Gear Check Bag provided at Expo, and all items must be visible. Backpacks or items that restrict the view of contents inside the clear bag will not be accepted for security reasons.
GEAR CHECK LOCATION:
Marathon and Half Marathon Gear Check is only available pre-race at the Health, Sports & Lifestyle Expo on the Friday or Saturday before the race. There is NO Gear Check at the Start Line.
8KM Gear Check is only available race morning near Burrard and W Pender, 7:30am-8:30am. There is NO Gear Check at any of the Start Lines.
GEAR CHECK PROCEDURE:
Place all items you'd like checked into your Gear Check bag. No loose items
Detach the tear-off tag at the bottom of your race bib
Attach your tear-off tag securely to the outside of your bag, near the top
Hand your one tagged bag to the volunteers at Gear Check at the Expo
Do not check any valuables. Although RUNVAN will do its best to ensure your gear is waiting for you at the end of the race, the non-profit is not responsible for potentially lost or damaged items.
Gear Pickup for all runners may be found after the Finish Line at the Street Festival. Show your race bib to collect your checked bag after you finish. Any items left unclaimed will be donated.
Consistent with almost all major Marathons with point-to-point courses, the Sun Run and GranFondo locally, Start Line Gear Check is not offered. Please plan ahead and enjoy an unforgettable race experience.
Event Protocols
Please follow all event protocols so we may safely host this outdoor flow through event in-person.
Corrals will be colour coded based on your estimated finish time
Spacing is requested of individuals to maintain a safe physical distance
Health checks are encouraged, please race safely
Start Line
Please arrive early to enter your corral and enjoy the positive Start Line experience:
Corrals will be colour coded based on your estimated finish time
Please line up in your designated corral ahead of your scheduled Start Time
To stay warm at the Start Line, you may consider wearing an extra layer to take off before the race starts. Note: Any clothing left near the Start Line will be donated to charity. Gear Check is NOT available at any of the Start Lines per the industry norm with point-to-point courses, the Sun Run and GranFondo locally.
Green Pledge
Please help us keep the event green and environmentally friendly.
Dispose of goods such as cups, gels, etc. only in proximity of the aid stations on-course
Do not dispose of masks oncourse, these should be kept with you at all times
Do not dispose of any items on bridges, along the Seawall, or close to the shoreline
Use the clearly marked recycling stations, not City bins, at the Start and Finish Line
Dispose of all recyclable food in recycling stations and garbage at green waste stations
Runner Etiquette
Please be respectful of others when running and follow the runner etiquette notes below:
Allow faster participants to line up at the front of your designated corral
Allow other runners to pass on your left and do not block the race course
For safety, headphones are discouraged. Enjoy the race environment!
Pass on the left and indicate with verbal cues to others around you
Do not block the aid station tables, and please thank the volunteers
If you dispose of items or warm layers, do so by clearly marked recycling stations, not on-course
It is the RUNVAN® mission to deliver premiere running events that inspire active lifestyles and invite the world to experience Vancouver! Please help our non-profit host a great event for all participants and volunteers.
Pacers
In the Marathon and Half Marathon courses, RUNVAN® Pacers are located in each corral to help you maintain your pace and finish with your goal time! Most pace groups will offer continuous running. Some Pacers will follow '10s and 1s', walking 10 min; walking 1 min, or both options. Look for the Pacer signs that say Walk Run.
Marathon Times
3:10, 3:20, 3:30, 3:45, 3:50, 4:00, 4:05, 4:10, 4:15, 4:30, 4:30 run/walk, 4:45, 5:00, 5:00 run/walk, 5:45
Half Marathon Times
1:30, 1:40, 1:50, 2:00, 2:05, 2:10, 2:10 run/walk, 2:15, 2:15 run/walk, 2:20, 2:20 run/walk, 2:30, 2:30run/walk
8KM
0:35, 0:40, 0:45
Water & Aid Stations
Thousands of volunteers will cheer you on and keep you hydrated and energized on Race Day! Spread out along the course, aid stations will be fully stocked with a variety of Nuun Electrolytes, Xact Nutrition, bananas and water, in this order. Check out the course map for exact locations.
RockDoc Medical Team will be out on course and at the Finish Line to ensure everyone's safety and comfort.
Need to take a pit stop? Pit Stop Portables will help provide toilets at numerous stations along the course, plus at the Start and Finish.
Offered on Course
Nuun electrolytes
Xact Nutrition
Bananas
Water
First Aid
Portables
BMO Cheer Screen
Experience the energy as thousands of spectators will be cheering you on and helping you stay motivated on Race Day.
Friends and family will have the opportunity to submit cheers for you to play on the BMO Cheer Screen. Located near Beach Ave and Broughton St for the Marathon and Half Marathon, the BMO Cheer Screen will play your messages. Stay motivated! Submit a cheer pre-race on the RTRT App for a friend or even for yourself! Fans may also follow your progress with live tracking on the RTRT App.
Block Parties
English Bay (Gilford & Beach Ave)
7:30am – 2pm
Kitsilano (Cornwall & Arbutus St)
9:45am – 1pm
LIVE-TRACKING + RESULTS
Real-time tracking will be available on Race Day through the RTRT app! Your friends and family can also cheer you on virtually through our livefeed.
After your race, visit the Results Tent at the Finish Line Street Festival or check online to find your official finish time at bmovanmarathon.ca/results
Timing Mat Locations
Marathon
Start Line, 13KM, 21.1KM, Finish Line
Half Marathon
Start Line, 5.5KM, 10.5KM, Finish Line
Finish Line
The downtown Finish Line features thousands of spectators, entertainment, and a Street Festival presented by Downtown Van. You'll be congratulated by cheers, receive your medal, have a photo opportunity, and enjoy food and water.
Note: The Runner's Compound is available to runners, staff, and media only. Keep moving forward once you cross the Finish Line and meet your friends at the Street Festival.
Once you pick-up your finisher food, you may proceed to Gear Check or exit the compound. You may not re-enter the compound once you exit and enter the Street Festival presented by Downtown Van. Spectators may watch on W Pender St before the Finish Line, between Georgia and Bute St.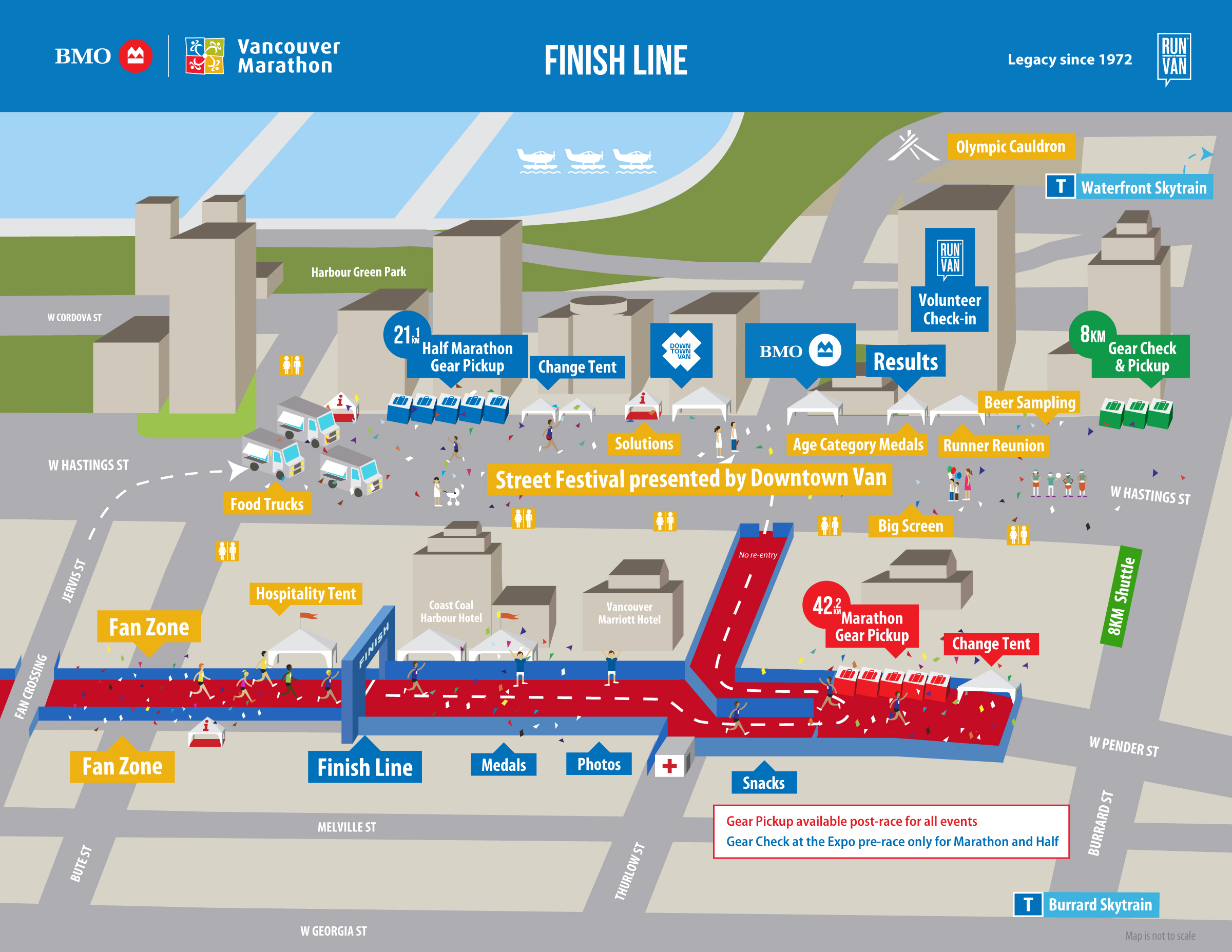 Location
W Pender St –
between Bute & Thurlow St
Street Festival
Near the Finish Line, spectators may find entertainment, food sampling, and souvenirs, at the downtown Street Festival presented by Downtown Van.
Stretching from Burrard to Bute, W Hastings St turns into a family-friendly Street Festival on race day. The Street Festival presented by Downtown Van builds on the spirit of celebration that Vancouverites experienced during the Olympics. Nearly 90,000 spectators are expected to take in the atmosphere.
Meet up with your friends and family after the race and find vendors, food trucks, and more.
Age Category Awards
Male, female and non-binary runners are automatically entered into the following competitive age groups:
U19; 20-24; 25-29; 30-34; 35-39; 40-44; 45-49; 50-54; 55-59; 60-64; 65-69; 70-74; 75-79; 80-84; 85-89; 90-94; 95-99; 100+
Winners will be recognized and first place finishers will receive entry into the following year's race, plus Age Category 1, 2, 3 receive bonus medals! Chip time, not gun time, determine age group awards.
Overall placements are determined by gun time. Overall Male and Female Champions will also be awarded on-stage race day near the Finish Line:
9:15am – Half Marathon Championship Presentation
11:45am – Marathon Championship Presentation
Results
View results at bmovanmarathon.ca/results
Photos
Wear your race bib number on the front of your shirt and do not cover the bib. Your race bib includes an embedded timing chip and your bib number will help identify your photos. Individual race photos will be available for purchase.
Share your favourite race moments with us #bmovm
Get notifications when your race day images are added in real-time! Fans can subscribe to see your photos as they're captured in real-time. Submit your bib number below for details.
Photos
Smile for the cameras! 🙂
Photos
Smile for the cameras! 🙂
SHOW YOUR BIB
Claim special offers from Downtown Van members by showing your race bib.
Downtown Van member offers in 2023 were available from Basil Box, Chatime Vancouver, Coach, Mink Chocolates, Sebastian & Co Fine Meats, the Pawn Shop YVR, Vancouver Mysteries and Vancouver Rock Shop. 'Show Your Bib' offers valid for a limited time only. Click the 'OFFERS' link below for more detail.
You may also enjoy one celebratory 16oz sleeve of beer if of age at Stanley Park Brewing Restaurant and Brewpub (8901 Stanley Park Dr, Vancouver, BC V6G 3E2). Bib = Beer at Stanley Park Brewpub. 19+ only. No cash value. Valid for a limited time. Restrictions apply.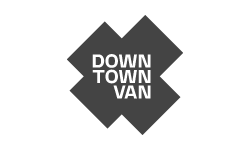 BMO Perks
Title partner BMO will be at the Expo with some cool gifts for runners. Look for BMO brand ambassadors onsite to learn more. Also, visit the BMO booth at the Expo to see a cool photo wall and submit your cheers to the BMO Cheer Screen! #BMOVM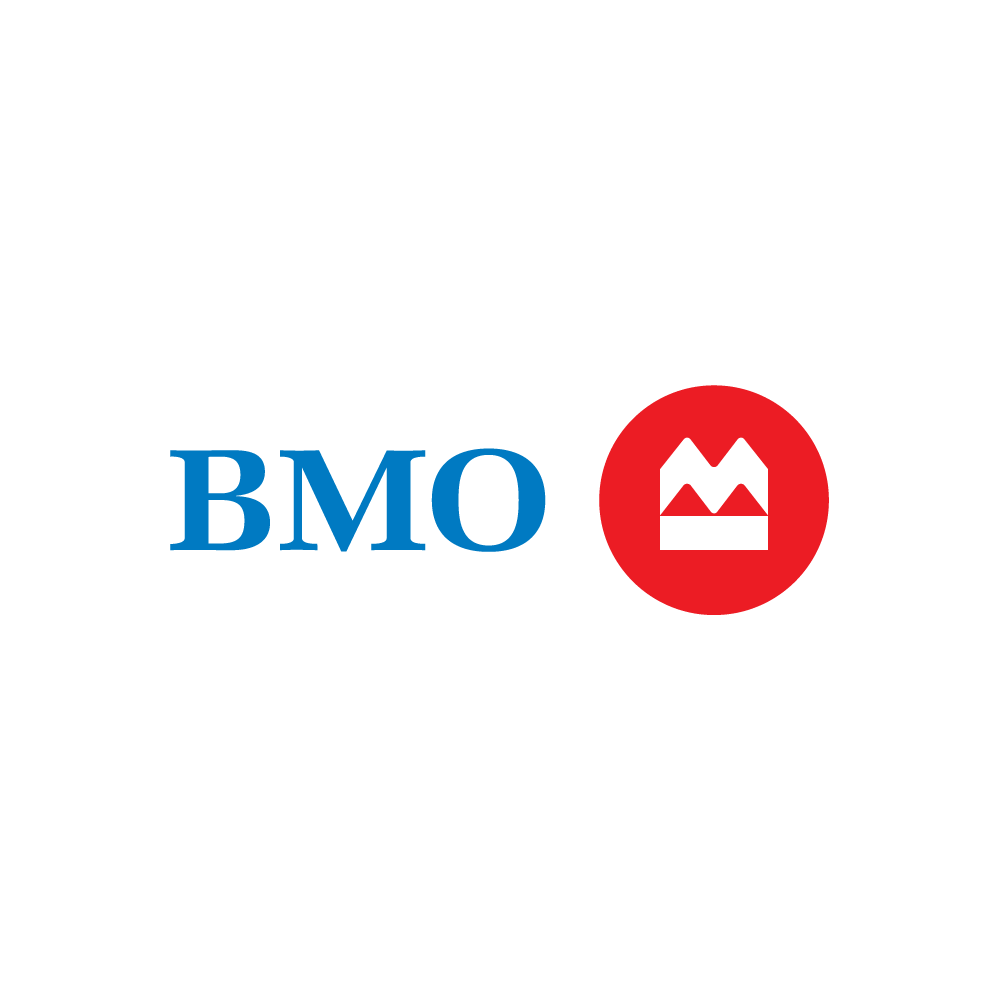 Run, cheer, volunteer and join the BMO Vancouver Marathon, Canada's largest Marathon race held annually on the first Sunday of May @bmovanmarathon #bmovm #runvan
__
Cheer by the course, the Street Festival presented by Downtown Van, and submit a cheer to play on the BMO Cheer Screen!