Ease into Canada's Most Scenic Event
The BMO Vancouver Marathon is Canada's top destination race and the 8KM is a breeze through the park! A shorter challenge than a Half Marathon or 10KM, but equally as rewarding, this race is a great way to lace up and get your feet wet in the Vancouver running scene at Canada's most scenic running event. You may run the 8KM and enjoy the tranquil shade from cedar and hemlock trees in Stanley Park before breezing through Coal Harbour to the bustling Downtown Finish Line, where you'll celebrate with Half Marathon and Marathon runners amidst cheering spectators. As spots in the 8KM are extremely limited, this event is often quick to sell-out. Please also note the 8KM actually runs slightly longer for a total distance of approximately 8.125KM
Annually in May
View course map
View Race kit
View Photos
Run the 8KM and enjoy the tranquil shade from cedar and hemlock trees in Stanley Park before breezing through Coal Harbour to the bustling Downtown Finish Line, where you'll celebrate with Marathon, Half Marathon and Relay runners – amidst cheering spectators. Join in!
8KM Gear Check Downtown / Start Inside Stanley Park
The 8KM has a unique Start Line inside of Stanley Park on Lagoon Drive before merging with the Half Marathon course onto Stanley Park Drive. You may walk up Barclay Street, past Park Lane to enter Lagoon Drive and your colour coded corrals. Note: There is no Gear Check at the 8KM Start Line. 8KM Gear Check and Shuttles are available from Downtown near the Finish Line by Burrard Street and West Hastings, 7:30am-8:30am.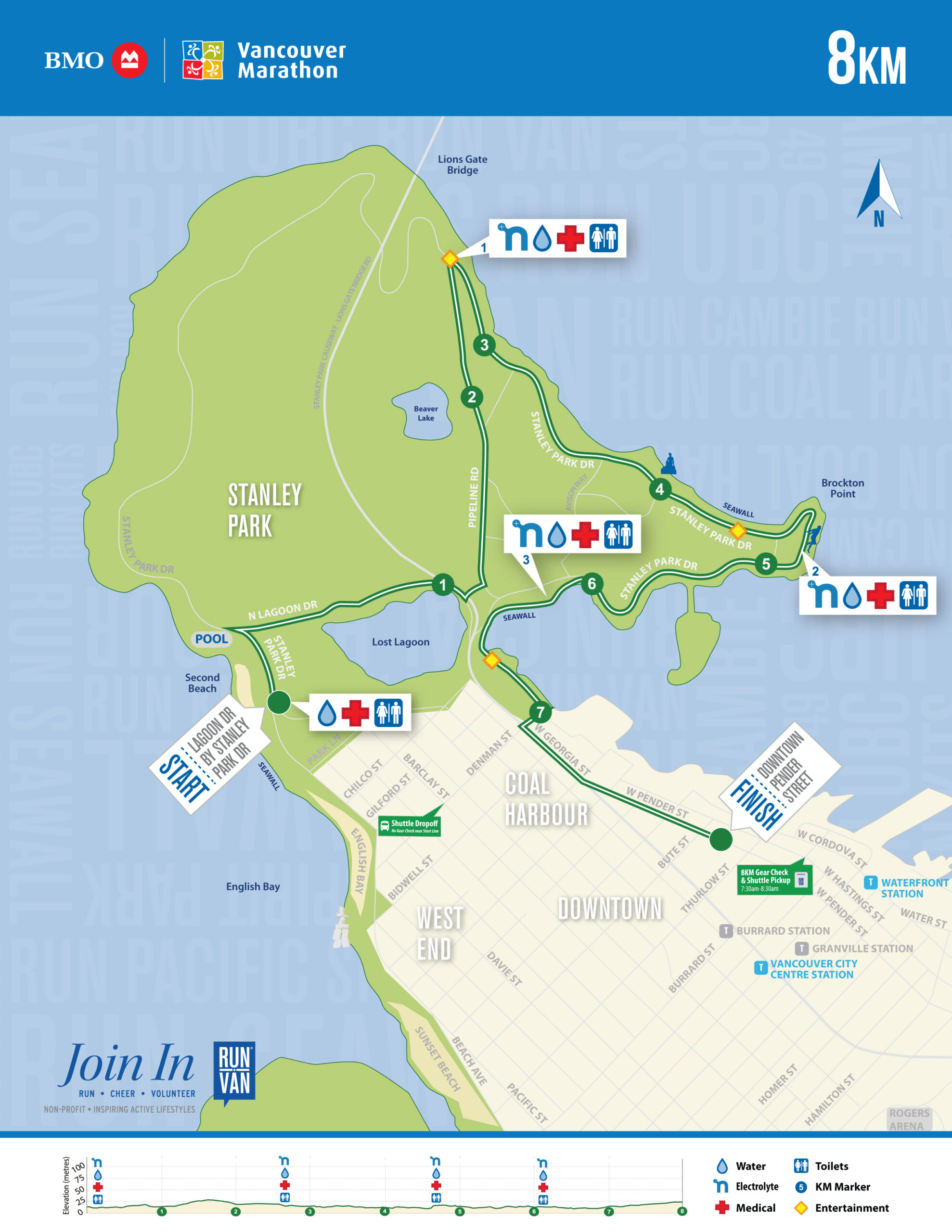 Join in!
RUNVAN®
The BMO Vancouver Marathon event has limited capacity across all race distances.
Expo
PACKAGE PICKUP
Friday, 11am-7pm
Saturday, pre-race, 10am-5pm
Shipping Options
Kit includes a tech tee!
You may pickup your race kit during the Health, Sports & Lifestyle Expo the Friday and Saturday before the race. Shipping is also available for the Virtual Race.
Sunday, May 5, 2024 TBD
In-Person
Vancouver's only Marathon event runs annually on the first Sunday of May in beautiful Vancouver, BC, Canada
April 1 – May 31
Virtual Race
Add a 5KM Virtual Race in April before you race in-person, or keep running after the in-person event! You may combo your 8KM race through the Run Happy Combo or the 76.3KM Dynasty options.
Registration Includes:
Exclusive new tech tee for all registered
Medal options for the virtual race
Bonus gifts with the Run Happy Combo and Dynasty
BMO gloves included
Results, leaderboard, and more
Gear Check
: Downtown – Burrard & W Hastings St
Start Line
: Stanley Park – Lagoon Drive
Finish Line
: W Pender St between Bute & Thurlow St
Course Time Limit
: 1.5 hours