Extend your stay pre and post-race to enjoy beautiful British Columbia. Find even more inspiration
@hellobc #exploreBC
One of the world's top destination marathons, the BMO Vancouver Marathon features shoreline views and a stunning tour through twelve of the city's most iconic neighbourhoods, while the fast Half Marathon kicks off with an epic downhill start overlooking Vancouver's iconic city skyline. Featuring a Marathon, Half Marathon and 8KM, all courses offer stunning views of the Pacific Ocean, towering forests, iconic landmarks, and run through world-renowned Stanley Park towards an energized downtown Finish Line.
Plan your visit annually on the first Sunday of May and join Canada's largest Marathon race!
Visit Vancouver, BC, Canada for our award-winning Marathon held annually in May! The Canadian border is now open to fully vaccinated international visitors from almost every country.
Confirm if you may enter Canada,
here
.
Know before you go.
"Top Marathons Worth Traveling For"
Forbes Magazine
"You'll tour the Canadian city, as the course leads you through 12 neighborhoods, six beaches, three parks and the picturesque Seawall, the world's longest uninterrupted waterfront path. The best part is the views — you'll get a glimpse of everything from snow-capped mountain ranges to cherry blossom trees. Even better: 70 percent of the race offers shoreline vistas."
World's Most Exotic Marathons
CNN Travel
"It's worth running simply to take in Vancouver's scenery."
Canada's Gold Label Races
Canadian Running Magazine
"One of the top destination marathons anywhere in the world, the BMO Vancouver Marathon is famous for its beautiful course. The half and the marathon take in the most spectacular of Vancouver's running routes.. and, perhaps the most stunning final 10KM of any marathon, along Stanley Park's Seawall."
14 Spring Races All Runners Should Try
USA Today
"The epitome of a truly superb spring race, runners flock to Vancouver each May to run a perfectly picturesque course…"
Best Destination Half Marathons
Runner's World
"A downhill start with epic Vancouver skyline views sets the tone for this fast course that unites historic urban sights with mountain backdrops, waterfront vistas, and lush foliage. You'll tour several distinct neighborhoods – including waterfront False Creek, historic Chinatown, trendy Yaletown, scenic West End, and more – before crossing the finish line in downtown. Along the way, thousands of spectators and live entertainment acts (the 2019 race drew 11 acts spanning everything from Americana folk pop to percussionists to classic and country rock) provide midrace encouragement."
World-class Travel Destination
Home of the 2010 Olympic Games and TED Talks, Vancouver has racked up some noteworthy mentions.
Top Destination in Canada
Trip Advisor's Travelers' Choice Awards
Most Liveable City in North America
Mercer Quality of Living Survey 
Best City in Canada
Condé Nast Traveler
Canada's Best Destination
Travel Weekly
World's Best Food Cities
Condé Nast Traveler
World's Healthiest Places to Live
Time Magazine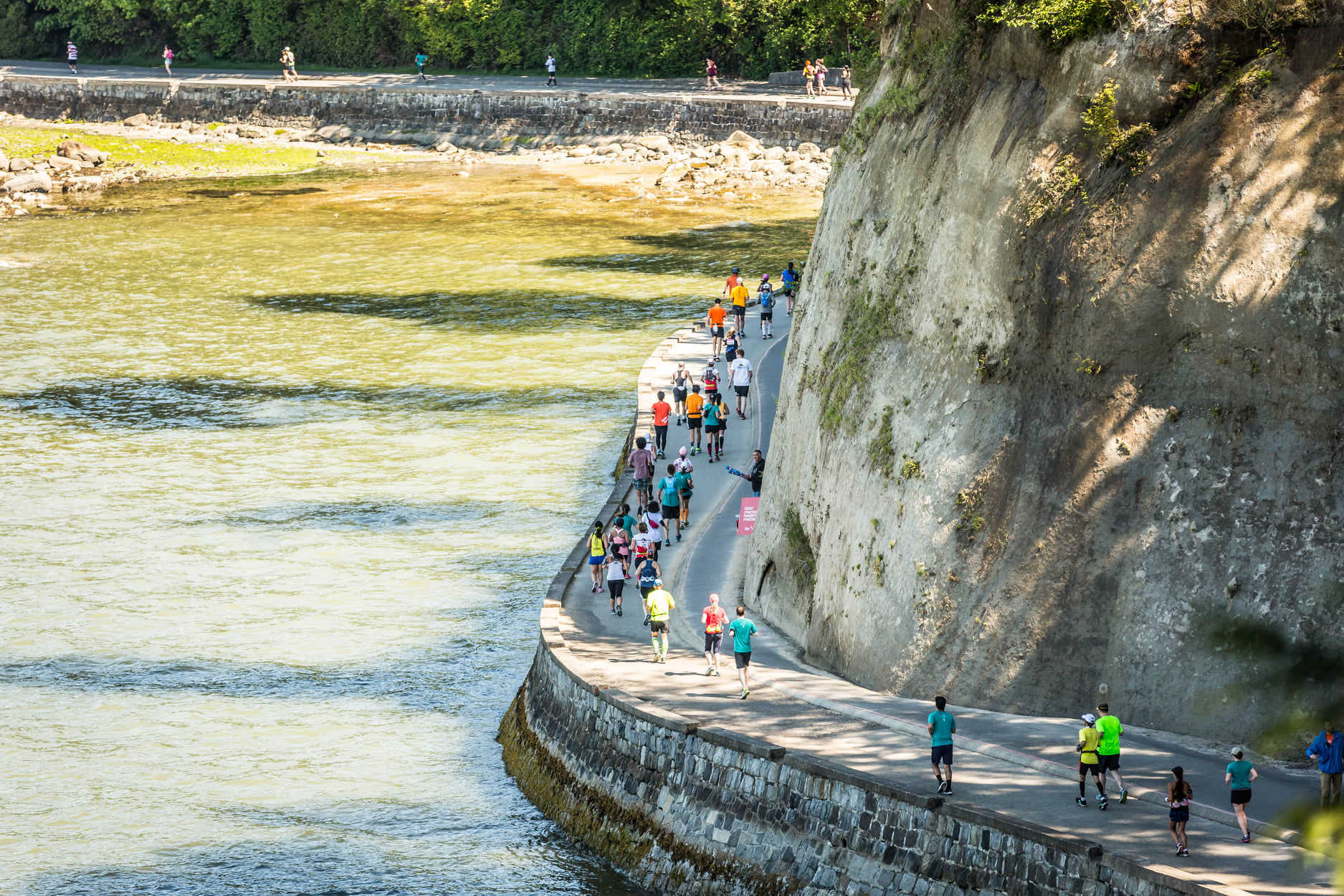 Your Registration Includes:
Exclusive new tech tee
Medal option with a unique design
Award-winning Marathon course
Stunning Running
Results, leaderboard, and more
Running Culture
Vancouver, BC, has a thriving running culture. Nearly every neighbourhood boasts run clubs or trails for runners of all kinds. With Pacific Ocean and mountain views, beaches, and a stunning city skyline, Vancouver runners get the best of all worlds.
The BMO Vancouver Marathon showcase some of the best of these coveted Vancouver running routes, spanning parks, beaches and neighbourhoods.
Climate + Weather
May historically is an optimal time for running on the West Coast in Vancouver, BC. Recently, race days have posted an average high of 15°C with clear skies.
Early mornings promise milder temperatures before the city warms up mid-day. The city averages minimal participation come May, and race weekend is generally forecasted to be sunny with a low of 10°C and high of 18°C.
Frequently Asked Questions
WHAT IS THE CLIMATE LIKE IN MAY?
The first weekend in May historically boasts optimal climates for running, averaging a high of 15ºC with clear skies.
ARE THERE MANY DESTINATION RUNNERS?
Yes, the BMO Vancouver Marathon is Canada's largest Marathon and the event annually welcomes runners from 65+ countries.
WHERE SHOULD I STAY IN VANCOUVER?
The Marathon has partnered with StayVancouverHotels.com to offer you a range of hotel options in Vancouver, BC.
WHAT SHOULD I DO IN VANCOUVER?
You're encouraged to enjoy Vancouver, BC, pre and post-race to take advantage of the city's activities and attractions.
Ranked Canada's Top Travel Destination, Vancouver is a gorgeous, sophisticated city boasting natural beauty, big city experiences and diverse neighbourhoods. We love fresh air, adventure and fun!
For runners, it is paradise.