One of the world's top destination marathons, the BMO Vancouver Marathon features 70% shoreline views and a stunning tour through twelve of the city's most iconic neighbourhoods, while the fast Half Marathon kicks off with an epic downhill start overlooking Vancouver's iconic city skyline. Featuring a Marathon, Half Marathon, 8KM and Relay, all courses offer stunning views of the Pacific Ocean, towering forests, iconic landmarks, and run through world-renowned Stanley Park towards an energized downtown Finish Line.
"Top Marathons Worth Traveling For"
Forbes Magazine
"You'll tour the Canadian city, as the course leads you through 12 neighborhoods, six beaches, three parks and the picturesque Seawall, the world's longest uninterrupted waterfront path. The best part is the views — you'll get a glimpse of everything from snow-capped mountain ranges to cherry blossom trees. Even better: 70 percent of the race offers shoreline vistas."
World's Most Exotic Marathons
CNN Travel
"It's worth running simply to take in Vancouver's scenery."
Canada's Gold Label Races
Canadian Running Magazine
"One of the top destination marathons anywhere in the world, the BMO Vancouver Marathon is famous for its beautiful course. The half and the marathon take in the most spectacular of Vancouver's running routes.. and, perhaps the most stunning final 10KM of any marathon, along Stanley Park's Seawall."
14 Spring Races All Runners Should Try
USA Today
"The epitome of a truly superb spring race, runners flock to Vancouver each May to run a perfectly picturesque course…"
Best Destination Half Marathons
Runner's World
"A downhill start with epic Vancouver skyline views sets the tone for this fast course that unites historic urban sights with mountain backdrops, waterfront vistas, and lush foliage. You'll tour several distinct neighborhoods – including waterfront False Creek, historic Chinatown, trendy Yaletown, scenic West End, and more – before crossing the finish line in downtown. Along the way, thousands of spectators and live entertainment acts (the 2019 race drew 11 acts spanning everything from Americana folk pop to percussionists to classic and country rock) provide midrace encouragement."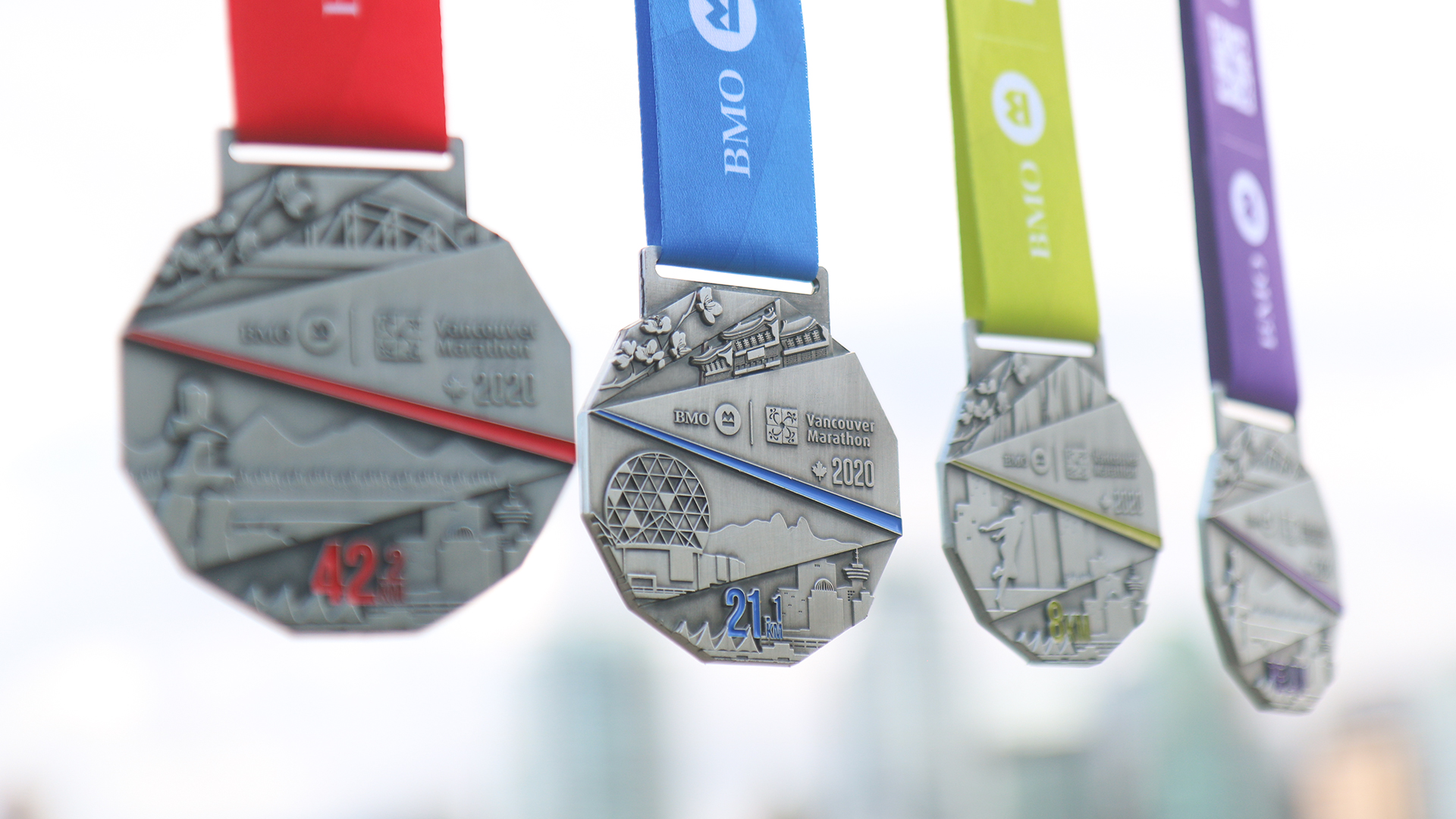 Registration Includes:
Marathon finisher medal
Exclusive tech tee
Race bib with built-in timing chip
Free refreshments
Free, convenient and secure gear check
On-course services including water, electrolytes, gels, first aid and more
10AM-7PM
HEALTH & SPORTS EXPO
Vancouver Convention Centre East
9AM-12PM
RUNNING ROOM FRIENDSHIP RUN
Running Room Denman
10AM-6PM
HEALTH & SPORTS EXPO
Vancouver Convention Centre East
11AM
KIDS RUN
Ceperley Park
7AM
HALF MARATHON START
Queen Elizabeth Park
8:30AM
MARATHON & RELAY START
Queen Elizabeth Park
8:30AM-3:30PM
STREET FESTIVAL
W Hastings St – Bute & Burrard St
9:30AM
8KM START
Stanley Park
3:30PM
FINISH LINE CLOSES
W Pender St – Bute & Thurlow St
Frequently Asked Questions
WHERE IS THE START LINE?
The Marathon, Half Marathon, and Relay share a Start Line inside Queen Elizabeth Park and is easily accessible by public transit on the Canada Line. Runners are provided transit tickets.
The 8KM Start Line is located inside Stanley Park. Runners can catch a shuttle to the Start Line and utilize Gear Check services near the Finish Line at Downtown Vancouver.
Gear check is available at the Start Line. Runners may then pick up their gear at the Finish Line Street Festival after the race.
WHAT IS INCLUDED WITH MY REGISTRATION?
Your race package includes a finisher's medal, exclusive tech shirt, bib and timing chip, runner services, and more. Runners may upgrade to the Prestige Club to receive a post-race massage, race weekend hospitality, and more.
WHAT IS THE CAPACITY?
The event annually welcomes 18,000+ runners and is the largest Marathon in Canada. The event annually sells out so we encourage you to register early!
IS THE COURSE A BOSTON-QUALIFIER?
Yes, the course is AIMS-certified and a Boston-qualifier.
WHEN AND WHERE DO I PICK-UP MY RACE PACKAGE?
Runners must pick-up their race package during Expo hours on the Friday or Saturday before the race at the Vancouver Convention Centre. There is no race day pickup. Learn more
WHAT IS THE COURSE LIKE?
The BMO Vancouver Marathon is ranked one of the world's Top Destination Marathons by Forbes, CNN, and USA Today, and is renowned for its scenic mountain and ocean views. The Marathon is 70% shoreline and runs along the Stanley Park Seawall, the longest uninterrupted waterfront path in the world. View course map
The Half Marathon kicks off with a fast, downhill start with epic views of the city, through Vancouver's diverse and historic neighbourhoods, and inside famous Stanley Park. All races share an energized Downtown Finish Line. View course map
WHAT IS THE CLIMATE LIKE ON RACE DAY?
The first weekend in May historically boasts optimal climates for running, averaging a high of 15ºC and clear skies.
ARE THERE MANY DESTINATION RUNNERS?
Yes, the event annually welcomes runners from 65+ countries.
WHERE SHOULD I STAY IN VANCOUVER?
The official host hotel of this year's BMO Vancouver Marathon is the Fairmont Waterfront, located downtown near the Finish line. The event is also partnered with StayVancouverHotels.com to offer hotel specials for runners. Learn more
WHAT SHOULD I DO IN VANCOUVER?
We recommend runners arrive early to take advantage of the city's outdoor activities and attractions. Runners who book their hotel with StayVancouverHotels receive a $75 voucher to several tourist attractions. Learn more
ARE THERE ANY SPORT TOURS?
Yes, the event is partnered with several sport tours in Canada, Mexico, China, and Japan. Learn more