TravelSmart
The Half Marathon, Marathon, Marathon Relay and 8KM races all have slightly different gear check and shuttle options. To keep the event green and allow you to travel conveniently, non-profit event organizers RUNVAN® purchase transit passes and shuttles from Translink as a value-add for Marathon and Half Marathon runners. 8KM and Relay have separate shuttle service as well. Click your race below for more details.
---
Road Closures & Detour Maps
For detailed road closure information and detour maps, click here.
---
TransLink services
Organizers of the event, the non-profit Vancouver International Marathon Society have partnered with TransLink to help runners, volunteers and spectators arrive on-time to their Start Line on race day. Several bus routes in the race area will be altered to accommodate the race routes.
Bus routes will be modified at certain times during the day to accommodate the marathon. The following routes are affected: 2, 4, 5, 6, 9, 10, 15, 17, 19, 22, 25, 33, 41, 49, 99, 160, 210, 211, 240, 246, C18, C20, and 23.
Canada Line Skytrain will operate on its regular Sunday schedule. First trains depart Waterfront Station at 4:48 a.m. and Richmond Brighouse at 5:02 a.m. Race participants and spectators are encouraged to use the Canada Line via Oakridge/41st Station to make it to the start line in Queen Elizabeth Park on Midlothian Avenue near Hillcrest Community Centre.
Expo and Millennium lines, as well as SeaBus will operate regular Sunday service.
West Coast Express does not operate on the weekends.
For more information, visit translink.ca
---
Shuttles
Marathon and Half Marathon runners have the option to catch a shuttle to the Start Line. Shuttles go direct from TransLink Bus Bays in North Vancouver, Coquitlam, Burnaby and Surrey, to the Start Line. Learn more and sign-up at bmovanmarathon.ca/shuttles
8KM runners have a complimentary shuttle service from downtown Vancouver. 8KM runners can utilize gear check and free shuttles from the Finish Line Street Festival near Burrard Street and West Pender. 8KM shuttles depart every 10 minutes from 7:30am-8:30am.
Marathon Relay runners have shuttles, too. The Relay gear check and shuttle stop is near Oakridge-41st Station. Leg A runners walk to the Start Line, while shuttles transport Leg B, C and D runners to their Relay Exchange Zones with staggered departure times. Expand the 'Marathon Relay' link above for details.
---
Bike Valet
A bike valet is located near the Finish Line Street Festival at Burrard and Pender Street. For a map of the finish area, click here. Thinking of riding your bike? The friendly folks at The Bicycle Valet will be waiting to securely park your ride for FREE while you enjoy the event! Open 6am-5pm.
---
Public Access on Race Day
AIRPORT (7:30am-9:30am) use Main St to Marine Drive to access and egress from the Airport
TRANSIT RIDERS (7:30am-10:00am) expect intermittent traffic delays on Oak St, Cambie St & Granville St
COAL HARBOUR (6:00am-5:00pm) use West Cordova St from Burrard St
CANADA PLACE / PORT METRO VANCOUVER all regular access is maintained to Canada Place & the Port Metro Vancouver
RILE PARK-HILLCREST COMMUNTY CENTRE (5:00pm April 30 – 11:59am May 1) local access only via Main St & 30th Ave
---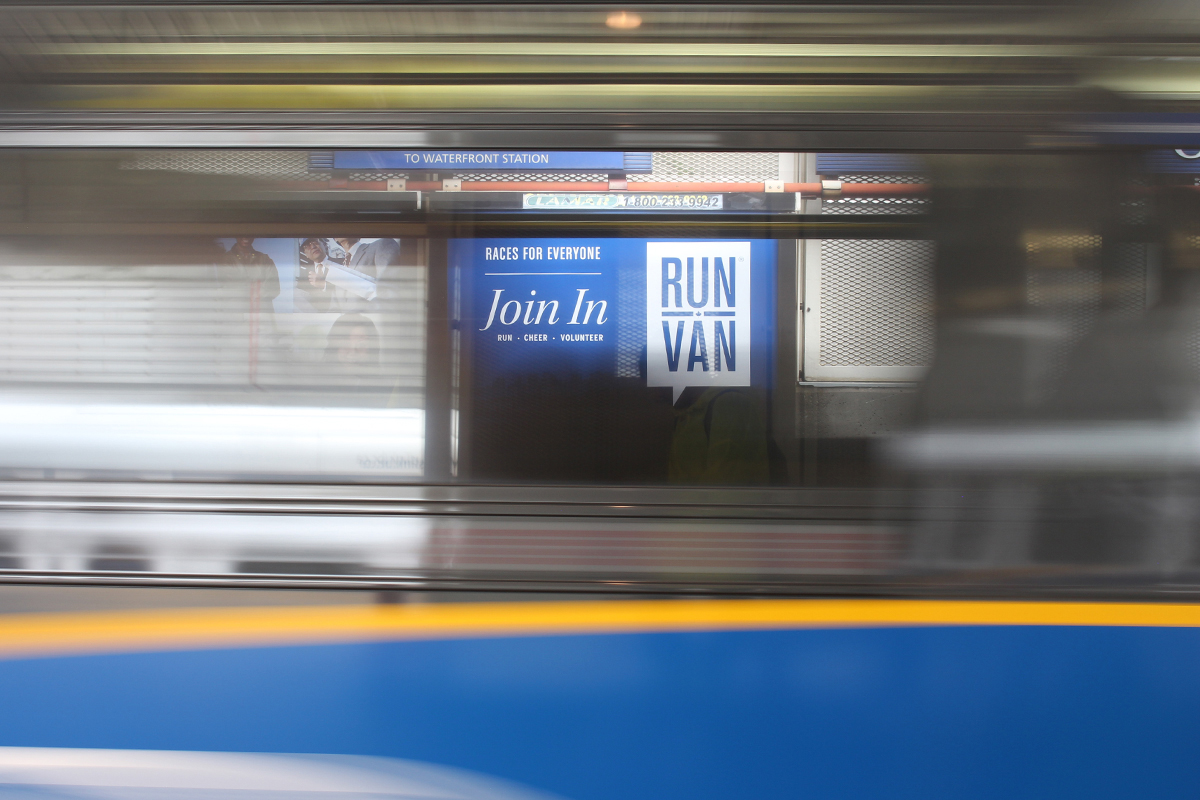 ---
Race Day Event Schedule
Half Marathon / 7am Start Time – 11am Course Closes
Marathon / 8:30am Start Time – 3:30pm Course Closes
Marathon Relay / 8:30am Start Time – 3:30pm Course Closes
8KM / 9:30am Start Time – 11am Course Closes
---
Cheer and Win!*
Share in the excitement of Vancouver's only marathon, and show your spirit. You make all the difference. *Learn more at bmovanmarathon.ca/cheer
TRAVELSMART
|
ROAD CLOSURES
|
LIVE FEED
|
ENTERTAINMENT
|
GREEN PLEDGE