For media inquiries, including requests for images, stats and quotes, please email: 
[email protected]
or phone: 
604 872 2928
.
Media Accreditation is required for Race Day Access. As Vancouver's only Marathon event generates a high-level of media interest, credentials are limited and only approved media may be contacted. Thank you for understanding.
The BMO Vancouver Marathon is annually organized by the local non-profit Vancouver International Marathon Society RUNVAN®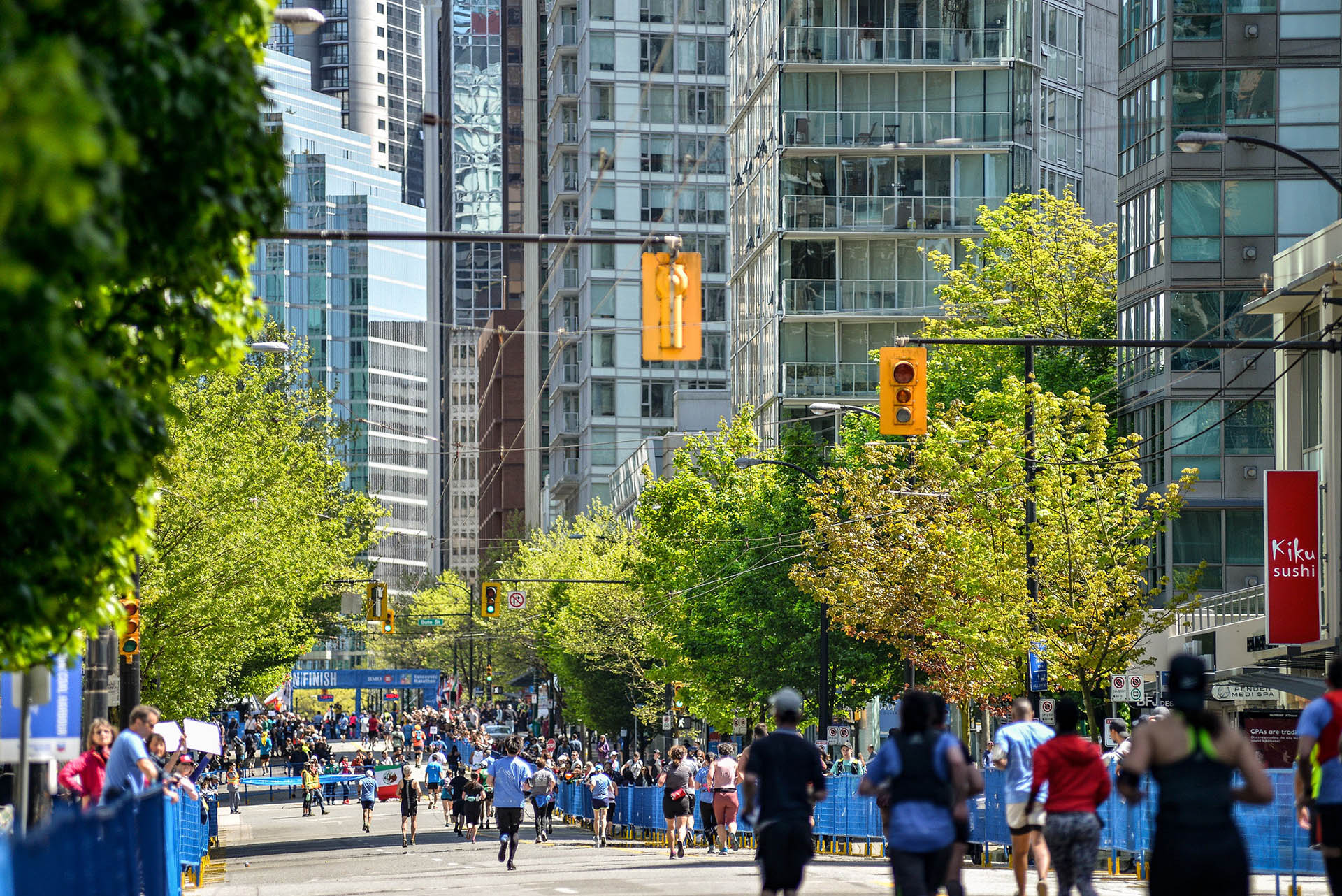 Canada's largest Marathon
Vancouver's only Marathon event, the BMO Vancouver Marathon runs annually on the first Sunday of May.
For invites to special events and Media Accreditation, please email: [email protected]
The BMO Vancouver Marathon features races for everyone with Vancouver's only Marathon, a fast Half Marathon and 8KM. Recognized by Forbes, CNN, USA Today and others as one of the world's top destination marathons, the event is renowned for its unique scenic views including snow-capped mountain ranges, cherry blossom trees, and stunning shoreline views. Vancouver's only Marathon traditionally attracts runners from 65+ countries and relies on nearly 3,000 volunteers annually.
Media Accreditation
To apply for Media Accreditation, please complete the online form and waiver. While only one submission per media outlet is required, each staff member requesting credentials should be listed with a work email address. Please also note Vancouver's only Marathon event generates a high-level of media interest, credentials are limited and only approved media may be contacted. Thank you for understanding.
Qualifications
For the BMO Vancouver Marathon, event organizers RUNVAN® will provide media passes and accreditation to the following:
Working Press: Individuals who are in the business of newsgathering as their primary source of revenue. Members of the press are defined as those who are full-time, paid employees or representatives of known and established media organizations, including magazines, websites, radio and television.
Freelance: Journalists, photographers, videographers and bloggers on a specific assignment from a known and established media organization.
Media credentials are not intended for those who sell photographs, footage or images. Credentials will not be issued to those involved in commercial ventures, unless written consent and specific approval is obtained from RUNVAN®.
Tier 1 media credential grants access to the Start Line and Finish Line areas, to the Media Tent and Interview Zone near the Finish Line.
Accreditation is required race day.
General Policies
Accredited media must observe the following:
Only use images or footage taken at an event for editorial purposes, or for purposes outlined and documented in pre-race agreements
Obey all instructions distributed during credential check-in, plus adhere to race day requests by event organizers and security
No standing on-course while runners are competing
No climbing of fences, traffic or streetlight poles, trees, or other structures
No interference with the event itself
Please also note backpacks will not be permitted. If your equipment is enclosed and not visible, a security check and baggage clearance tag will be required. Please indicate if you have a bag that requires security clearance during your accreditation application.
Media Check-in
Photo ID is required to pick-up Media Passes during the following times:
Health, Sports & Lifestyle Expo
Expo hours, Friday, 11am-7pm
Expo hours, Saturday, 10am-5pm
Race Day
Start Line, Race Day Sunday, 6am-8am; Midlothian Ave & Dinmont Ave
Finish Line, Race Day Sunday, 6am-10am; Coast Coal Harbour Hotel, Media Room
Approved media will be contacted in advance by event organizers RUNVAN®
Note: Parking for media is unavailable with the exception of marked television trucks. Email: [email protected] for special access and instructions. TV trucks are required to be on-site at the Start Line by 6am. For the Finish Line, the earlier you arrive the easier it is to coordinate with road closures, spectators, etc.
Please pick-up your Media Accreditation during Expo hours in order to facilitate a smooth experience on race day.
Race Day Schedule
Media will be able to access the Media Tent near the Finish Line. You may conduct interviews and take photos at the Finish Line against the event's photo backdrop. RUNVAN® staff will coordinate interview requests for you.
Once Elite Athletes finish their race, they will be ushered to the Elite Tent to cool down and have a refreshment. Afterwards, they will be made available for interviews and brought over to the Media Tent for you to interview, per request.
Photographers & Videographers
For everyone's safety, photographers should never stand on-course while runners are competing:
At the Start Line, photo opportunities are available along the side of Midlothian Ave.
At the Finish Line, only approved photographers with a safety vest are allowed into the designated 'Photo Area' marked 30 feet from the Finish Line.
For additional media inquiries including requests for images, stats and quotes, please email: 
[email protected]
or phone: 
604 872 2928