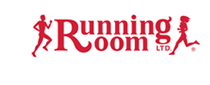 Tips for Getting the Right Shoes at the Running Room
Presented by John Stanton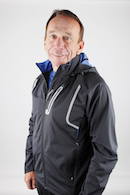 M
otion control, Cushioning and Stability Running Shoes. Motion control shoes, for runners whose feet roll in, with low arches, knees move towards each other in a bending position. Foot strikes on the outside of the heel and rolls inward excessively. This runner needs a firm midsole and a sturdy heel counter.
Cushioning shoes are for runners whose feet roll to the outside, arches are high or rigid, and knees stay neutral or move outwards through foot strike. They wear their shoes on the outside of the sole. This runner should wear a cushioning shoe with a flexible forefoot and no motion control features.
Stability shoes are for runners with a normal sized arch, lands on the outside of the heel and then moderately rolls inward. They have a semi- flexible arch and their knees roll in slightly when bent. Require extra cushioning and some degree of stability no excessive pronation.
The fit of your shoe is most important it should fit snugly particularly in the heel cup if you want to avoid ankle and knee problems. You should be able to wiggle your toes at the front of the shoe.
John Stanton is the founder of Running Room.

Some days all you need are your shoes and the open road.
Half Marathon Training Program

To complete (All distances in kms)

Week
Sun
Mon
Tue
Wed
Thu
Fri
Sat
Total
6
9

LSD

Run/Walk

Off
5

Steady Run

3

Steady Run

4

Steady Run

Off
3

Steady Run

24
Pace Schedule

Long Run

(LSD)

Steady

Run

Tempo

Hills

Speed
Race

Walk Adjusted

Race Pace

To Complete
9:29-10:33
9:29
8:37
7:36
8:32
8:21
Run/Walk Interval = 10 min. Running/1min. Walking. Hills are a distance of 400m
Marathon Training Program

To complete (All distances in kms)

Week
Sun
Mon
Tue
Wed
Thu
Fri
Sat
Total
6

16

LSD

Run/Walk

Off
6

Tempo

10

Tempo

8

Steady Run

Off

6

Steady Run

46
Pace Schedule

Long Run

(LSD)

Steady

Run

Tempo

Hills

Speed
Race

Walk Adjusted

Race Pace

To Complete
8:37-9:37
8:37
7:48
6:51
7:49
7:36
Run/Walk Interval = 10 min. Running/1min. Walking. Hills are a distance of 600m
MARATHON
|
HALF MARATHON
|
8KM
|
RELAY
|
KIDS RUN