The Importance of Rest and Recovery for Runners
Presented by John Stanton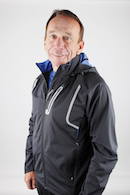 T
apering is the fine art of rest. The more you rest the final week the better you will run on race day. Do all runs relaxed and easy. These runs are done to loosen up your legs with a couple of easy accelerations to remind you of how it feels to run fast. Use the anxiety of race day positively. You have passed your test during the miles of training, race day is graduation day.
Positive self- talk works.
– I am in control of my own thinking, my own focus, and my own life.
– I control my own thoughts and emotions and direct the whole pattern of my performance, health and life.
– I am fully capable of achieving the goals I set for myself today. They are within my control
– I am strong, I am fit, I can do it.. I see myself crossing the finish line with a smile.
John Stanton is the founder of Running Room.

Rest is a good four letter word, especially when it is earned.
Half Marathon Training Program

To complete (All distances in kms)

Week
Sun
Mon
Tue
Wed
Thu
Fri
Sat
Total
16
20

LSD

Run/Walk

Off
6

Steady Run

4

Fartlek

8

Steady Run

Off
6

Race Pace

44
Pace Schedule

Long Run

(LSD)

Steady

Run

Tempo

Hills

Speed
Race

Walk Adjusted

Race Pace

To Complete
9:29-10:33
9:29
8:37
7:36
8:32
8:21
Run/Walk Interval = 10 min. Running/1min. Walking. Hills are a distance of 400m
Marathon Training Program

To complete (All distances in kms)

Week
Sun
Mon
Tue
Wed
Thu
Fri
Sat
Total
16
32

LSD

Run/Walk

Off

6

Tempo

10

Fartlek

10

Steady Run

Off

6

Steady Run

64
Pace Schedule

Long Run

(LSD)

Steady

Run

Tempo

Hills

Speed
Race

Walk Adjusted

Race Pace

To Complete
8:37-9:37
8:37
7:48
6:51
7:49
7:36
Run/Walk Interval = 10 min. Running/1min. Walking. Hills are a distance of 600m
MARATHON
|
HALF MARATHON
|
8KM
|
RELAY
|
KIDS RUN