Couple will say "I do" at KM 32!
Anthony Johnson and James Makokis will tie the knot on-route to conquering the BMO Vancouver Marathon on May 7!
The couple will run the first 32KM as an engaged couple, stop to have an official wedding ceremony with friends in attendance against the beautiful English Bay backdrop, and then hop back on course and continue around Stanley Park for the final 10KM before they'll cross the Finish Line as a newly married couple.
Vancouver's only Marathon also holds special meaning because it was Makokis' first 42.2KM race. He has gone on to run 15 marathons since, while this will be Johnson's first marathon.
"We thought since we were training… and this is the city where we fell in love, what a perfect place to do that," says Makokis.
"Running is important to us, because it's part of our heritage," adds Johnson. "I think running a Marathon and doing it with your partner is really significant and spiritual. We would love people to come, cheer and show their support!"
Johnson from the Navajo Nation and Makokis from the Saddle Lake Cree Nation will both arrive at the 32KM mark at approximately 11:45am on May 7th near the Denman and Davie Street intersection.
New this year, Community Cheer Stations will be held in Chinatown, Yaletown, Coal Harbour / West End, and Kitsilano. Join in and cheer loud!

---
Photo and Video up-date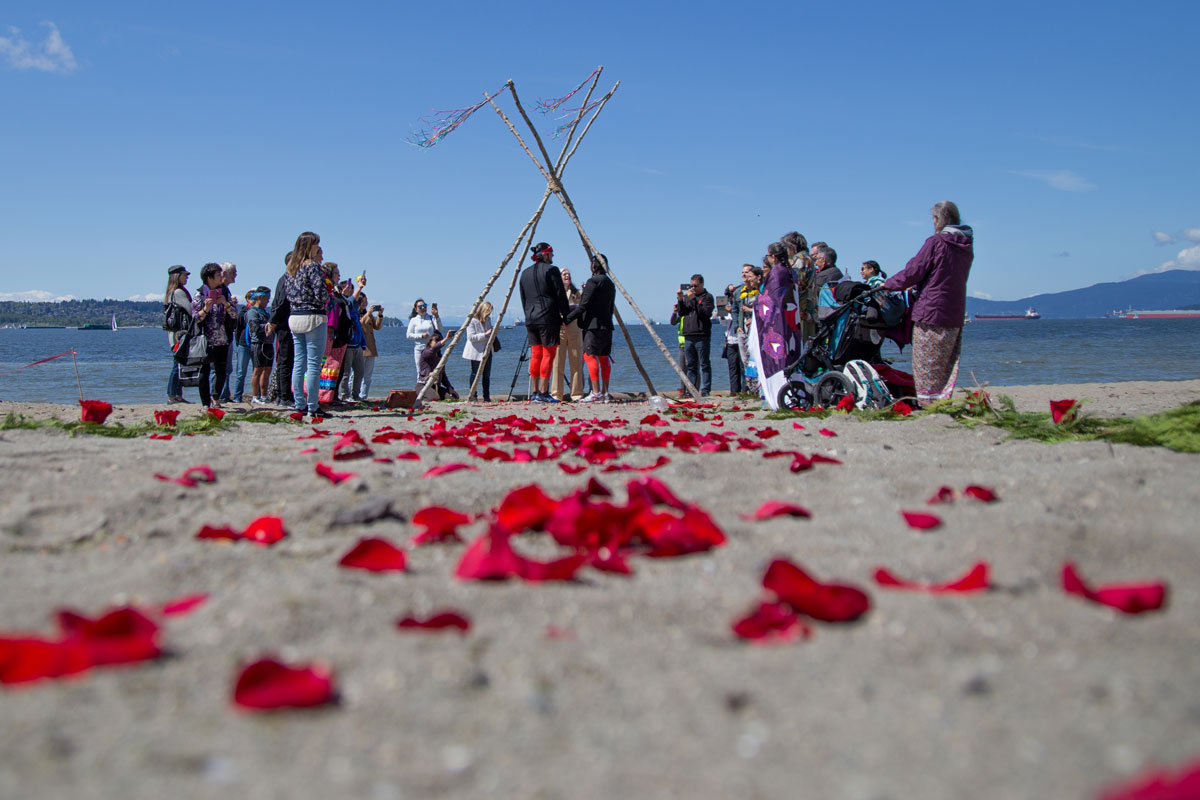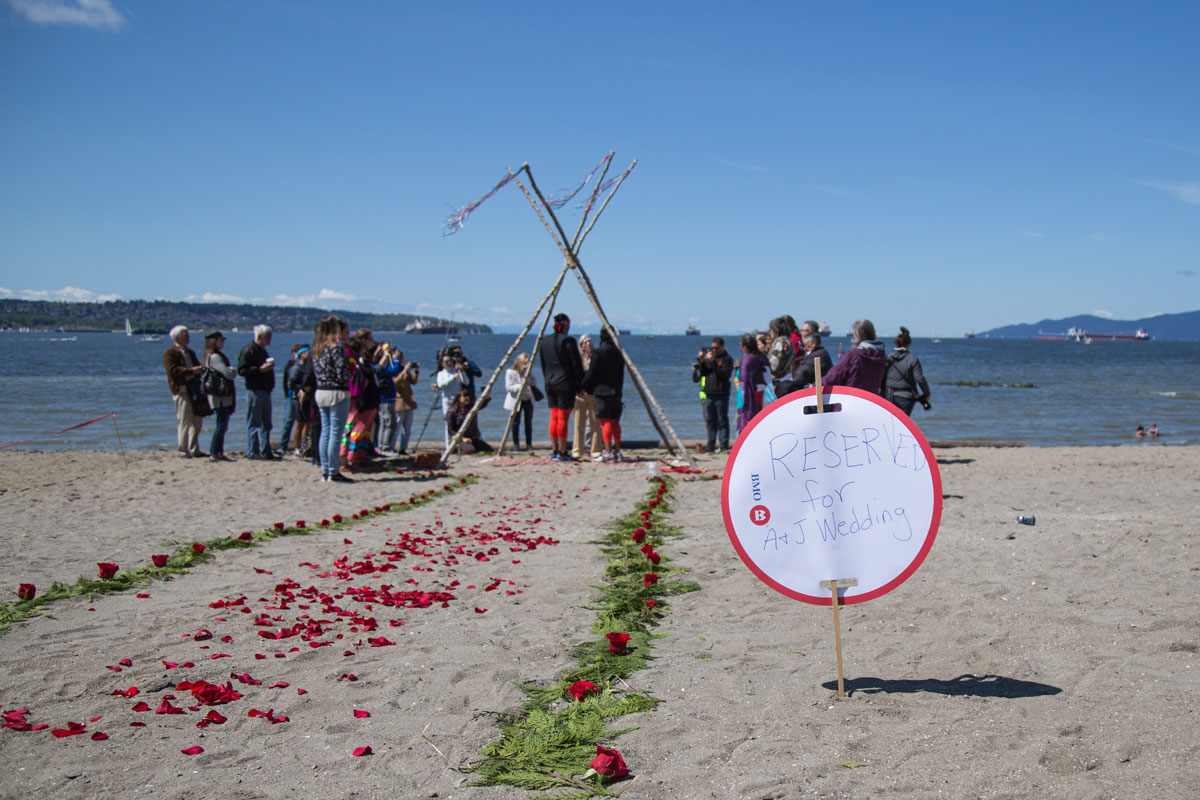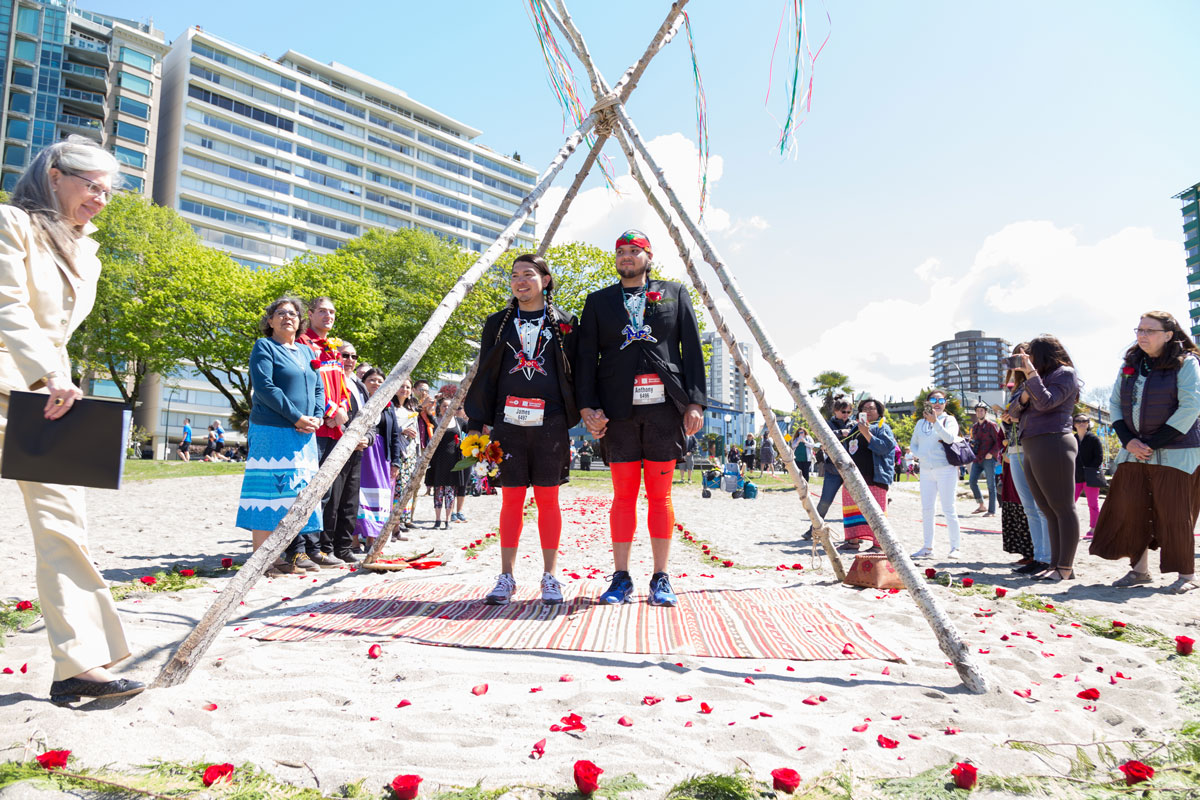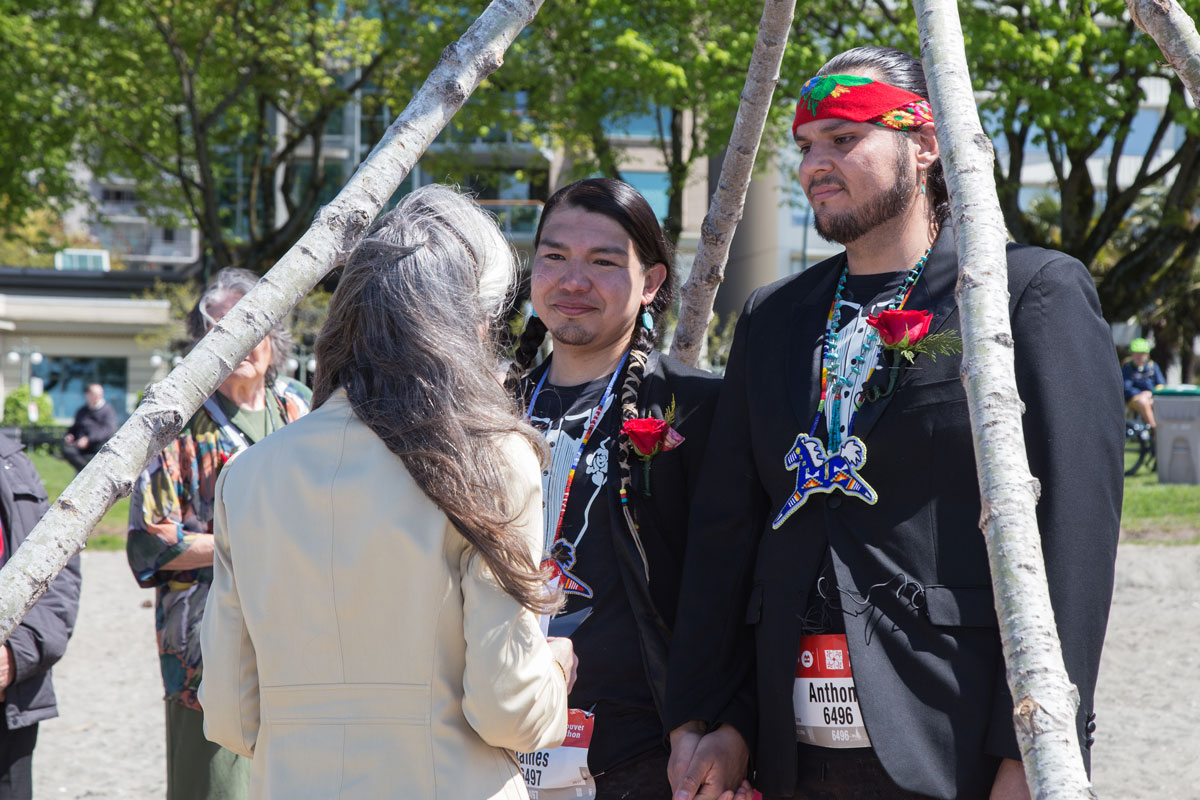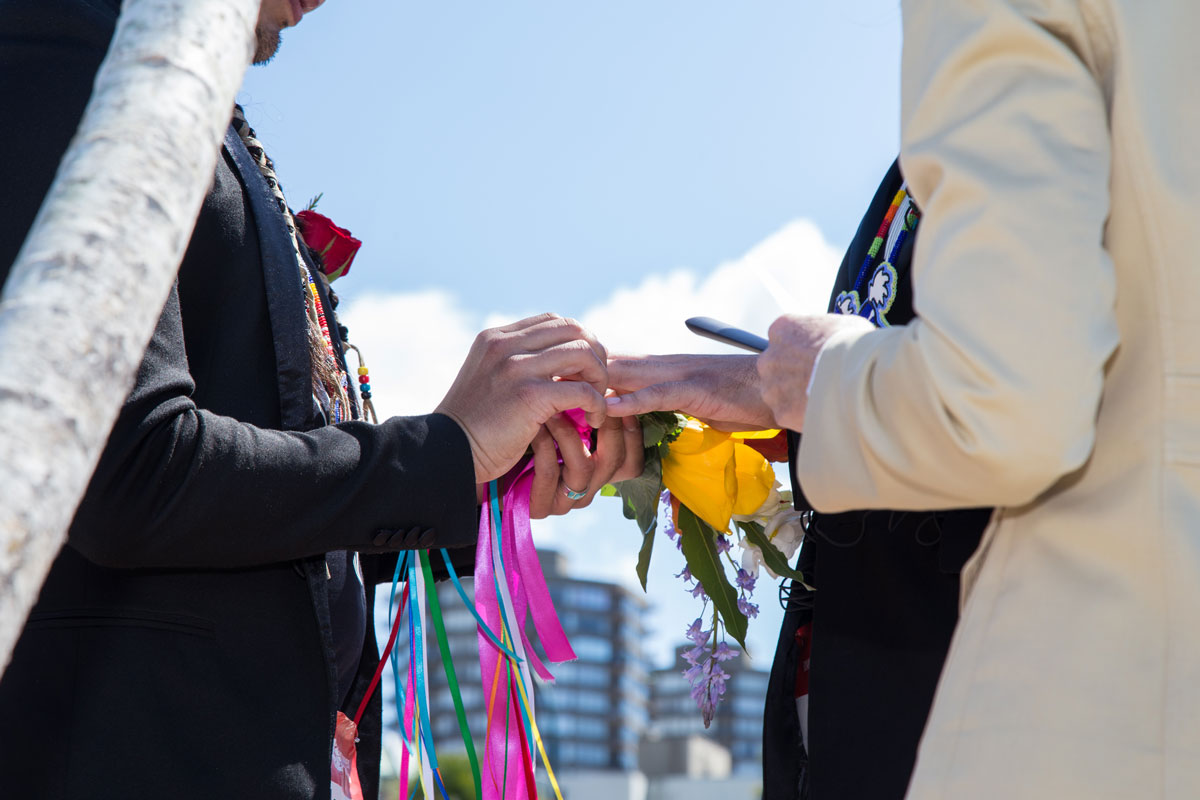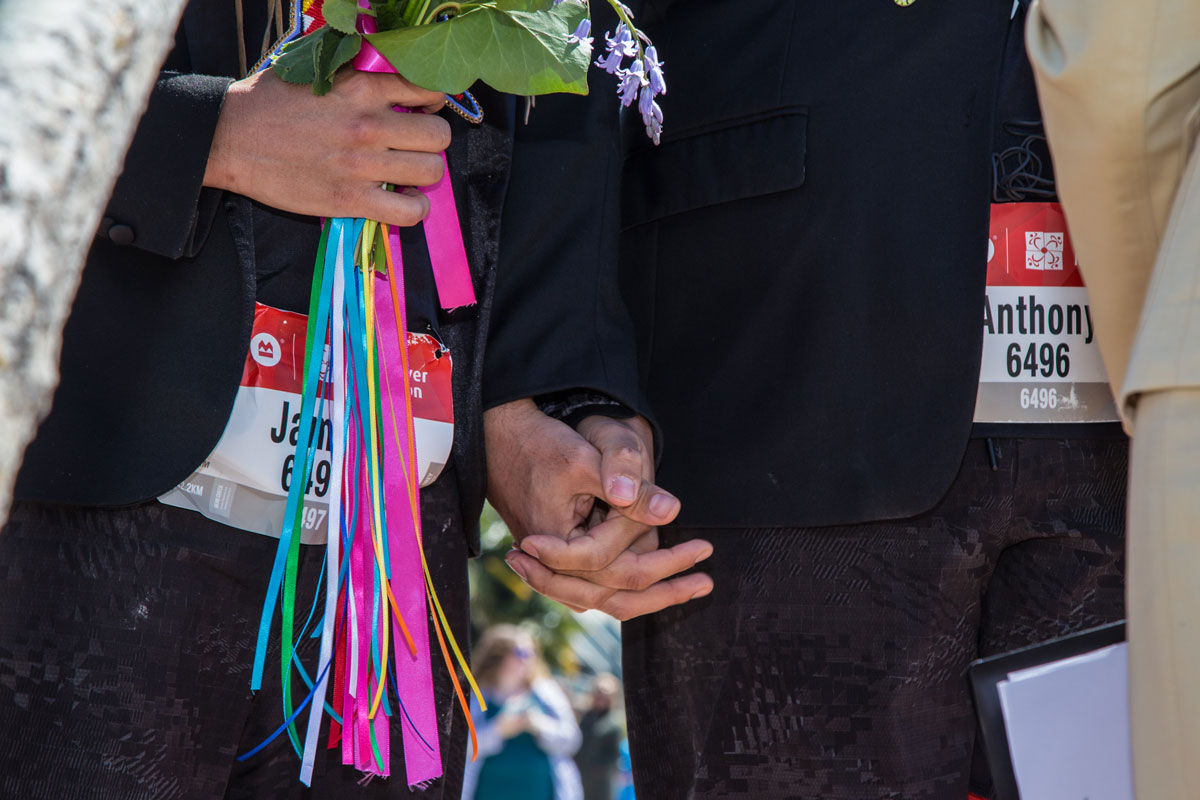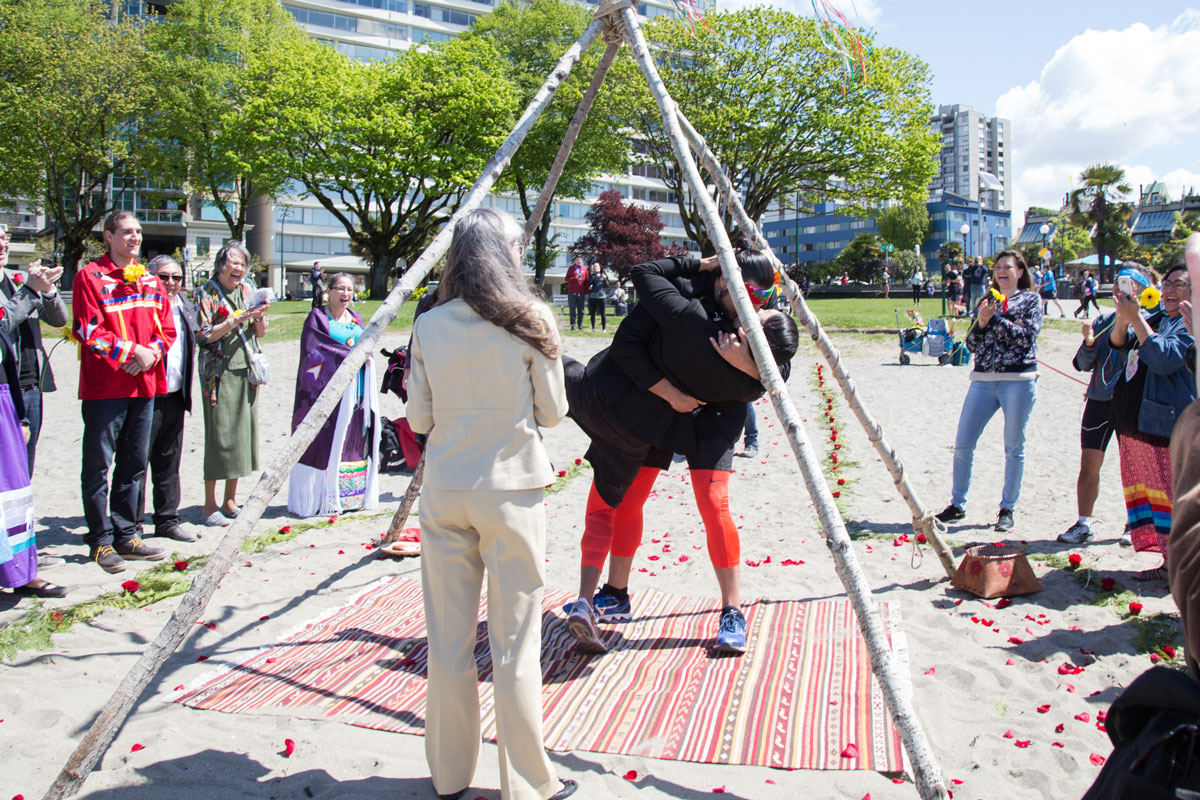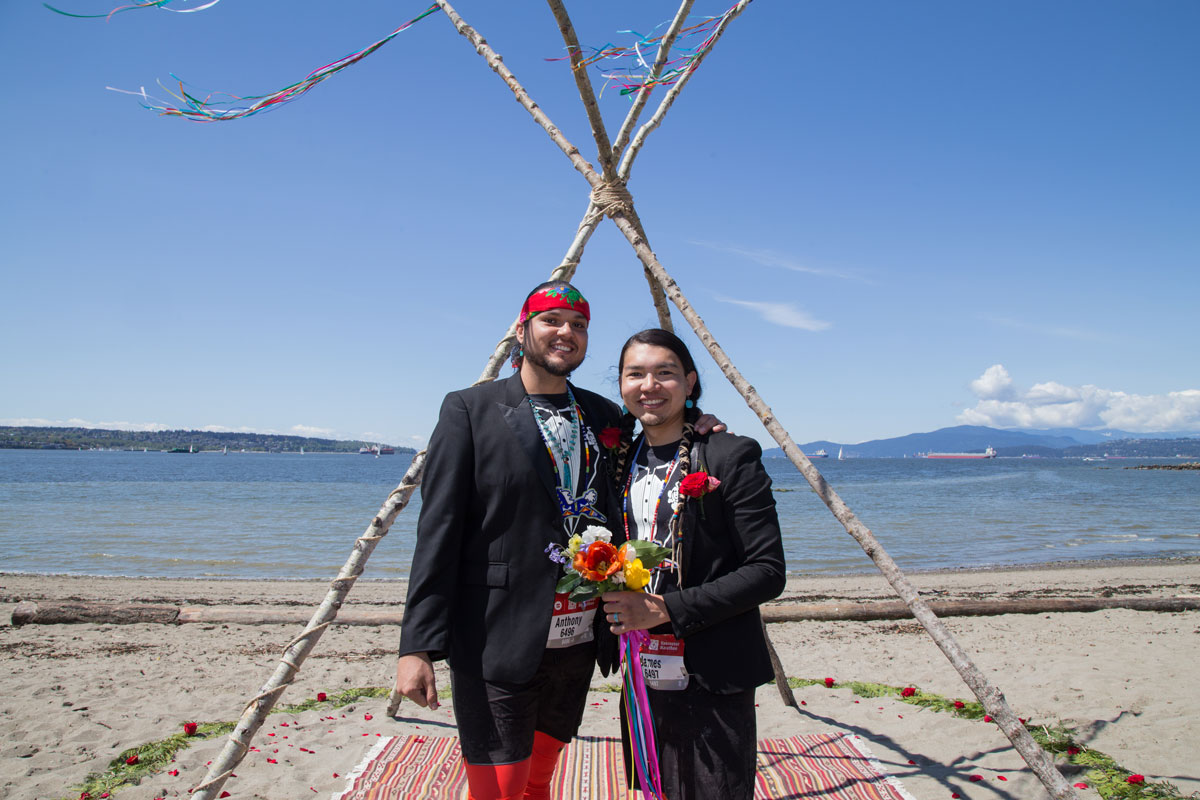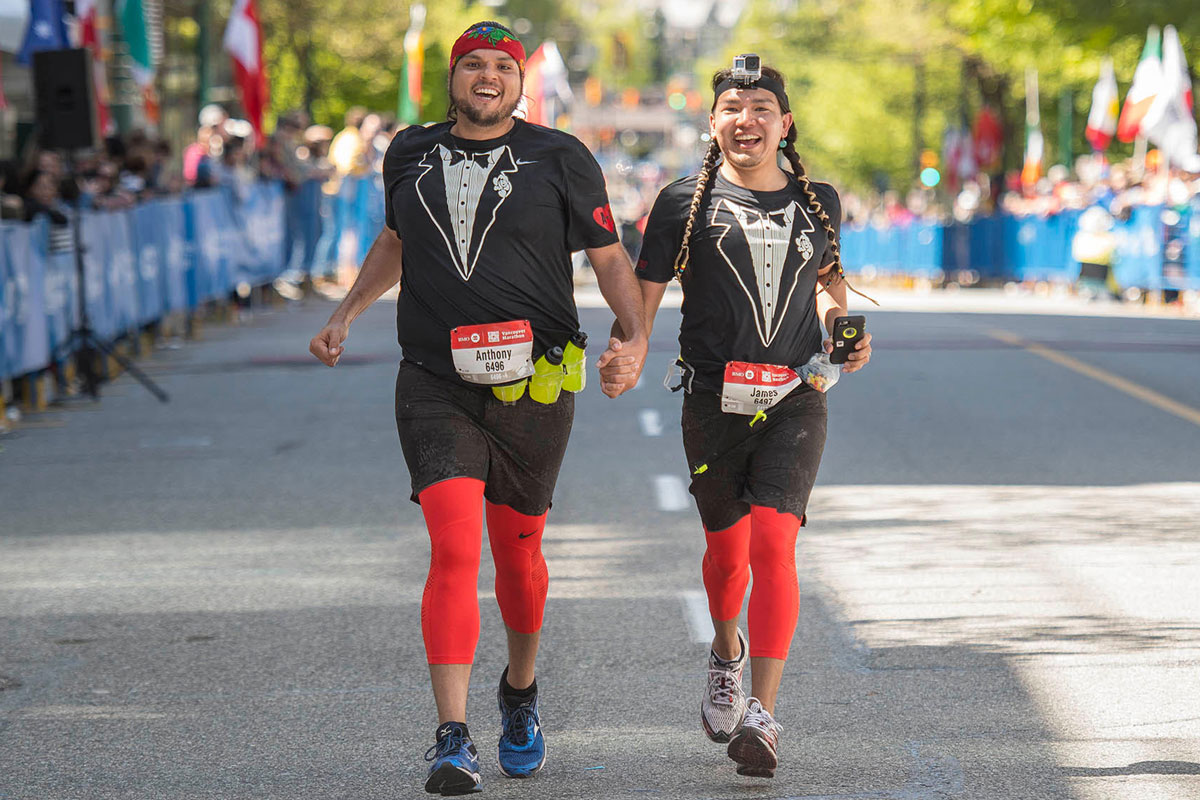 ---
[toggle hide="yes" border="yes" style="white" title_closed="More quotes from the couple" title_open="More quotes from the couple"]
Q: Talk about the ceremony itself?
A: "It was pretty magical. My favourite part was when we were getting dressed by our sisters, like I just felt like a celebrity. But other than that it was awesome, it was super magical, and everything we thought it would be, everything I thought it would be.
J: "There was just so much symbolism. At one point we saw four eagles flying in the sky, and we were running through cedar trees, which is a really important medicine for us, and it's like the whole race was medicine."
A: "Yeah, it was really great, it was fantastic."
Talk about the joy you feel and happiness, and how excited you are for the future.
J: "I think if we can get through this.. and we can do it together, then there's a lot of things that we can get through together."
A: "I think I feel mostly a sense of comfort, and safety, that I have a partner, and it's also amazing to feel that this is the person that I get to run my life with. Literally, figuratively, metaphorically – and we run, I've always wanted to be a part of a running couple, and so now that I have it, it's like fantastic and amazing and I'm just so grateful."
Q: Special to have a ceremony with friends and family?
A: "Initially we wanted to do something special to commemorate our legal union, and the whole day ended up becoming this magical day of love and friendship, and total strangers coming to say hello. That was really, really great."
J: "We heard congratulations, I don't know how many times."
A: "Yeah, so many times, we were being called the tuxedo guys."
J: "The dapper couple."
A: "'You guys look so good'. So that was really fun."
Q: Would you like to share anything else with the community?
J: "We're just so thankful to everyone for all the love, kindness and generosity. The expressions of gratitude, it just made us feel so good."
A: "Yeah, I'm gonna give a special thanks to the whole team at BMO, from the volunteers, Graeme, the director, everyone was just super gracious, super welcoming, and the Cactus Club at English Bay was a huge help to us by providing a location for us to operate our wedding from, and of course a special thanks to all our friends and family who made it out and to everyone who just showed us love. It was an amazing day, I couldn't have asked for more.
J: "It couldn't have been more perfect. The weather, everyone was so kind, and friendly, and encouraging along the way."
A: "Yeah, it was awesome, it was so beautiful running through the trees, enjoying all the beauty of Vancouver, and all the amazing people."
J: "Eagles were flying above, people were like 'hey, you're the guys we heard about, congratulations'. It couldn't have been more amazing."
A: "It was amazing. As the first time running a marathon, I'm so happy I did it in Vancouver because the people are awesome, the city's wonderful, the hosts were amazing. I'm really excited!"
Q: Excited for your future?
A: "We saw kids running, kids with their dads, and we were like, that's the next step. Yeah, it was really cool."
Wedding rings?
A: "My mom brought these for us from Arizona, so similar but a little bit different. Just like us."
Shirts?
A: "We bought the shirts and then we got them printed. We wanted to add a little flair to the red today."
The set-up?
J: "It was neat because you could see our family on the beach from the Kitsilano area. They had it all together and everything was running smoothly."
A: "We did so much training that it felt like a training run with more people so that was really exciting. And as we got closer, it was just the excitement of being married and, I don't know it's hard to describe. It made our pace faster, like I didn't walk at all for 32KM, which is rare so that was good."
And the feedback?
J: "People were just running in, participating."
A: "And people were just high-fiving us along the way, and spectators came and watched. There was an indigenous guy who came up and was like 'I'm native too, thank you for doing this', so it was really cool to have crowd participation.
[/toggle]
Read more:
Mid-Marathon Marriage? This Couple Pulled It Off
They were engaged at the start, had a ceremony, then finished the final 10K as a married couple.
Runner's World
Love is in the air: Mid-race marriage at the BMO Vancouver Marathon
James Makokis and Anthony Johnson tied the knot at the 32K mark of the 2017 BMO Vancouver Marathon and went on the complete the race.
Canadian Running Magazine
In it for the long run
Couple weds during Vancouver marathon
CTV
Love on the run: Couple to wed during Vancouver marathon.
Talk about relationship goals.
Vancouver Courier
It was all over the news!
New York Post
Huffington Post
Cosmopolitan
Update: It's in the family
Our friends are asking if we're going to do it again for our anniversary in May. Both of our moms are already in training to do it with us, so I guess we're doing it.
Globe & Mail