Over $14.9 million has been raised for charitable causes by runners through our RUN4HOPE program. Learn more and become a charity runner here.
CANADIAN MENTAL HEALTH ASSOCIATION: YOUR FUNDRAISING EFFORTS CHANGE LIVES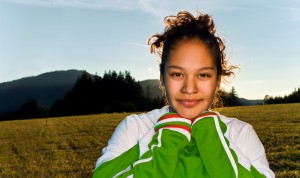 Pandemonium is one of the youth groups provided by Canadian Mental Health Association. Pandemonium is for youth experiencing a serious mental health concern and/or anxiety. It provides participants with opportunities to build supportive friendships while engaging in their community.
Parents of the youth in Pandemonium not only value the program, they report their children are healthier and happier because of it. Eighty-five percent (85%) of participants in Pandemonium feel more comfortable trying new activities as a result of being in the program. Every parent indicated that the program helps them to feel supported in their community.
As the Team Leader, I have had the immense privilege to witness youth experiencing anxiety so severe that they were unable to leave their homes, slowly but surely feel safe attending Pandemonium. Recently, the mother of one such youth, told me that she never could have imagined her daughter being so comfortable out in the community and that she is extremely grateful for Pandemonium, as her daughter simply loves it.
A testimonial in her daughter's own words conveys this beautifully: "I'm very anxious about going out, so Pandemonium has really helped me gain confidence. It's something that I look forward to every month and couldn't imagine not attending. I really appreciate everything they do in this program to help us kids out!" – C.C.
Her story, and many like it, are what make Pandemonium a special and necessary program in the pursuit of resilient children living in supportive communities. In a field wrought with struggle, it is a real gift to be able to bring fun and joy into the lives of these kids.
Gratefully,
Natalie Talson
Team Leader – Super Fun Groups
Thanks to the BMO Vancouver Marathon RUN4HOPE program, runners supporting Canadian Mental Health Association help our organization to raise funds to continue Super Fun Groups like Pandemonium. Your donations can help create a bright future for youth in our communities.
Contact CMHA. Facebook. Twitter. Website.
---
About the Canadian Mental Health Association
Founded in 1918, the Canadian Mental Health Association (CMHA) is one of Canada's most established national mental health charities. As the nation-wide leader and champion for mental health, CMHA helps people access the community resources they need to build resilience and support recovery from mental illness or addiction. We do this by building capacity, influencing policy, providing services and developing resources.
Run & Fundraise. Make a Donation.
About RUN4HOPE
RUN4HOPE is the charity program for the BMO Vancouver Marathon, with goals to raise funds for social impact and community good, plus foster a spirit of community celebration. The program provides value to charities, and charitable options for participants, enabling runners to fundraise and/or donate to charities. Run and give! The event's RUN4HOPE program has helped runners raise more than $14.9 million for charity and community good.