Runner Paul Crouser will be joining 16,000+ runners at the Start Line this May.
RUNNER SPOTLIGHT: PAUL CROUSER
In 2013, Paul Crouser was paralyzed by Guillain Barré Syndrome. In 2018, Paul will be participating in the BMO Vancouver Half Marathon.
Read Paul's story below.
---
Hi. My name's Paul, I'm 65, and I'm signed up for this year's BMO Half Marathon. I have to say that I'm not yet a runner. I walk. With poles. And I'm very grateful to be able to do so.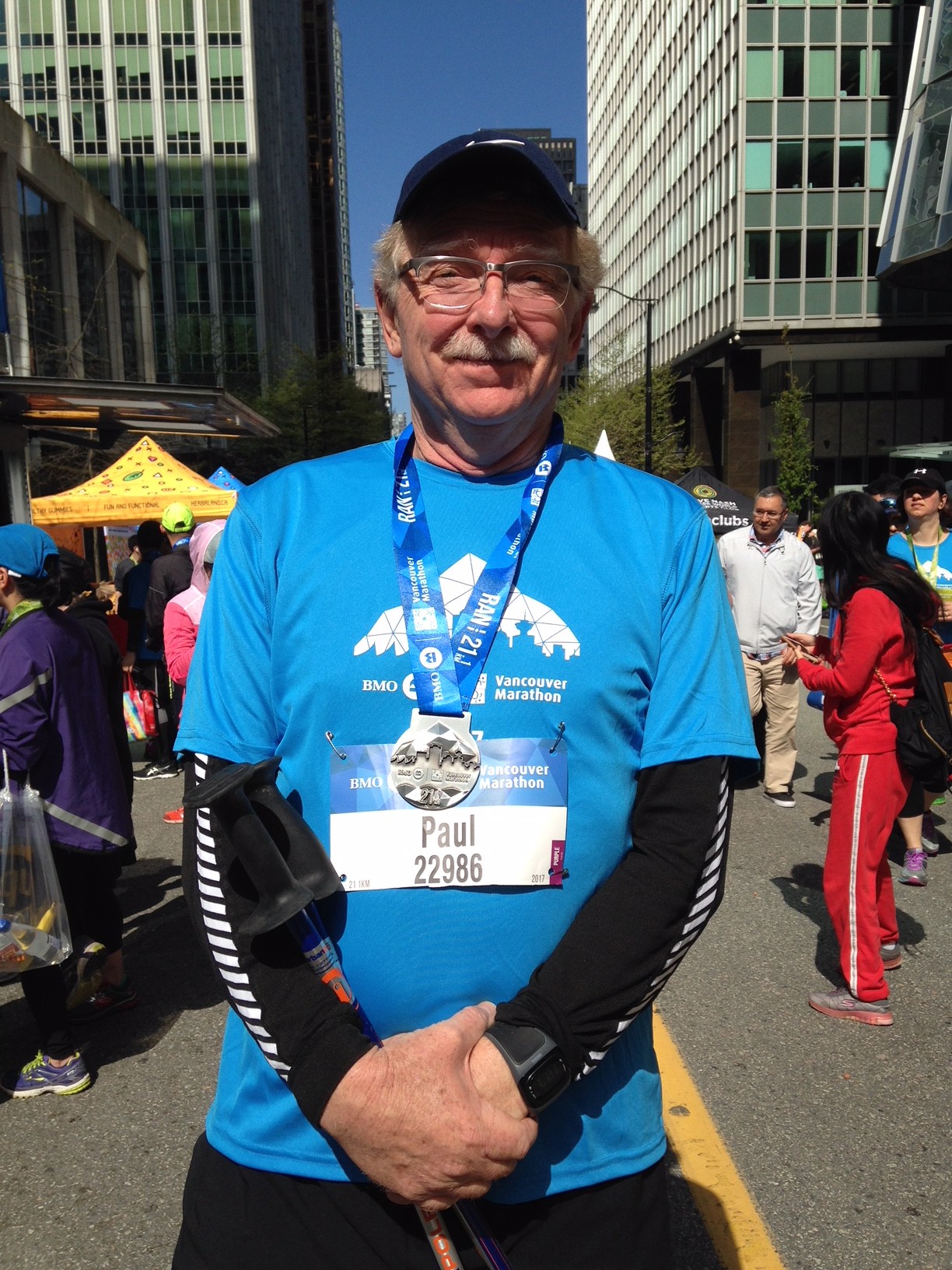 Back in April 2013 I had a run-in with a rare disorder called Guillain Barré Syndrome that took me from feeling great one evening, to a little 'funny' the next morning, and then to full paralysis in St. Paul's ICU three days after that (you can Google "GBS" for the details). In brief, it was dangerous, scary, surreal, and the biggest ordeal of my life so far.
St. Paul's was about survival at first and then waiting for my body to begin healing. After six weeks under the care of their excellent neurology staff, I had reached the point where I could stand up out of a wheelchair between parallel bars and shuffle a few steps – one of my best days ever!
You can't imagine the joy of that moment. That was my Golden Ticket to be transferred to G.F. Strong Rehabilitation Centre where my retraining began in earnest.
G.F. Strong was an amazing experience. To me, it felt like being surrounded by heroes; both those receiving treatment and those giving it. The strength of character displayed by those working their way back from the conditions and injuries they had suffered, and the patience and skill of the staff was humbling and inspiring.
I had lost 40 lbs at St Paul's – all of it muscle. At first every little task was exhausting and nearly impossible: putting on socks, shaving, eating, moving from bed to wheelchair… everything. And I was rarely assisted. You were shown how and you were expected to rise to the challenge.
I looked forward to every improvement in mobility. The wheelchair was wonderful; using a walker several weeks later was even better. Lastly, about a week before I was discharged, I was trained in the use of walking poles.
And then on June 14, 2013 I poled out of the building and went home.
My wife and I lived in Yaletown then. Each day she and I walked a little further down the seawall. By October, I was able to go 10 km to Stanley Park and back. We moved to West Vancouver that month and I looked up at the Grouse Nest and decided I was going to walk there from our home by the next summer. I did it! Damned near killed me.
My sons and I began to go on hikes into the mountains, and eventually found myself planning to do the North Coast Trail with my youngest son in June last year (2017). As part of my training I began walking much longer distances. Early in 2017 some friends suggested I sign up for the BMO Vancouver Half Marathon to set a serious distance goal. It was a radical idea that pleased me very much and so sign up I did – sticks 'n' all – never having done any sort of challenge event before.
Well, Marathon day came and away we went. I felt a little out of place and it was a little lonely at the back of the pack but I have to say a big Thank You to all the volunteers who hung around and cheered on the old guy with the sticks at various points.
The walk went well – I beat my best pace per kilometer by over 30 seconds! And I really didn't expect the surge of emotion that hit me when I turned the corner onto Pender and saw the finish line. I found myself running and then sprinting the last two blocks, vaulting over the finish line with a roar of triumph. Who was that?
I wouldn't miss this year's 'run' for the world. Oh, and I still use the poles they gave me back at G.F. Strong. They provide balance, acceleration, deceleration, shock absorption, good posture, an upper body workout, and extra traction. Why wouldn't I?