RUNVAN® Ambassador Shawn Lywood shares his story on his love for running.
RUNNER SPOTLIGHT: SHAWN LYWOOD
Why do I run? Only four words, it should be such a simple question.
If I was to quickly list three of four reasons, the list would probably look like something you would expect:
I enjoy running.
Good exercise.
Races are a very good excuse to travel to a new city… and who doesn't like to travel!
Although those are all great reasons, and entirely true, I have a couple different sources of inspiration that keep me lacing up.
So, in an attempt to answer that one very hard question, I will break it down into two different ones.
1. Why I Started Running
Why I started running is a much easier question to answer, so let's start there. And just for some context, I'm +/- 6' tall. Well, this is me in 2008… at 265lbs, [and now].

That's also more or less about the time I found out life was about to change.
My wife Kendra and I decided sometime in the spring of 2008 that the timing seemed just about perfect to start expanding our little family. We found out we were expecting our first child shortly after, and the baby was coming in March 2009, ready or not. People say that they'll have a mid-life type crisis when they're in their 40s or 50s. Well, I think I had one at 26. I wanted nothing more than to be the very best dad I could be. I wanted to make sure I was going to be there for my daughter for the long term, do all the things that she wanted to do, and make sure I was someone she could be proud of.
So, I got a Garmin for Christmas in 2008, and in January 2009, as one of the countless resolution people, I hit the gym and started running.
My daughter, Annika, was born on March 14th, and I was on my way. It took a lot of time and a ton of work – but I had the right motivation, and support from lots of great people in my life. I managed to lose 110lbs and, equally important, keep it off.
2. Why I Still Run
I lost the weight, learned to eat right, now have 3 awesome kids, and running helped me get there. So, what's left to gain? Well, I received a gift card for the Running Room in 2012 which I used to sign up for the Marathon training clinic for the BMO Vancouver Marathon. I had no idea what I was doing but I figured what the heck, I'll run a marathon and get a trip to Vancouver in the process! I trained 3 or 4 times a week and really enjoyed it. The group was great. Training was going really good too. The goal for Vancouver in 2012 was honestly just to finish. I had no concept of time and for the first one I had no expectations. I managed to cross the finish in 3:54. I was beyond happy. Breaking 4 hours was literally a dream. So, right after finishing, while complaining about how sore I was, I started looking for another one!
I ran the Kelowna Marathon that fall and had another good outing. The next year, in 2013, I ran three marathons: Red Deer, Edmonton, and then in the fall in Kelowna I managed to get my time down to 3:30.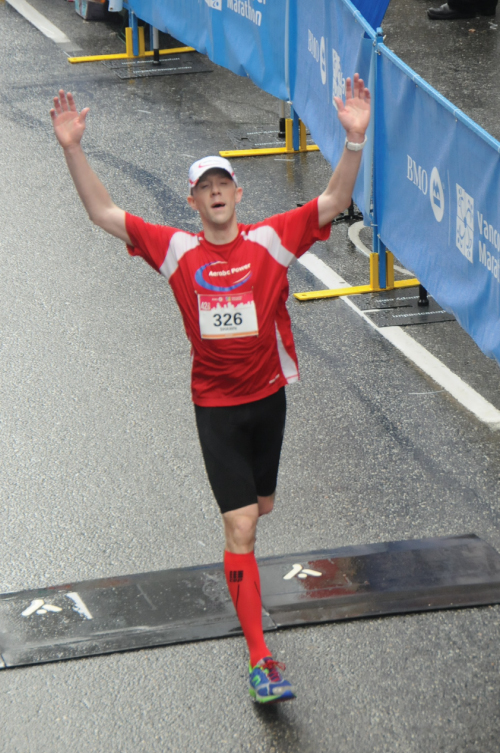 Then I figured it was time to double down and get really serious.
I'm honestly really not that good at too much, except for maybe math, physics, and neatly organizing everything (engineer problems… haha). But I started thinking that maybe I found something that I can actually do somewhat, kinda, relatively ok.
Ever since I ran my first marathon, the idea of running Boston always lingered somewhere in the background, but by the end of 2013, I was determined to try and make it a reality. I set my sights on BQ'ing that spring. Of course I was going to try and BQ at the only place that seemed right – at the BMO Vancouver Marathon. My weekly milage grew from 50km to 50miles a week. And in the weeks leading up to Vancouver, some key workouts went great and I thought I may actually have a chance. And finally, on May 4th, in the wind and rain, I crossed the finish line in 3:01 – officially qualifying for Boston.
I would run Boston the following spring in 2015. Without a doubt one of the greatest experiences of my life, and not just in running. It's almost indescribable – the feeling on the bus ride to the start in Hopkinton, crossing the start line, the cheering crowds the entire distance, seeing the Citgo sign near Fenway Park, and then making that final left turn onto Boylston Street and seeing the finish line ahead.
Through 2016 and 2017, I've continued working hard, upping the training volume, and lowering my times across the board. I've set new PB's in every distance: 10km – 35:58, Half – 1:17:58, and the Full – 2:47.
Crossing the finish line in Boston, and again in Chicago and at races such as TransRockies Run, has really been the culmination of 8 years of hard work and determination.
So, in the end, why do I run?
People that know me closely, know that I can be sometimes be a little hard on myself. I think part of that used to come from a fear of failure, a fear that if I'm not always improving I'm going to somehow fall back into the old version of myself from 2008. While that may have been true in the past I believe I've mostly left that thinking behind. These days, I still run because I'm trying to test my limits, trying to figure out how far I can push myself.
I'm very fortunate in Edmonton. This city has a large and vibrant running community. I am able to run with friends almost every day of the week at Wild Rose Runners, Run Collective, and Aerobic Power. I also feel like I have a second home in Vancouver with Rob and Dylan and the amazing folks at Mile2Marathon. I owe most of what I've been able to accomplish to these friends. Without their support none of this would have been possible.
And ultimately, what started as a need to be better for my children has grown and morphed into part of who I am. I love to get out the door and push myself into the uncomfortable places to improve as a runner, and as a person. I love to run.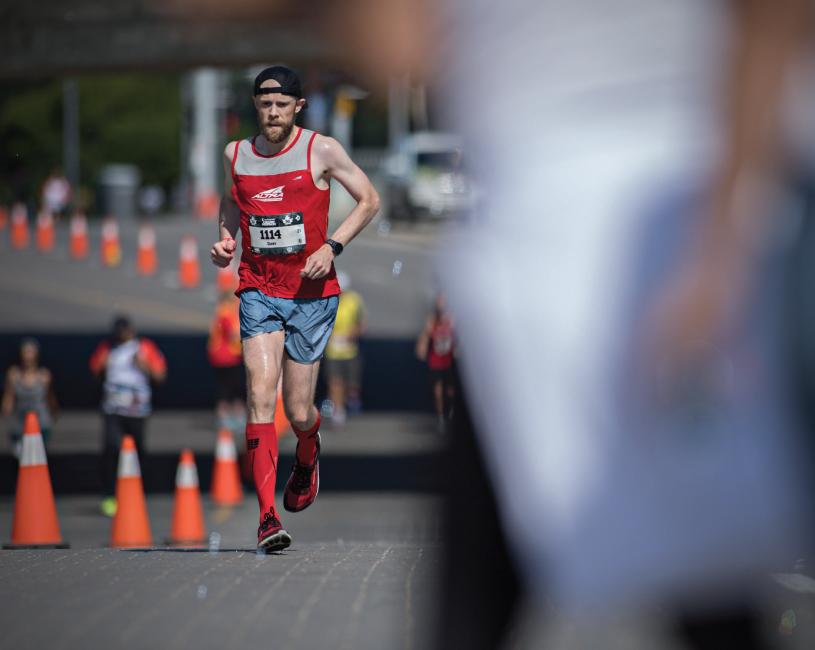 All photos supplied by Shawn.