We're all in this together and want to reiterate our disappointment in not being able to welcome you physically in Vancouver, BC, Canada this year. Thank you to past BMO Vancouver Marathon Champion, and new volunteer RUNVAN® Board Member, Rob Watson, who expresses our collective thoughts well below. Four-time BMO Vancouver Half Marathon Champ Natasha Wodak shares a similar sentiment.
"Obviously the decision to cancel this year's race was really tough, really challenging, and it was super frustrating and sad for us all. And we apologies for any inconveniences or challenges it brought upon you, the athlete," shares Rob Watson. "You know, we can't host the race this year but we can still run. Alright, let's be responsible, let's distance ourselves, and let's still stay active."
"May 4 through July 31, we are excited to present the Virtual Race. You may do the Full (Marathon), Half, 8KM (or Relay). It's an opportunity for you to get out and still get your medal, still get your virtual race bag. So, there's still some time to get your running done this year folks. Get training. Keep moving… Thank you so much."
"I'm definitely disappointed, as I know you all are, that the Half Marathon and Full Marathon have been cancelled. Of course, we understand the decision and it was absolutely necessary with the COVID-19 pandemic going on," adds Natasha Wodak. "Motivation right now can be challenging… we're stuck at home, it's tough times. So, for me, I have been keeping a regular routine, and writing things down, so every morning I wake up I know what runs or workouts that I have to do. And I've been doing a lot of online strength classes, which has been a lot of fun for me, trying new things."
"I am excited to run the Virtual Half Marathon… Keep training, take it day by day. And remember that not every run we can do the way we want to with the physical distancing. So, just make sure you're passing people safely. And if that means you have to stop during a workout, you have to stop. But let's all do our part."
"Everybody take care. I hope you're all doing well, and good luck on your Virtual Race."
Thank you as well to some of our other Elites who've shared how they're staying active.
---
How are you staying active while maintaining social distancing?
Dayna Pidhoresky – BMO Vancouver Half Marathon 2019 Champion and Canadian Olympian
"I'm doing most of my running on the treadmill in my house and supplementing with cycling on the indoor trainer as I am coming back from a tendon injury. Both of these modalities allow me to get in a lot of training and not have to worry about keeping my distance from other pedestrians or runners. I'm getting most of my fresh air by opening the window in the training room (haha) and my daily late night walks with my husband around the neighbourhood."
Caleb DeJong – Top Canadian at the BMO Vancouver Half Marathon 2019 and First Half Course Record Holder
"Running helps break up the long days! My new normal is to wake up, go for my first run of the day, work from home all day, then overlap with my good friend for my second run of the day. Running helps me get some fresh air, gets the blood flowing, and gets me outta the house. And running with my friend helps me get through what is still tough training and provides me a social outlet and somewhat of a sense of normal amidst this crazy season."
Catherine Watkins – Top Canadian Masters Runner at the BMO Vancouver Marathon
"I am continuing to run during this time, although only running solo and picking less populated routes. It's actually been fun and refreshing to find new pathways to run and areas to explore. We are so fortunate in Vancouver to have access to so many beautiful places to run. I am running less volume and intensity and just enjoying running. I am also loving that runners are waving and smiling at each other as they pass by from a safe distance, a fantastic running community. I am using my solo run time to listen to podcasts and music."
Kim Doerksen – BMO Vancouver Marathon 2014 Champion and Course Record Holder
"During the physical distancing, I've been exploring new trails around my place in Port Moody. Who knew how many beautiful, less populated trails there were! It's nice to mix it up versus pounding out miles on the road. Plus, it's giving a lot of functional strength with all the climbing."
Ellie Greenwood – BMO Vancouver Marathon 2012 Champion and 2x 100KM World Champion
"I am trying to stay motivated to stay active by mixing things up. For example, I've been doing some solo hikes on lesser used trails and mid week when the trails are quieter. Focusing on fun routes and pretty trails that I've not run on for a while keeps me going. I hope to be back in 2021!"
Yuki Kawauchi – BMO Vancouver Marathon Course Record Holder, 2018 Boston Marathon Champion, from Japan
"I continue to run at width riverside. Track is closed. And park is too many people. So I run at width riverside. I prefer keeping health, including mental, than improving performance now. Riverside is always strong wind. That is good training for me. Sometimes I run up the hill many times."
Chris Balastrini – BMO Vancouver Marathon 2019 Second Canadian
"Since the start of physical distancing, I've started to incorporate cycling into my routine. It's been great to discover new places, get outside, and give myself a break from the impact of running. Another thing that I'm doing is integrating body-weight strength exercises into my daily routine. While I'm working from home… I'll do [some] push ups, planks, pull ups, etc.. It helps me stay on task with work while getting in some at-home exercise!"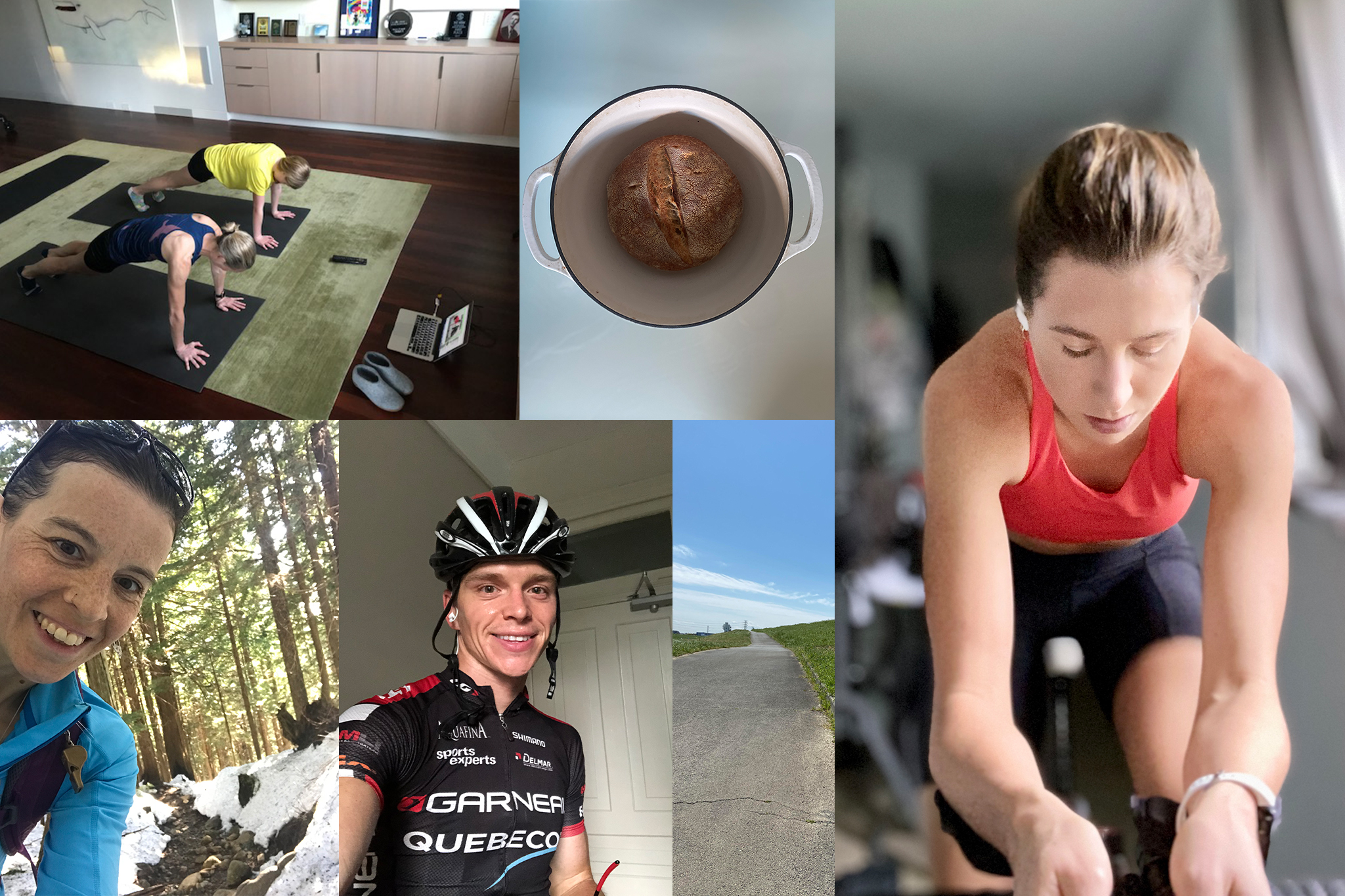 Top-left: Catherine and husband Trevor Watkins plank. Bottom left-to-right: Ellie's trial, Chris's new routine, Yuki's hill, Dayna's cycling and cooking.
Any fun or new activities?
Yuki Kawauchi
"I step up and down for one hour while reading a book in my bed. That is good for my legs and my brain too." Check out the pic.
Dayna Pidhoresky
"Other than my new found love of cycling on Zwift, I've been doing some new strength and core routines at home since the home workout scene has exploded over social media. I've also been trying to work on my "sourdough bread" game — it's a work in progress. 🙂 "
Caleb DeJong
"As for all these fitness challenges, I think a two hour run might be easier for me than 20 push ups! Yeah, I'll maybe run the Virtual BMO Vancouver Half Marathon as part of training. I often have big workouts at tempo/hard tempo efforts on Saturdays anyhow."
Catherine Watkins
"I have taken this opportunity to try some fun online classes that I would never have done before. We are doing them as a family in the evening which has been super fun and brought on lots of laughs. We have tried a dance class, a pilates class as well as numerous strength and core classes. This has kept strength and cross training fresh and fun, plus the added bonus of supporting people in the community via donation for their classes."
Kim Doerksen
"As for new activities, I've always loved baking, but a friend shared her sourdough start with me, so I've been dabbling in that. It's a slow process which is really therapeutic and rewarding for me. I'd join in on the Virtual Race. I likely won't race but I'll run!"
---
How about you?! How are you staying active while maintaining social distancing? Any fun or new activities you've taken on? Please continue to connect positively with us on social @bmovanmarathon #bmovm #runvan
More news about the Virtual Race and future race offers will be provided soon. If you haven't yet, be sure to also sign-up for the Virtual Race and opt-in to receive your tech shirt and medal.
[hr]
[threecol_one][/threecol_one]
[threecol_one][/threecol_one]
[threecol_one_last][/threecol_one_last][hr]
[hr]
Please note we are waiting until the bans related to the COVID-19 outbreak have been removed by health authorities before launching next year's race registration. 2021 will mark the event's 50th edition, and we hope you'll come back then to join us in beautiful Vancouver, BC, Canada. Thank you for your patience and understanding. Learn about the 2020 Virtual Race. Next race: Sunday, May 2, 2021